The best bars for drinking alone in Melbourne
Flying solo? Don't sweat it. At these terrific bars you'll find chatty bar staff, space for quiet reflection and some of Melbourne's best drinks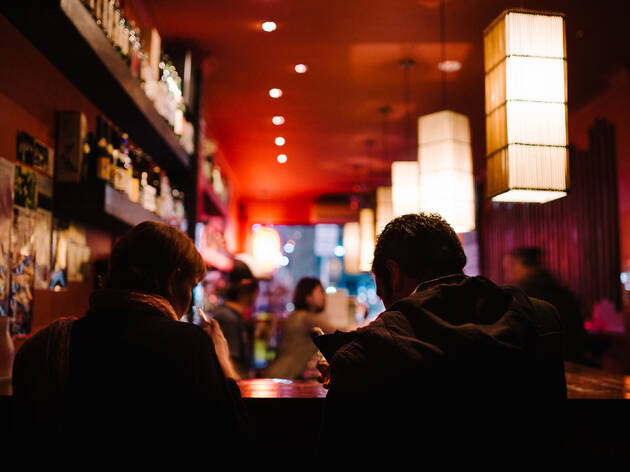 Look, we're not here to judge. Maybe you just want to treat yourself to a little alone time and a good bottle of wine, or maybe you've clocked off early and need to kill some time before meeting up with friends. Maybe you're freelancing and coffee just isn't going to cut it any longer (oh yeah, we've been there). Whatever the reason, here's where to get a cheeky bevvy on your own in Melbourne. For more ideas, check out our guides to Melbourne's best wine bars, cocktail bars and hidden bars.
Bars for flying solo in Melbourne
The experience shows at this Carlton stalwart, with hospitality-for-life staffers and a democratic approach to drinking: customers choose the wine on the pour. Your wine typically comes with a recommendation, a back-story and, if they like you, a practical joke.
Read more
One of Melbourne's original bottle shop/bars, this Mediterranean marvel boasts produce-driven dishes and an intrepid wine list. Wines by the glass change almost daily, and all of them are very, very good.
Read more
Chatter and Carlton Draughts are the order of the day at Handsome Steve's quirky-cool boozer. The cocktail list relies on the basic premise that gin, Campari and Aperol are good in-and-of-themselves, and snacks are of a similarly select range.
Read more
There's just the right amount of spit and polish at this low-key wine bar housed in a former shoe shop. Beer fans can get longnecks of Messina, while the short-and-sharp wine list (and free delivery from Pizza Mein Leibe next door) will satisfy the rest.
Read more
This dimly lit temple to sake, whisky and shochu (no larger than a train carriage) captures the essence of a Tokyo izakaya, right down to the snacks, staff and Japanese rock'n'roll. Food comes courtesy of Izakaya Chuji next door.
Read more
More ideas for a quiet drink in Melbourne
Whether you're looking for a bar in the north, south, east, or west of our fair city, Time Out Melbourne has got all points of the compass covered.
Read more