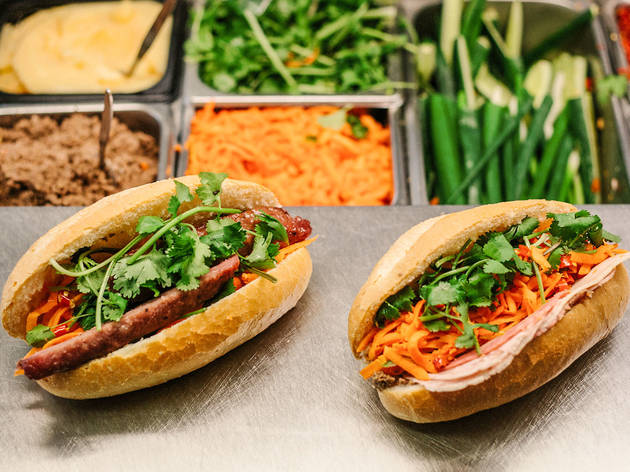 The best banh mi in Melbourne
We travelled far and wide to bring you some of Melbourne's best bánh mì, whether they are filled with pork, chicken or tofu.
The best bánh mì has bread with crunch, but not so much it scrapes the roof of your mouth. It's fluffy and light, but not so flaky it completely disintegrates into your lap. It's the perfect vessel for liberal amounts of pâté and a Vietnamese condiment called egg mayo butter – either egg mayo is spread on one piece of bread and butter is spread on the other, or the two are spread on top of each other – fresh cucumber, pickled carrot (and daikon if you're lucky), generous sprigs of coriander and chilli massaged into its crevices, a dash of Maggi seasoning and the protein of your choice.
The traditional bánh mì thịt nguội (bánh mì filled with cold cuts) was eaten as a control wherever we could alongside one other roll for variety, which has produced our rankings for some of Melbourne's top bánh mìs.
Love things between bread? Here are our favourite sandwiches in Melbourne. Prefer those sandwiches toasted? Look no further.
Note: Things are changing rapidly in Melbourne, so make sure you ring the venue before heading out to make sure it's open and you can get a spot.
The best bánh mì in Melbourne
Looking for a nice spot to enjoy your bánh mì?
From verdant parks to pristine riverbanks, these are the best places to roll out the rug, break out the basket and chill out with your mates.
Best selling Time Out Offers