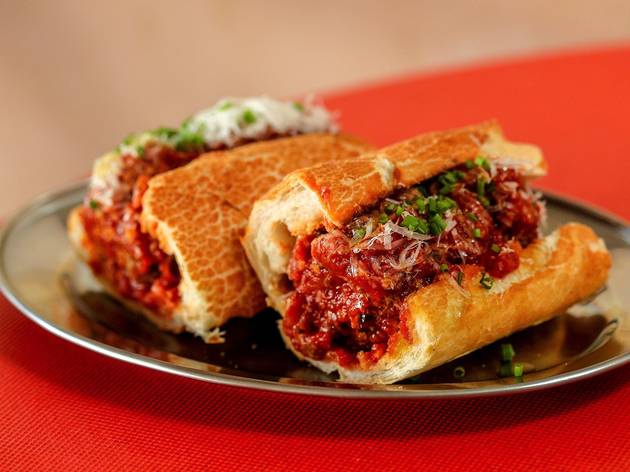 The best sandwiches in Melbourne
These are the 22 best things between sliced bread
Ah, the sandwich. The most versatile food. You can eat it for breakfast, lunch or dinner, with one hand while you sit idle in a car, or even as you walk in between meetings. There's always a time and place for a sanga, and while scratch-sambos can hit the spot, we'll one up you with our guide to 22 of Melbourne's best sandwiches.
You won't find bánh mì in this list as there are too many great places to mention, but you can find some of our picks here. Looking for something to graze on in the park? Find out where to get Melbourne's best pre-packed hampers.
Recommended: The best ice cream and gelato in Melbourne.
Melbourne's best sandwiches
Delivery? Yes, via their website.


Lactose intolerant? Keep scrolling. Iron guts? Read on, for Maker and Monger is the stuff of cheese dreams. Operating out of Prahran Market, you can't go wrong with any of their delicious toasted cheese sandwiches,

but we have a soft spot for their cheese number. This is no pedestrian 'I'm-a-bit-peckish-where's-the-jaffle-maker?' affair. This is loads of molten Marcel Petite Comté and Swiss Gruyere, shallots, wine and garlic reduced into a sharp, umami burst, all encased in crunchy, butter-slathered sourdough bread and finished with a light sprinkling of salt flakes.
Delivery? Yes, via Mr Yum.
The Left-Handed Chef's mini challah schnitzel sandwich has it all. It features layers of chicken schnitzel, matbucha and eggplant, but the crunchy pickle that bursts as you bite into it is the true star of the show. There's no way you can go wrong with this sandwich, and don't let the word 'mini' fool you. It's more than enough to fill you up for dinner. Pair it with chips, and if you're feeling extra hungry try Chef Ehud Malka's freshly made hummus. You'll never taste anything like it unless you've been to Israel.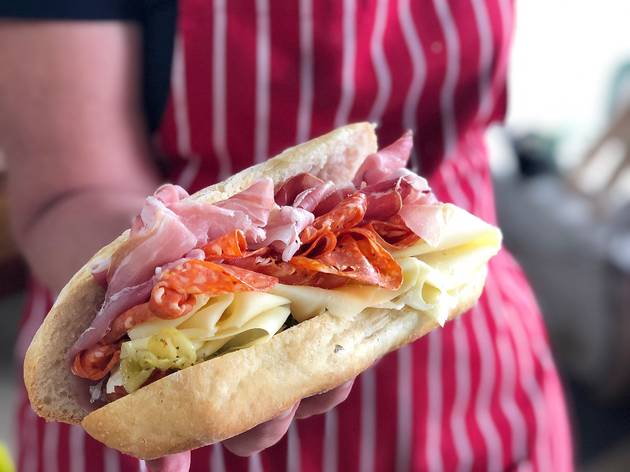 Photograph: Rocco's Delicatessen
Delivery? Yes, via UberEats.

Yarraville was voted one of the coolest neighbourhoods in the world in 2020, and Rocco's Delicatessen in Yarraville definitely lends itself to that title. Run by passionate Italians who know their food, they offer a variety of paninis which follow the cardinal rule that thou shalt only have thinly sliced, ribbon-like cold cuts. Choose between crisp ciabatta or the traditional soft bread roll and pick your deli meat. Mortadella, prosciutto or salami are on offer and come with varying combinations of grilled eggplant or artichokes, provolone, green split olives, grilled capsicum, and tomato pesto.
Delivery? Yes, via their website.
If you're a sandwich aficionado there's no way you couldn't have heard of Hector's Deli yet. The beef and pickles sandwich comes with Meatsmith's own beef brisket, a mustard pickle spread, kraut and even more pickle within two slices of toasted light rye. There's also a mushroom melt featuring pickled mushrooms for vegetarians, and a classic tuna melt for pescatarians. But it's hard to go past the HCT which showcases mortadella, provolone, mozzarella and tomato chutney on toasted white sourdough. You're going to need a nap after this one.
Delivery? No, in-store pickup only.
This one's for lovers of a classic roast chook sanga. Stan's Deli prides itself on its American-style deli sandwiches, but this number greets your senses with a nod to the country bakery classic. Two dense, toasted squares of bread envelop ribbons of roast chicken in a herb mayo fully loaded with tarragon, shreds of lettuce and cuts through it all with the sweetness and acidity of green tomatoes and Swiss Gruyère cheese. All of this wrapped in white and green-lined paper that those who hoard wrapping paper will struggle to discard of.
Delivery? No, pick-up in store only.
What makes a sandwich great? Quality bread, certainly. Ingredients that play well together, acid cutting through creaminess, meat cut with pickle. And if it's a toastie, the perfect degree of doneness, snatched from the grill after the bread has become crisp and golden and just before it begins to char. All of the sandwiches on the short menu at Indonesian sandwich joint Warkop meet that bill, b ut our favourite is the pork belly, the fattiness of the meat complimented by shallot, makrut lime leaves, lemongrass and tomato. The pork is so sweet and creamy it has no need for cheese, standing up to its accompaniment all on its own.
Delivery? No, in-store pick up only.
On a Carlton corner, Ima Project Café dishes up Japanese-inspired foods like traditional breakfasts but also dishes up its ever-popular ciabatta rolls. This is the type of place that food disappears fast due to its popularity, but we highly recommend its fresh chicken sandwich with hibachi-grilled, marinated chicken, cos lettuce, avocado, pickles and sharp yuzu kosho mayonnaise. It's served up fresh but you can request to have it toasted if you'd like.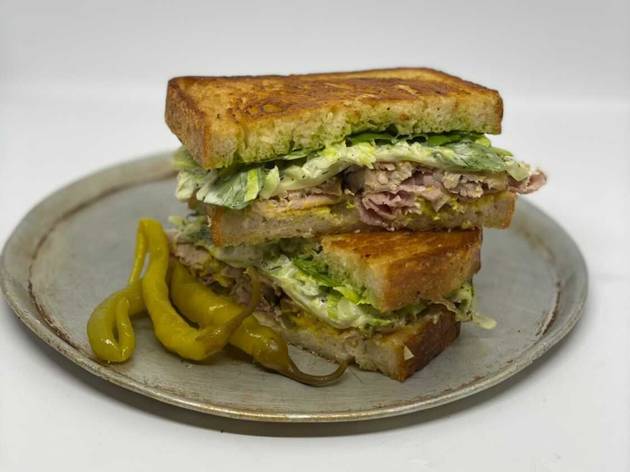 Photograph: Supplied
Delivery? No, in-store pick up only.
Nico's have amped up the humble Cuban sandwich by adding not one, but two types of meat. Think layers of smoked pork belly and grandma ham with Nico's original salad cream, Emmental cheese, dill pickles, apple cider reduction and American cheese between grilled, buttery slices of bread, and a side of pickled chillis to cut through the richness. Move aside ham and cheese, your services won't be required anymore.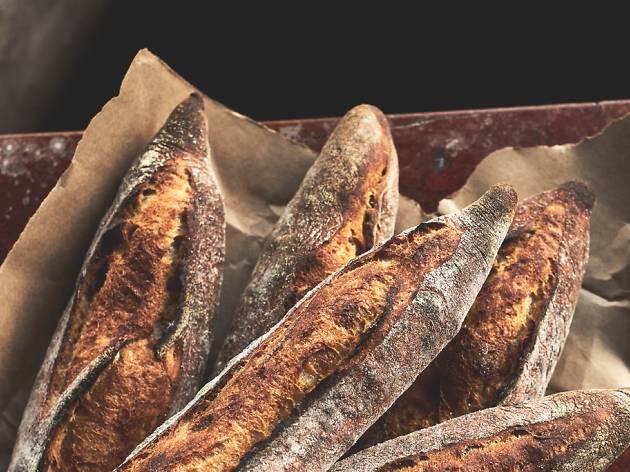 Delivery? No, in-store pick up only.
This is home to one of Melbourne's best chicken salad sandwiches. This is greatly owing to the dense slices of bread with the perfect crust as Falco Bakery's sourdough, buns and baked goods are made fresh on-site. It's a no-frills affair with traditional salad fillings (hello, sliced beetroot), and vegetarians can rejoice too as its salad and egg sandwiches fare just as well.
Photograph: Supplied
10. King William Takeaway
Delivery? Yes, for free but only for large groups within Melbourne's CBD via the website.
If you, like many, have binge-watched all six seasons of the Sopranos, then this is the sandwich joint for you. Free-range pork meatballs are coated in sugo and topped off with spinach, basil salsa verde and the holy Italian trinity of cheeses – provolone, scamorza and Parmigiano-Reggiano, all in a neat little sub.
Show more
Or how about a picnic?
We've taken the hassle out of buying picnic goods from the same stores you've been frequenting within your 5km radius and compiled a list of ready-to-go packs that some of Melbourne's venues have put together for you.
Taste the world
Sandwiches are having a moment right now, and it's not hard to see why. To pay homage to the ancient art of cramming our favorite ingredients between two slices of bread, we're shining a spotlight on the world's 25 best, most sensational sandwiches right now. If these stackers could talk, they'd tell stories of resilience, survival and boundless innovation. Check them out here.