Heads up! We're working hard to be accurate – but these are unusual times, so please always check before heading out.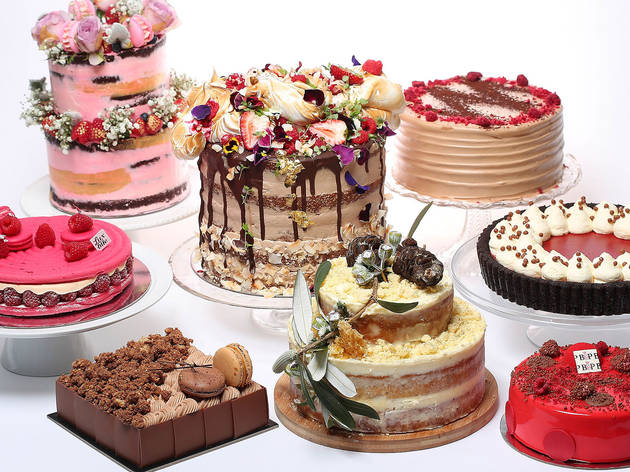 The best cakes in Melbourne
These cake shops and patisseries dish up the city's finest birthday cakes, party cakes and more
There's cake, and then there is cake. If you're in need of a delicious and highly decorative dessert then you've come to the right place. These are our favourite party cakes in Melbourne, with everything from the traditional layer cakes to OTT tiers of sponge and buttercream.
More of a pastry person? Check out the best patisseries in Melbourne. We wouldn't mind a few glazed goodies from the city's best doughnut shops either.
The best cakes in Melbourne
Prices: From $70
Serves: 12pp
It's no surprise that Beatrix's sour cream chocolate cake is often the first to go from the cafe's glass cabinets. Luckily you can order a whole one for yourself. It's like a classic chocolate cake but much better because the sour cream makes a moist, light sponge that would score a blue ribbon at a CWA meet. The four layers are stacked with a chocolate cheesecake buttercream icing and topped with cocoa powder and freeze-dried raspberries. It's a simple cake done damn well, but that's what Beatrix owner and head baker Nat Paull is all about.
Prices: From $400
Serves: 60-80pp
Sticky Fingers founder Hayley McKee made a name for herself with her towering cake designs, like this Honey for Ray one named after her baby boy. The honey cake layered with whipped honey buttercream has the texture of a denser tea cake, fragrant with lemon myrtle and fennel seeds. A sprinkling of salted white chocolate shortbread crumble and a chunk of honeycomb adds texture to the frosting. McKee's creations aren't exactly delicate, her signature rustic flourish of native greenery – this time it was banksias, gum leaves and gumnuts – packs a visual punch so it's no surprise that McKee's cakes are in high demand for weddings.
Prices: From $55
Serves: 6pp
Bibelot sticks firmly to the French patisserie school of cake-making so each cake is artfully layered with flavour and texture in mind. Their crowd pleaser is the Hazelnut Praline Crunch cake. It's a chocolate lover's dream that's a tier above a devil's food cake. It's made of seven layered components including hazelnut dacquoise, gianduja mousse and a hazelnut and chocolate crumble topping that we wish we can eat like Coco Pops with milk. It's complicated, it's pretty, and it's inexpensive enough to take to dinner parties if you want to finish with a bang.
Prices: From $55
Serves: 10pp
This cake is one of the oldest in their line-up, and sadly doesn't actually explode upon slicing. But it's certainly explosive in the visual sense. The nail lacquer-like shiny finish is flawless and it's not until you cut into the mousse-based cake that you see the many layers within. From top to bottom you've got milk chocolate mousse, raspberry cream, fresh compote, raspberry marshmallow, and chocolate chip cookie crumb. It would all be very soft if it weren't for the cookie base and the chocolate popping candy topping, but if ice cream cakes give you a brain-freeze, this mousse cake is for you.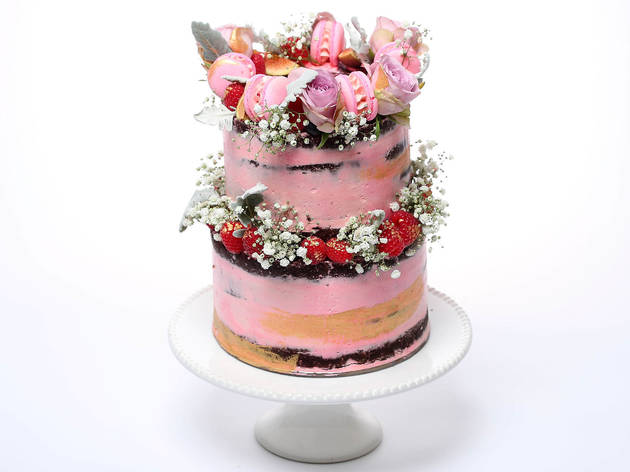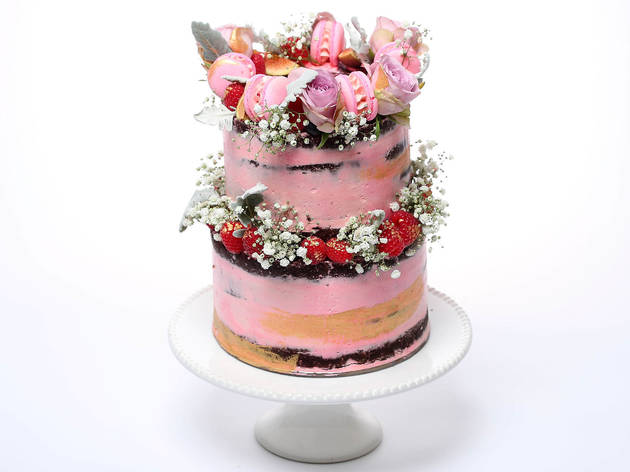 Photograph: Graham Denholm
5. Cherry Cakes: Chocolate stout, raspberry and peanut butter cake
Prices: From $180
Serves: 20pp
Cherry Murphy is another baker that's found her niche in wedding-worthy cakes. The trained pastry chef uses the traditional cake-plus-buttercream combo to experiment with seasonal flavour combinations. Her chocolate stout cake stack is layered with raspberry jam and covered in a mix of peanut butter and bright pink, raspberry, Italian buttercream. It's a rich, heavy cake that's beautifully decorated on top with pink macarons, gold dusted raspberries and lilac roses. We love the frosting job too – you can still see the dark chocolate cake peeking through the streaks of pink buttercream and golden peanut butter. Think of it as a hint of deliciousness to come.
Prices: $70
Serves: 10pp
If Marie Antoinette was still alive today (and was living in Melbourne), we imagine she'd be referring to LuxBite's Endless Love cake when she said "let them eat cake". The bright pink, supersized macaron cake is based on French patissier Pierre Herme's Ispahan macaron. Sandwiched between the rose-scented baked meringue is a combination of lychee ganache, rose cream, lychees, and tart fresh raspberries. The gluten-free cake concocted by pastry chef Bernard Chu is a light afternoon treat that would go admirably with a fresh pot of French Earl Grey.
Prices: From $95
Serves: 8-20pp
Malvern locals have been keeping quiet about Millstone, a café best known for its French patisserie-style cakes and pastries, all made in-house. But what most people don't realise is the bakers at Millstone also take orders for special occasion cakes. This cake mountain is the Lamington Cake, although it looks nothing like the classic Aussie treat. The towering stack is made of four layers of vanilla butter cake, separated by chocolate buttercream and strawberry jam, and topped with peaks of torched Italian meringue, a drizzle of melted felchlin chocolate, fresh strawberries and raspberries, edible flowers, shredded coconut and gold leaf. Depending on how much you like sugar, you might want to go light on the Italian meringue when you're slicing this up, but the fresh berries help cut through the sweetness. This cake is definitely on the OTT side, but it sure makes an impressive centrepiece.
Prices: From $65
Serves: 12pp
This cake (or is it a pie?) is a hybrid of all the big-name American desserts. The pie base is made of crushed Oreos and the filling is a red velvet cheesecake, topped with dollops of cream cheese and chocolate pearls. You know those double stuffed Oreos? This pie almost tastes like that if they upped the stakes on the Oreo filling with more red food colouring and Peruvian single origin chocolate. Eat a slice with a cup of filter coffee and you might start chanting "USA, USA!"
More sweet stuff for your sweet tooth
It's amazing that pastry, at its simplest, is just flour, lots of butter, sugar, and maybe an egg or two. Yet Melbourne's best bakeries and patisseries have made a craft out of baking croissants and bundt cakes. Here are the best of the bunch.