The best restaurants in Docklands
Uncovering the culinary secrets of Melbourne's underappreciated suburb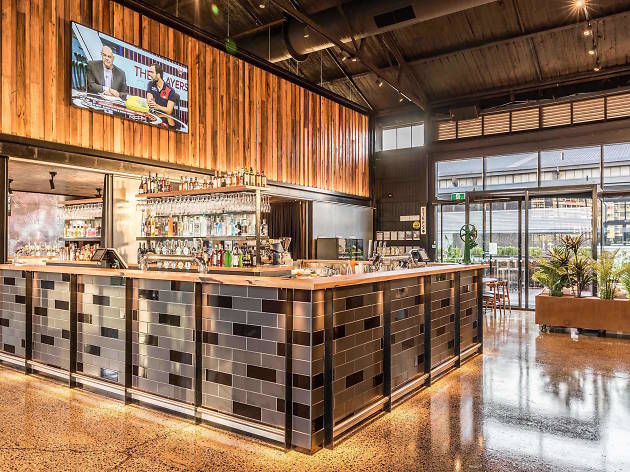 Mention Docklands and you wouldn't be blamed for thinking of suits, towering apartments and corporate blocks. But look a little closer and you'll find Docklands restaurants putting out amazing food, from Spanish tapas to great Indian fare.
Find more hidden gems within the free tram zone, check out Melbourne's best cheap eats and cocktail bars.
RECOMMENDED: The 50 best restaurants in Melbourne
The best places to eat in Docklands
The Docklands may still be the dead lands after dark, but Bar Nacional is pushing some tapas worth braving the concrete jungle for. If you work nearby, go for the business lunch menu for a killer combo ($29) of tapas, a main and dessert. In the evenings, the Feed Me menu will be a great way to graze your way through the menu's best.
This is a pizzeria from the pizza expert behind 400 Gradi, Johnny di Francesco. Cooked in the central wood-fired oven, 90 Secondi's pizze are the kind of puffy and crunchy disks that you have to fold and eat within five minutes lest they droop and drop their cheesy burden in your lap. You can get fancy with pork sausage and porcini, but we like to keep it simple. They use the good, air freighted mozzarella and San Danielle prosciutto, which is all you really need with a slap of acidic tomato sugo.
The Woolshed has, for lack of a better word, shed its previous role as a family-friendly Docklands pub and has reemerged as a multi-purpose venue featuring a restaurant, bar and event space. The historic building, which was built in 1916 and used as a wool storage facility, now serves a contemporary Australian dining menu highlighting dry aged steaks, fresh seafood, and classic desserts with a modern twist. For most casual occasions, the bar offers bar snacks and a formidable wine and cocktail lists.
This waterfront bakery and café on Central Pier makes freshly baked bread and patisseries daily. Look for the housemade sandwiches and savoury tarts at lunchtime, and stick around for a slice of cake with your afternoon coffee. Mill and Bakery also offers high tea every day – book in and they'll plate up dainty little sandwiches, petit fours and unlimited tea and coffee.
It's a quick, cheap, high-variety option where everyone can drink tea and get back to work (if the dumpling coma doesn't hit you). Pick an order-boss and go hard on a mix of dumplings, steamed broccoli and pork buns. Got more time for a long lunch? Opt for the banquet option for some Peking duck and all the fixings.
Kobe Jones right by the Yarra River combines Japanese flavours and Californian flair. Its philosophy is 'food and family', so the menu is designed for grazing, will all plates made to be shared.
Dinner on a budget
With so many cheap eats options in Melbourne it's not hard to eat out without breaking the bank
Just a tram ride away
Restaurants, Modern Australian
Flinders Lane: it's arguably Melbourne's tastiest street. Here are 15 favourites, whether you want ceviche and sours, Andrew McConnell's culinary wizardry, Pan-Asian fusion with a side of hip hop, understated Japanese, tacos and tequila, or modern Mediterranean. We hope you're hungry.