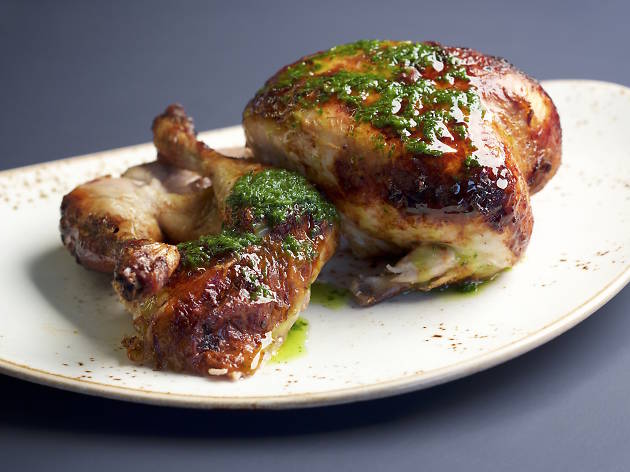 The best roast chicken in Melbourne
Roast chicken has made a comeback in Melbourne in all forms, from the rotisserie chook to the home-style bird done well
Rotisserie chicken has been getting a makeover of late. From gourmet takes on the classic to the most ethically-raised chicken you can eat, here are some of the best roast chicken dishes around Melbourne. For more meaty goodness, check out our favourite fried chicken joints or get stuck into one of Melbourne's best burgers.
Try Belleville's Brazilian take on rotisserie chicken, cooked in a mammoth rotating machine that can hold up to 90 birds at a time – that's a lot of birds. Try the hot sauce made with Korean chilli sauce ssamjang instead of the traditional gravy and swap the fries for the poutine topped with chicken gravy and cheese.
While there's nothing wrong with classic roast chicken, sometimes it does need a bit of spicing up, which is where Pretty Mama's Jamaican jerk chicken comes in. They brine their free-range Milawa chicken for 12 hours (making the flesh more moist and the skin more crispy), then it sits in a spicy jerk marinade for 24 hours, before being cooked over wood fire. Get a half or whole chook and savour the smoky charred protein.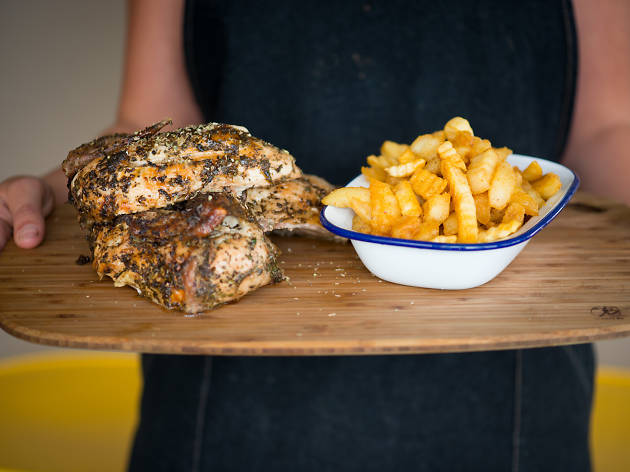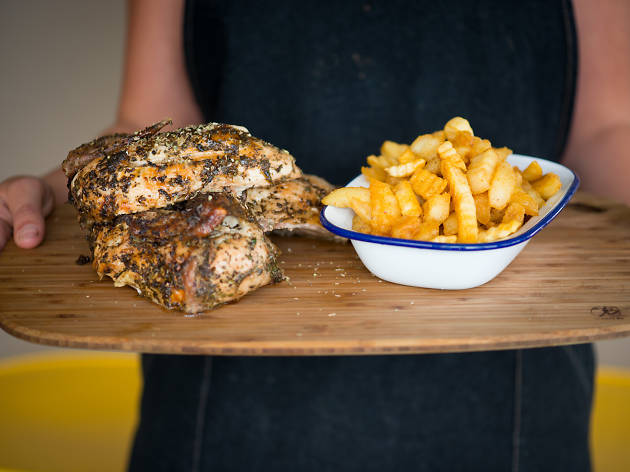 Photograph: My little tribe photography
5. Henrietta's Chicken Shop
Henrietta's roast chook is pretty close to the classic version. The ex-fine dining team behind the restaurant serves charcoal chicken that has been brined for 12 hours, seasoned with a rub of bush spices and blackened just so on the rotisserie. The chips are of the crinkle-cut variety for extra crunch, and the salad options are green enough to add a few extra serves to our daily quota.
Prahran French bistro L'Hotel Gitan does a primo version of the roast chicken dinner – spot the poulet fernier on the menu. On Wednesdays, the fire engine red rotisserie roasts free-range Bannockburn chooks (up to 16 in one go!), which are served with roast kipfler potatoes, french beans, chicken jus and a glass of the finest house red for $25.
George Calombaris's new Williamstown tavern offers a 'Feed Me' option; where for $49 you can get a Greek feast which includes half a juicy rotisserie chook served with roast carrots, fenugreek and almonds. Getting takeaway? Ask for the roast chicken souvlaki.
Philippe Mouchel's eponymous French bistro is getting some serious buzz over its rotisserie chicken. Before a turn in the rôtissoire, the bird's skin is stuffed with a buttery mix of mushrooms and herbs. It's served with potatoes cooked in the roasting juices, a zingy lemon compote, and chicken jus. Luscious.
A wine bar may not be the first venue to come to mind when you've got a hankering for some juicy roast chook, but with Embla does roast chicken a little differently. A half-chicken comes with whole roasted garlic cloves and skin that is blistered to crisp perfection – it's poultry's answer to pork crackling.
Still hungry?
Behold, our eat-and-destroy list – a guide to everywhere you should be eating in Melbourne, from cheap eats to fine dining (with a few old faves thrown in for good measure). Bon appétit!
Best selling Time Out Offers