Best Fine Dining Restaurant: Time Out Food Awards 2018
Down the rabbit hole under Bourke Street, a culinary adventure awaits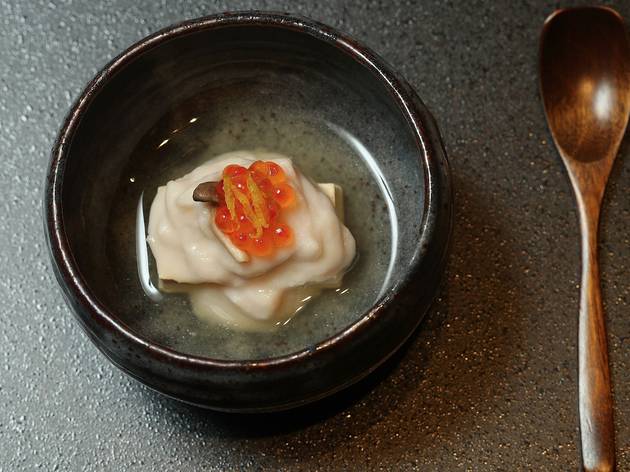 Ishizuka is a new Japanese restaurant specialising in a kaiseki menu. And in a commitment-phobic world it almost requires a session with a therapist to sign up for a ten-plus-course, two-plus-hour procession of miniaturised dishes for $220 a head, sans drinks. But Ishizuka is worth the time, expense and trouble of finding it. The room lurking underneath Bourke Street is haunting in its sparseness.
Concrete columns are roughly textured to resemble tree trunks. Fake foliage hangs overhead. A hot air balloon-sized, white fabric lantern sections off a bar area like a beautiful hallucination. Chef Ishizuka, who perfected his craft in Kyoto (home of the kaiseki), maintains a gentle quiet in his kitchen. His attitude is mirrored by the small team of white-jacketed Japanese waiters who discuss the differing properties of sake with sincerity bordering on reverence.
A kaiseki meal is a multi-course journey saturated in technique, peppered with luxe ingredients and served with the kind of ceremony that would satisfy any inhabitant of the Chrysanthemum Throne. Sushi and sashimi will play their part, but so too will something simmered, something grilled, something rice-based, something pickled, something soup...
A ceremonial bowl of sweet, stomach-warming ginger tea signals kick-off before the first of many teeny-tiny things composed with an artist's eye for detail. The soup course allows crayfish to pitch its native sweetness against the gentle umami and herbal hooks of a yuzu-spiked dashi broth dotted with the gelatinous, tadpole-like water vegetable known as junsai. Perhaps it's merely confirmation bias that the sushi and sashimi courses are the standouts. Snapper sashimi with a burst of bottarga powder and wasabi stem is one-bite transcendence; so is the pale toro sushi, and nine-score Wagyu, just-scorched to release the buttery fats into a rich, palate-coating flood. For every course receiving a pattering of light applause there's another getting the full roar (like that Wagyu, for instance – and word to the wise, chef Ishizuka doesn't mind if you order another). So sit back and enjoy the beauty, the sheer, time-consuming pride of the kaiseki process, and open a door to a new world of culinary possibility
See all the winners
The Time Out Food Awards lets us celebrate Melbourne's champions of the restaurant scene – and throw a party to remember. Here is all the winners from the hospitality scene's night of nights.