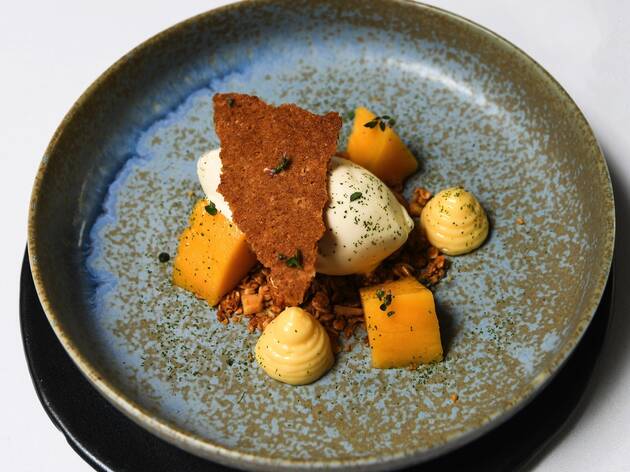 Best Fine Dining Restaurant: Time Out Food Awards 2019
French meets Japanese on Lygon Street at our fave fine diner – a former country mouse that's now a city slicker
Kazuki's was born in Daylesford in 2011, and last year grew into long pants, moved out of home and left a forwarding address to its new digs on – of all places – Lygon Street. It was a bold move for a restaurant that has as much in common with Melbourne's Aussie-Italian heartland as agedashi tofu has to pizza by the metre. Yet what could have been the whims of a headstrong teenager have manifested our fine diner of the year. Bravo, Kazuki and Saori Tsuya.
Ask chef Kazuki why he moved his restaurant to the big smoke and he'll reply with an Edmund Hillary-esque line about it being there. Yet as lovely as the Zen-like fitout is with its marriage of yellow-golden carpet and pale blue-grey walls, overseen by the austere full-moon beauty of supersized paper lanterns, it's not simply a scaling of city heights that has won our hearts. It's the food on the delicate ceramic plates that demands enduring love.
Kazuki's remains a Japanese-ish, French-ish modern restaurant but the conception and execution has evolved. The snacks are swoony – crisp nori, creamy taramasalata and sake-soaked salmon roe, or an ethereal chicken liver profiterole bursting with Davidson plum jam and perfected by a bittersweet frosting of plum dust. The menu consists of elliptical three-ingredient codes that translate to the unexpected. "Hapuka, yuzu, daikon" is a dish of pure edible luxe, the meaty fish coddled in the yuzu-spiked velvet of a beurre blanc with salty pops of avruga. It's hard to convey the brain-addling perfection of "tomato, mussels, furikake" without referencing the textural umami bomb of the housemade seasoning richly mingling with the pickled molluscs and meaty heft of perfect tomatoes. But our advice: put yourself in the kitchen's hands, opt for the $120 five-course set menu (or go for broke with $150 for seven, because it's certainly worth it) and let Kazuki's work its magic.
See all the winners
The Time Out Food Awards lets us celebrate Melbourne's champions of the restaurant scene – and throw a party to remember. Here are all the winners from the hospitality scene's night of nights.
Best selling Time Out Offers