Best New Restaurant: Time Out Food Awards 2018
Paralysed by the choice in Melbourne's new offerings? Start with the best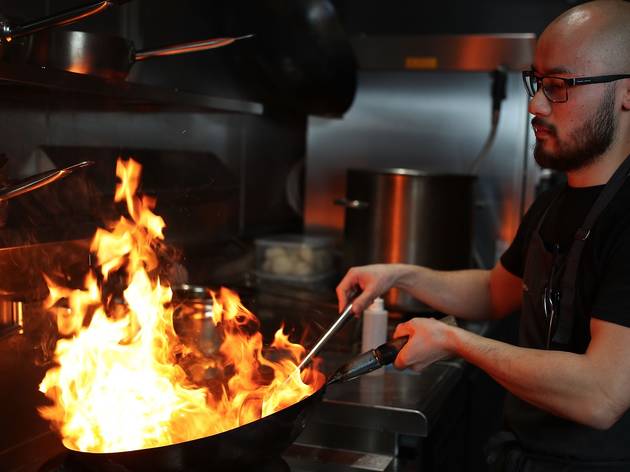 It's the roti with Vegemite curry, OK? Sunda has made the year's most spectacular play for the hearts and minds of Melbourne with a crazy-brave combination of wickedly buttery deconstructed roti and a deeply savoury curry sauce with a Vegemite-umami backbone. Add the fact that it's an off-menu secret with only 25 serves available a night for those who know the password (tip: try "do you have any roti with Vegemite curry left?") and what you have is bona fide catnip to anyone with a stomach to fill.
But don't make the mistake of thinking Sunda is a one-trick pony. Time Out's Best New Restaurant of 2018 stars the talents of chef Khanh Nguyen, a (gasp!) Sydney import, who's taken Malaysian, Indonesian and Vietnamese dishes, picked them apart and made them new again with the help of native Australian ingredients. It sounds slightly wrong written down on paper until you hit something like the otak-otak, traditionally a grilled fish cake in banana leaf. Here, it's playing like the smoothest, richest seafood parfait with a curry lilt and topped with pops of finger lime, chilli slivers and spanner crab meat, all the better to smear on rice crackers. Or the crisp, golden-domed perfection of the rendang bun, which is not only a reminder that pretty much every culture has its own version of a meat pie, but that Malaysian beef rendang does very well smooshed into a fluffy carb den with a bold swipe of fermented chilli sambal and a refreshing hit of pickled radish on the side.
Nguyen puts Fremantle octopus through a centrifuge, the charry cephalopod duking it out with the rich ripeness of bush tomato and a lemongrass sambal. And don't miss his egg noodles in a drenching of XO underscored by pepperberry and mined with salty chicken crackling. The switched-on staff are armed and dangerous with a wine list that swings natural without being obnoxious about it. Sunda has burst out of the blocks demanding our love, and received it.
See all the winners...
The Time Out Food Awards lets us celebrate Melbourne's champions of the restaurant scene – and throw a party to remember. Here is all the winners from the hospitality scene's night of nights.