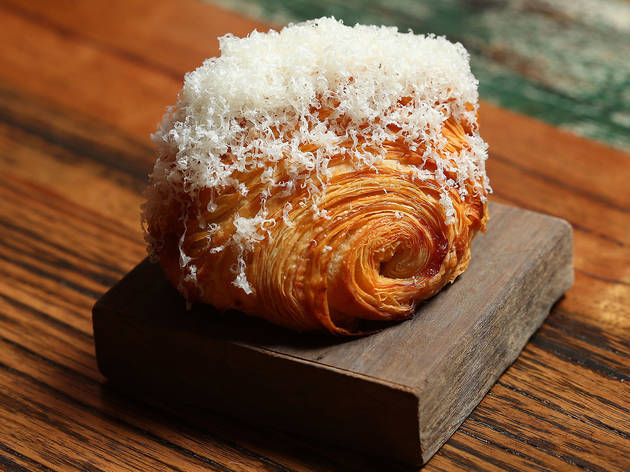 Best New Restaurant: Time Out Food Awards 2019
Paralysed by the choice in Melbourne's new offerings? Start with the best
The end of the line is a good place for new beginnings. Close to the Hurstbridge terminus, where suburbia trickles away into the countryside, you'll find the little restaurant that could. Housing only 15 seats, a vinyl-spinning turntable and a surfeit of talent from chef Zoe Birch and her partner, chef-slash-sommelier-slash-floor manager Lachlan Gardner, Greasy Zoe's sings in the key of "my way".
What feels like a farmhouse kitchen – all red brick and wood, with food-based artworks adorning the walls and the occasional comically large marrow sitting tableside for decoration – is the hardworking home of a uniquely self-sufficient, two-person operation rolling in harmony with their locality. Mackerel hangs above the grill, slowly curing to be grated over rainbow trout Lake Eildon. The cheese from the Yarra Valley's Stone and Crow. The dry-aged chicken from Timbarra farm, near Healesville. The charcuterie, including a duck salami with flavour that goes on for weeks, from their own kitchen. The modern smarts of Birch's menu also includes some ridiculously licentious veg-on-veg snack action, including purple congo potato crisps piped with garlicky skordalia. And any restaurant that sees fit to serve a cheese course of rhubarb-filled housemade croissant covered in a blizzard of aged buffalo cheese is simply OK with us.
A set menu scenario priced at $85 for upwards of eight multi-elemental courses has a Hawke-era concept of value. Just in case you're wondering, they don't get all preachy. This is a place to forget your cares rather than suffer through a masterclass in righteousness, and in return if the wine list gets its frequent flyer miles up with nicely judged sorties to France and Germany, then so be it. Greasy Zoe's is the very model of the velvet-gloved industry disruptor. It's the bird-flip to multi-million-dollar fitouts and the vapid chase for food fashion. What's here instead at the end of the train line is something timeless, and enduring, and… well, just bloody delicious.
See all the winners...
The Time Out Food Awards lets us celebrate Melbourne's champions of the restaurant scene – and throw a party to remember. Here are all the winners from the hospitality scene's night of nights.
Best selling Time Out Offers