Where to eat and drink at White Night
Keep yourself energised to make it past dawn at these recharge stations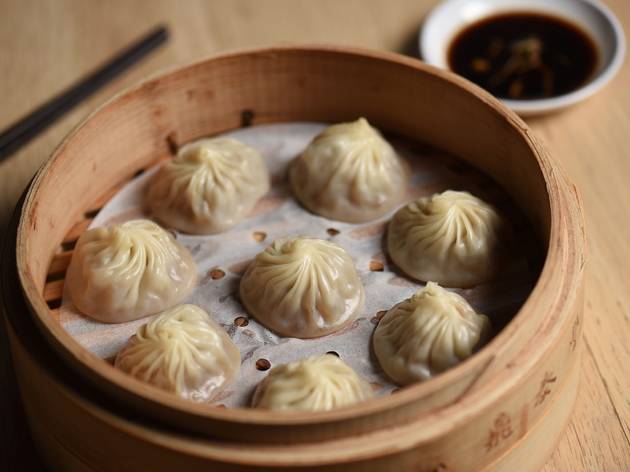 If you're in it for the long haul, there's only one way to do White Night. The all-night arts festival stretching from the Arts Centre to Carlton Gardens starts at 7pm on February 17 and goes until 7am on February 18, so you'll need to keep yourself well fed and hydrated. Good thing there are lots of bars and restaurants open around the Melbourne CBD during White Night to do the job, with most of these venues licensed to serve you a tipple with your midnight snack.
White Night is all about Insta-worthy images – check out our Instagram guide to White Night 2018.
The best places to eat and drink at White Night
Open until 7am.
Look out for: Pop-up cafés and bars, and food trucks in Carlton Gardens by Rathdowne Street.
Open until "late".
Look out: Lots of small plates to share while you talk about the projection on the Royal Exhibition Building and the cartoon animals set up in Carlton Gardens.
Open until "late".
Look out for: The signature xiao long bao, the steamed soup dumplings pleated to a perfect 18-fold pucker, are the Platonic ideal of the XLB.
Open until 6am.
Look out for: The winning combination of whisky and beer to pick you up in the middle of the night. Plus try the cheese and charcuterie for a much-needed salt infusion.
Open until 7am.
Look out for: Gringo influences in the form of sticky lamb ribs or traditional Mexican fare like soft tortilla tacos with pulled pork and pineapple.
Open until 3am.
Look out for: Beers and midnight snacks with a view of the State Library.
Open until 5am.
Look out for: Bird's eye view of the projections on the State Library's exterior. Just get a seat on the balcony area.
Open until 7am.
Look out for: Cocktails, whisky, blues, good service and perhaps most importantly, Reuben sandwiches.
Open until 7am.
Look out for: Comfy leather stools and curvaceous booths to give you a break after all the standing and walking. Try the Freedom Blueberry Rye served on the rocks, or shoot back the charry Ole Smoky Harley Davidson version.
Show more
Your White Night gameplan
There are ways to maximise your art time and minimise queueing.
Know where to go when you gotta go
Things to do, Fairs and festivals
Nothing kills your vibe like a sudden urge to pee at an inconvenient time – especially when it's in the middle of a 12-hour art party in the CBD. White Night is providing toilets at a number of convenient street corners across the CBD, check 'em before you wreck 'em.