Melbourne's best markets: Clothes, books and bric-a-brac
Get your hands on fashion, junk, books, vinyl and all kind of bric-a-brac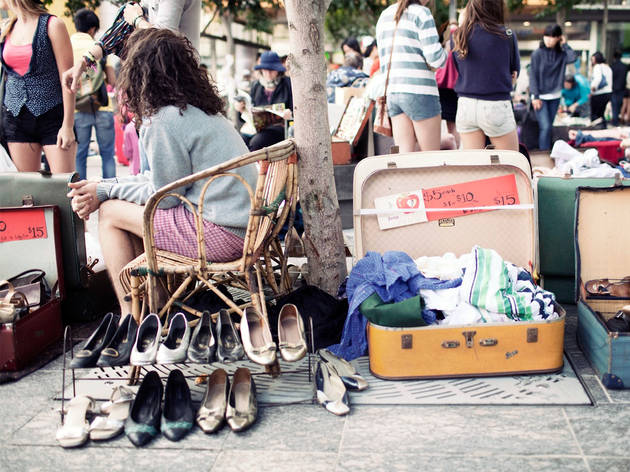 Bricks-and-mortar stores are so last year, no? They might not have the same flash facades as the stores along Collins Street's "Paris end", but Melbourne's markets are a trove of great designer fashions, books and miscellaneous goodies.
From Footscray to Camberwell and everywhere in between, there's a market with exactly what you're looking for (and then some). Grab a tartan trolley on wheels – you're going to need it at these massive markets.
For more fashion and vintage shopping, check out our shopping guide to Melbourne or more of Melbourne's best markets.
Shopping, Markets
Around Camberwell, Camberwell
The weekly Camberwell Market is undoubtedly Melbourne's biggest marketplace for pre-loved wares, with 370 stalls in total. From the most delicate string of vintage pearls to hardwood furniture, you and your home can get a reasonably cheap makeover from one Sunday morning's worth of rummaging. You might not think you need silver-sequinned glam rock boots, but just wait until you're trying them on, piping hot jam doughnut in the other hand.
A sprawling carnival of musicians, doughnut vans, and eight-year-old fruit vendors belting out their best hawker cries, this is Melbourne's closest relation to the London Borough Markets. As well as the permanent shops selling deli goods, hand-pulled candy canes, fish and fowl, temporary stands spruik organic wines, live ducklings and designer clothes of questionable authenticity.
More markets for your calendar
Melbourne's bazaars have got the goods, from farm-fresh produce to arts and crafts, and there's one happening near you.