The best homewares stores in Melbourne
Got a refined sense of interior style? Get what you need here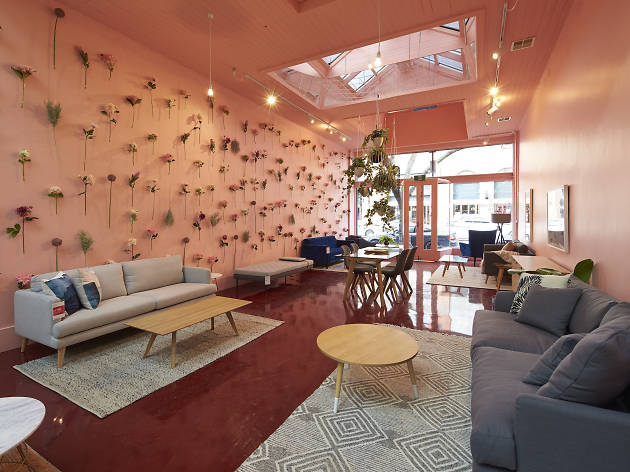 If you're struggling to restrict your homewares obsession to the worlds of Pinterest and Instagram, then perhaps it's time you take the next big leap and start furnishing the home of your dreams. Here, we've included shops to suit every taste, from minimalist Scandi style to kitsch cool.
Alternatively, you could always take your chance at one of Melbourne's best markets or at these weird and wonderful shops.
Homewares shopping in Melbourne
1
The Assembly Hall's a stroke of styling genius: everything interior related's assembled under one roof. Check out the Design by the Assembly Hall service, which brings design dreams to life, and the showroom's ever changing selection of lighting, furniture and homewares.
2
It's usually the first place we go to buy gifts, but we generally leave with five other things we didn't anticipate buying (last time it was milk bottles sporting the Jolly Roger). With an eclectic mix of homewares, jewellery and objects of desire, it's also particularly handy if you want to give an Aussie inspired and made gift without a hint of cringe. Check out their inspired window dressing.
3
Apartment need a bit of a spruce? Head to the peachy-hued Lounge Lovers in South Yarra, just opposite from Jam Factory. Lounge Lovers is a Sydney based retailer of designer sofas, sofa beds, and dining and living room furniture. Their designs are fresh and the quality is top grade – think of them like a step above Ikea, but not as wallet churning as the high end stuff.
5
Let's be upfront about this: it's pretty exy in here, so we like to regard it as shopping for the eyes, but if you're a trust fund baby you should get there as a matter of urgency. Fave picks include the wild geometric print towels and the apothecary candles (more skulls and crossbones), neither of which would break the bank. Otherwise, keep an eye out for warehouse sales.   
6
If the thought of beige homewares from Country Road makes you want to stab yourself, chances are that Wunderkammer'll float your boat. We spend hours poring over the scientific paraphernalia, skeletons, butterflies and maps.
7
After a few location changes, Lost and Found have settled into their huge new warehouse home in East Brunswick. In many ways, a trip to Lost and Found is like an inadvertent visit to the Lost Dogs Home: it's packed with precious little things hoping for a warm, loving home. Maybe you weren't expecting to leave with a fuzzy orange armchair, but you really didn't have a choice, did you?
8
Founded by Terri Winter and her husband Bernd in 2001, Top 3 by Design has three successful stores located in Sydney, along with an online shop. Now expanding, Top 3 by Design is adding a Melbourne location in South Yarra, which will be opening on April 3rd. Just as the name suggests, the store stocks up to only three items in any one category, assuring you of the utmost in design quality and ingenuity.
More of Melbourne's best shopping
Got a lust for paper, pens, notepads and Washi tape? These are the best stores to satisfy your craving.