Heads up! We're working hard to be accurate – but these are unusual times, so please always check before heading out.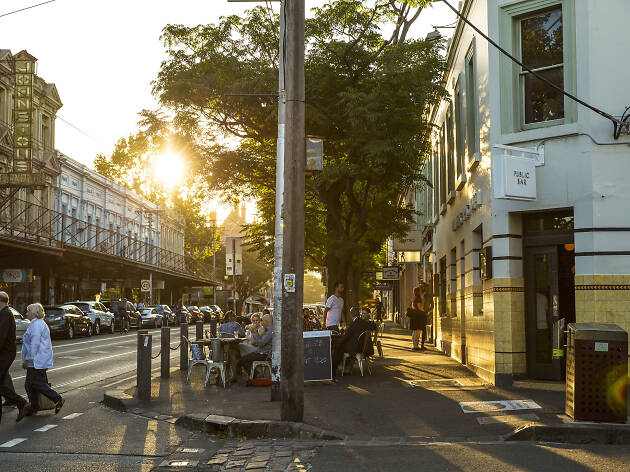 A local's guide to Fitzroy
Want to explore Melbourne's artsy heart? Here's our guide to great Fitzroy bars, restaurants and shops
Fitzroy is an eclectic suburb with a rich history etched into its old pubs and gay bars, narrow streets and terrace houses, long-lasting retailers and modern wine bars that have kept the old decor. The suburb was once long associated with the working class and was known to have a bohemian vibe but became a casualty to gentrification in the '80s and '90s. Yet despite undergoing urban revitalisation, many heritage buildings and Victorian-era architecture have lasted through the decades and play a key role in the area's ambience – right next to the street art.
You'll find various characters within Fitzroy's nooks, including many students, young professionals and those of the older generation that have called the community home for decades. It's economically diverse too, having one of Melbourne's largest public housing complexes while also putting up some of the most exxy rent in all of the city. It's hard to pigeon hole the area but, after all, why would you want to?
The traditional custodians of the land are the Wurundjeri Woi Wurrung of the Kulin Nation and the Kulin name for the area is Ngár-go, meaning high ground.
Jump to a section:
What's Fitzroy known for?
Fitzroy is known to be a cultural hub with a vibrant heart and celebrated for its unconventional, arty and eccentric nature. Head along Gertrude Street and you'll be met with designer shops and independent retailers nestled in beside bars known for their drag bingo and queer nights. Head down Brunswick Street and you'll be treated with espresso martinis, bottomless tacos and vintage shops with plenty of corduroy. And everywhere, live music can be heard – from gigs at pubs and bars to blasting through open windows above shop fronts. Fitzroy also the main home to Melbourne Fringe Festival, because where else would an event empowering cultural expression through inclusion and diversity reside?
Why do the locals love it?
Christian Ferrante, Market Director of Rose Street Markets, knows a thing or two about the local area and the community within it.
"Traditionally, I've loved the eclectic nature of Fitzroy. It's an open sort of place where anything goes," he says. "That sense of excitement that you really don't know what you might see on any given day, just walking down the street there's always something interesting or something massive happening."
How do I get to Fitzroy?
Fitzroy hasn't seen a train station since 1888, taking a preference instead to the tram life. The number 11 tram runs through the heart of Fitzroy, taking you from St Georges Road, along Brunswick Street and right through to Victoria Parade. Otherwise, the 96 tram runs from Brunswick East to St Kilda Beach, passing through Fitzroy, making it your best bet to end up along Johnston, Moor or Gertrude Street. The area is also very bike-friendly if you're a fan of getting on the pedals.
What's nearby?
Fitzroy is sandwiched between Collingwood on its right and Carlton on its left, separating the two AFL rivals. Just above the suburb, you'll find Fitzroy North and below is East Melbourne. The suburb is bordered by gardens, including Carlton Gardens to the west, Edinburgh Gardens to the north and, funnily enough, Fitzroy Gardens (which aren't actually in Fitzroy) a block to the south.
Map of Fitzroy
If you only do one thing…
Head to the rooftop of Naked for Satan and take in the sights of the suburb while drinking a cocktail based on the quintessential Australian pavlova. You can take in the views of the cityscape while getting in a good amount of people watching and soaking in the vibe of the area.
Explore more of Melbourne's best suburbs
Support your local neighbourhood with our selection of area guides around Melbourne.