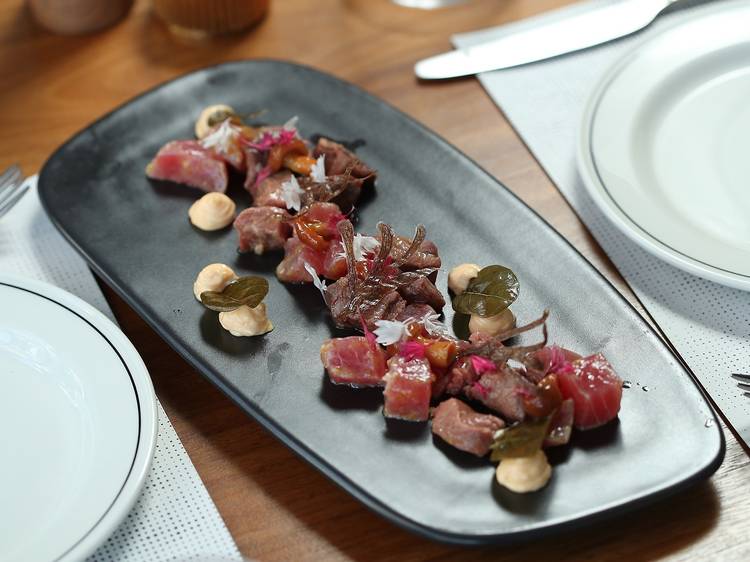 Photograph: Graham Denholm
Scott Pickett's southside outpost, Matilda 159 (159 Domain Rd) is as good as you'd expect from the northside restaurateur. The kitchen is driven by fire and charcoal, and the flavours are rich and smoky.
Melissa Glentis from Dilly Daly says Thirty Eight Chairs (4 Bond St) is one of her favourites. The Italian restaurant has a small menu and limited floor space but is big on flavour.
Omnia Bistro and Bar (625 Chapel St) is all about classic dishes, done beautifully. It's on the pricey end, but everything is quality.
Glentis also loves Bar Carolina (44 Toorak Rd) – and so do we, it was one of the nominees for our 2018 Time Out Food Awards. The Italian joint is in the price range of $30-plus for pasta mains, but they sure do know what they're doing in the kitchen.
Seafood fans should make a booking at Bacash (175 Domain Rd). Owner Michael Bacash selects the freshest fish and treats it with the utmost sensitivity.
Dilly Daly (6c Daly St) offers a modern twist on Australian classics, but Glentis says when the restaurant reopens post-lockdown she's considering offering café favourites with a Greek flavour, a nod to her own heritage.
Yagiz (22 Toorak Rd) offers classic Turkish food in chic, modern surrounds. We challenge you to find better borek.
There's nothing dainty at all about the big flavours of Dainty Sichuan (176 Toorak Rd). The pork belly is a particular favourite, and chilli heads should get the crisp-fried fingers of fish-fragrant eggplant doused in so much chilli that merely breathing near it is painful.
Get your yum cha fix at Oriental Teahouse (455 Chapel St), which has 60 different flavours of tea to accompany your dumplings and fried delights. Get the Flame Thrower pulled pork dumplings and pork belly. It's richer than you think, so you've been warned.
The menu at degustation-only Atlas Dining (133 Commercial Rd) changes regularly, crisscrossing the globe and offering flavours from Vietnam, Mexico, Israel and Korea, among a host of others.