Time Out Pub Awards 2016: recap
For the third year running, we threw a huge bash in honour of Melbourne's greatest watering holes. Here's what happened…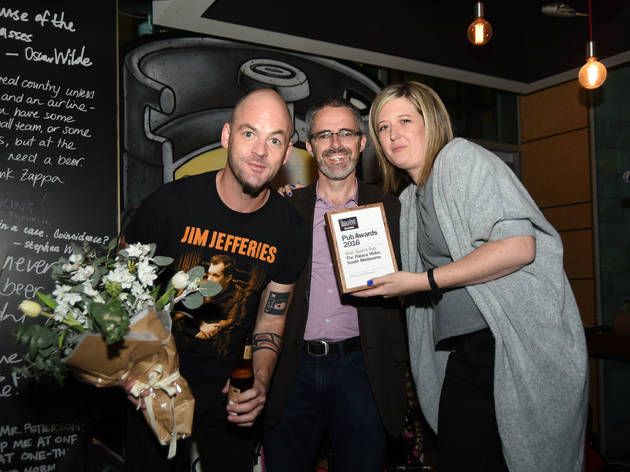 1/26
Photograph: Amanda Summons
2/26
Photograph: Amanda Summons
3/26
Photograph: Amanda Summons
4/26
Photograph: Amanda Summons
5/26
Photograph: Amanda Summons
6/26
Photograph: Amanda Summons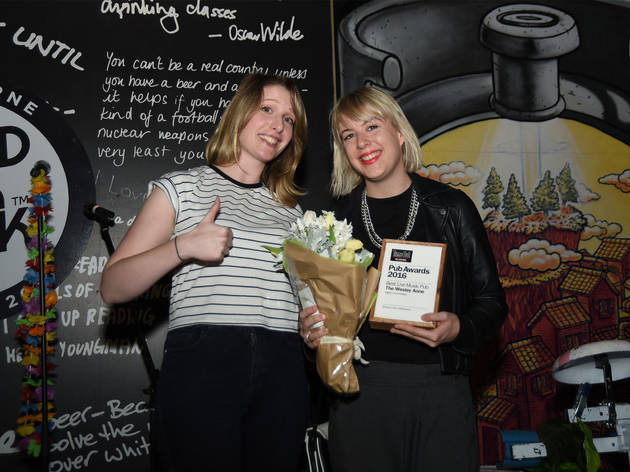 7/26
Photograph: Amanda Summons
8/26
Photograph: Amanda Summons
9/26
Photograph: Amanda Summons
10/26
Photograph: Amanda Summons
11/26
Photograph: Amanda Summons
12/26
Photograph: Amanda Summons
13/26
Photograph: Amanda Summons
14/26
Photograph: Amanda Summons
15/26
Photograph: Amanda Summons
16/26
Photograph: Amanda Summons
17/26
Photograph: Amanda Summons
18/26
Photograph: Amanda Summons
19/26
Photograph: Amanda Summons
20/26
Photograph: Amanda Summons
21/26
Photograph: Amanda Summons
22/26
Photograph: Amanda Summons
23/26
Photograph: Amanda Summons
24/26
Photograph: Amanda Summons
25/26
Photograph: Amanda Summons
26/26
Photograph: Amanda Summons
The three pillars of any Time Out party are top-notch drinks, plenty of great grub and (almost) too many good times to handle – and the third annual Time Out Pub Awards was no exception.
On a Monday night in May, more than 300 pub-lovers and industry heavyweights rocked up to Beer DeLuxe to find out who would take out the highest accolades in the pub biz – from Best Beer List to Pub of the Year and everything in between.
With booze from Yenda, Bacardi Fuego, Pressman's and Gentleman's Collection in one hand and food by Beer DeLuxe in the other, guests were treated to the comic stylings of our host for the evening, Melbourne comedian Bev Killick. Calypso tunes by Mighty Duke and the Lords soon got the dance floor pumping, and before long, guests were taking happy snaps with Fotobox and challenging each other to games of iDarts.
The room exploded when The Palace Hotel, South Melbourne was crowned Melbourne's best pub.
"The Palace ticks every box – craft beer, sports, welcoming atmosphere, and the best Buffalo wings in Melbourne," said Fred Siggins, Time Out Melbourne's pubs editor.
"It's just an impossible pub to fault. They even have a friendly pooch."
In a big night for the Palace, the venue also took out the award for Best Sports Pub, while its trio of friendly owners Jessica McGrath, Mark Pratt and Billy the Pub Dog were runners-up in the Publican of the Year award.
The winners of that award were Kieran Yewdall and Michael Shaughnessy, publicans of The Catfish in Fitzroy, in a repeat of their victory in the same category last year.
Best Pub Food went to South Melbourne favourite Lamaro's Bodega while thePub Revival Award went to the Crafty Squire, the renovated former James Squire Brewhouse on Russell Street.
Collingwood's Bendigo Hotel, a centre of Melbourne's hard rock community, was the surprise winner of the award for Best Live Music Pub.
A classic pub steakhouse that has barely changed since the 1980s, and yet offers some of the best steaks around, the Railway Club Hotel in Port Melbourne received the Old School Pub Award.
Best Beer List was a hotly contested category but the Local Taphouse in St Kilda emerged victorious for the diversity of its offering on tap.
The People's Choice award, nominated and voted on by Time Out readers, went to another St Kilda venue, the Grosvenor.
Finally, Time Out's Legend Award, reserved for a pub that has indelibly shaped Melbourne's drinking culture, was awarded to the Retreat, Brunswick, for its longstanding commitment to live music and being a welcoming place to all comers.
Guests walked away with hangover cure tablets by Hydrodol and a copy of the Time Out Melbourne Pub Guide 2016 – your definitive guide to the best 100 pubs in Melbourne. The guide is on sale at all good newsagents for $4.95 from Thursday May 19.
More of Melbourne's best pubs
Melbourne is a city that really know to do pubs. From beer halls with more than 50 craft beer taps to cozy locals with a great fireplace, there's a pub for every occasion.
Read more