Arts & Culture
Get cultured right from your couch with these amazing online offerings, from virtual tours to free drawing classes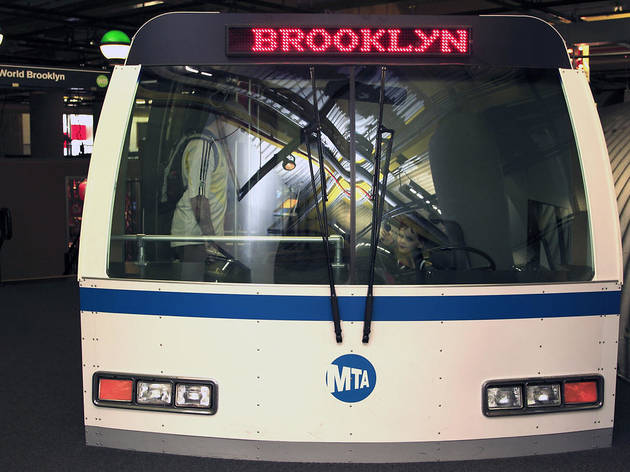 Visit your favorite kids' museums in NYC right from home
The coronavirus outbreak has sent the city—and the world—into a state of limbo.  New Yorkers are resilient, but this new stay-at-home lifestyle is enough to make even the toughest urbanites go a little bonkers...especially when kids are in the picture.  Apartments might start to feel smaller and smaller now that the little ones are home 24/7, but there's good news for parents who are starting to break a sweat: We might not be able to have physical access to our favorite family attractions and kids' museums right now, but Google Arts & Culture lets curious kiddos gain access to their favorite destinations with a click of a mouse.  An afternoon or night at the museum (see what we did there) is possible, even amid these strange times. Google: City moms and dads thank you. Happy museum-hopping and stay safe!  American Museum of Natural History Home to our favorite dinosaur activities for kids, AMNH offers a virtual glimpse at the pre-historic creatures, mammals, insects and plenty other beloved areas of its Upper West Side digs. Be sure to peruse the online exhibit, "Picturing Science: Museum Scientists and Imaging Technologies." Brooklyn Children's Museum Although a trip to this interactive kids' museum—the first of its kind in the U.S.—is always a hit, a peek at home is pretty cool, too. Your mini geologists will love taking a gander at specimens in the online exhibit, "Fluorescent Minerals: Spices of the Mineral World." Children's Museum of the Arts This gem of a museum in SoH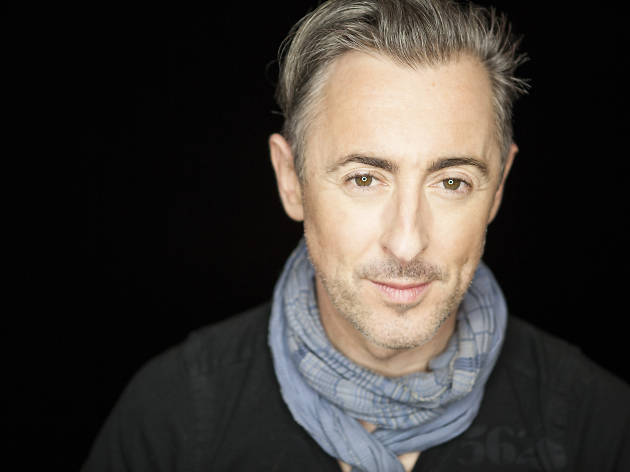 Virtual storytimes for kids: Authors and venues go online amid coronavirus
Just because you're staying in doesn't mean an end to storytime! From the Brooklyn Public Library taking its readings to Facebook, to live demonstrations by famous picture-book authors, to a large selection of many of the greatest actors of our time reading some of the best books for kids, you can have an amazing storytime for kids right at home.  Along with classes for kids and DIY projects and activities from NYC shops and businesses, these virtual storytimes will keep young minds sharp—and parental minds sane.    Story Time! from Penguin Kids WHEN AND WHERE: Via Instagram and Facebook every weekday at 11am  Authors and illustrators published by Penguin Kids will read their stories every weekday at 11am. HarperKids from Home  WHEN AND WHERE: Via Facebook, Instagram, Twitter and YouTube every weekday at noon.  The team at HarperKids will hold a storytime with read-alouds and activities pure entertainment every day at noon. Mo Willems's "LUNCH DOODLES"  WHEN AND WHERE: Via the Kennedy Center every day at 1pm The first-ever Education artist-in-residence at the Kennedy Center, New Yorker Mo Williems will hold LUNCH DOODLES every day at 1pm: Your kiddos can peek into the mind of the author of Don't Let the Pigeon Drive the Bus!, Knuffle Bunny and other contemporary classics. LUNCH DOODLES will be archived on YouTube. READ TOGETHER, BE TOGETHER from Penguin Kids WHEN AND WHERE: Via Instagram or Facebook every day at 3pm Every day a celeb will read a book on his or her Instag
Virtual classes, performances and more: How NYC business are keeping kids busy
We might be stuck inside, but that doesn't mean we can't enjoy our favorite family attractions and activities in NYC.  Amid the coronavirus outbreak, local kids' museums, artists, shops and businesses have shifted gears and made their services available digitally. Yes, we might be forced to get comfortable in our tiny apartments, but we can make the best of it.  Check out our go-to classes, performances and other fun online happenings to pass the time. Stay safe, NYC!  American Museum of Natural History Even if you can't visit the dinos and giant whale in person, you can experience the American Museum of Natural History right at home. Its OLogy science website lets families take a peek at different lessons and activities in a wide range of subjects—archeology, anthropology, astronomy and more. While New Yorkers are forced to stay inside for the next two weeks, the Museum will host previously recorded tours of its halls and collections on Facebook Live at 2pm ET. Sounds like the perfect afternoon at the museum to us! (Get it?)  Broadway Bound Kids Those with a flair for the dramatics will want to tune in for the theatrical fun from Broadway Bound Kids. The group just launched free video on demand programs, which includes theater dance, yoga, hip-hop and other subjects. Private coaching is also available virtually for kids who want to sharpen up their skills. Plus, there's something for all theater-lovers to look forward to: master classes with your favorite Broadway stars! N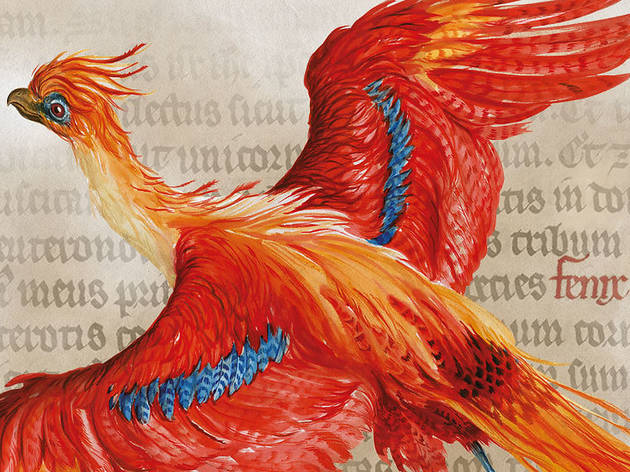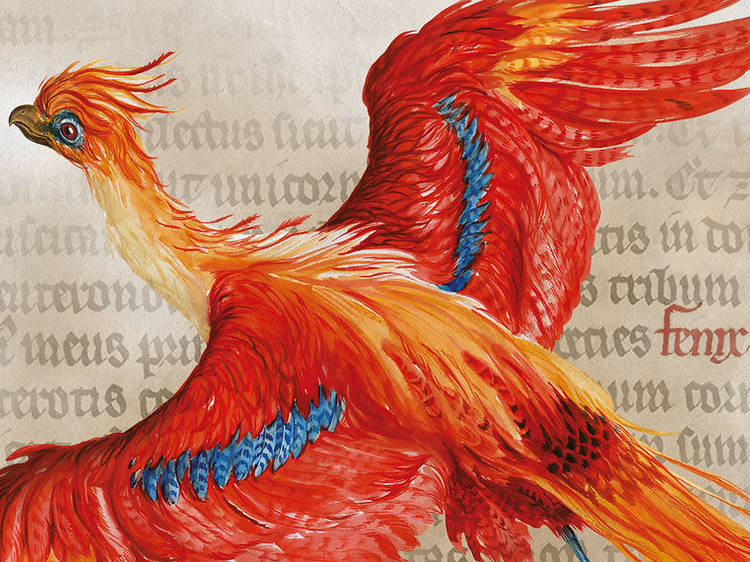 You can tour the "Harry Potter: A History of Magic" exhibit from home
Don't despair if you missed "Harry Potter: A History of Magic." Thanks to the magic of the internet and the archival might of Google Arts & Culture, you can tour the British Library exhibit—which also ran at the New-York Historical Society—without leaving your home. This virtual tour is so much more than a few galleries and videos. "Harry Potter: A History of Magic" is a comprehensive online experience that links episodes from the seven-volume series to historical objects from the incredible collection housed in the British Library. It's also a part of Harry Potter at Home, Wizarding World's newly-launched resource of all things Potter. The sorcerer's stone in Harry Potter Book 1? It was a mythical object that bewitched thinkers for hundreds of years, including the alchemist George Ripley, whose mystical ideas were written in code on a lavishly-illustrated scroll nearly 500 years ago, and that details an actual recipe for the sorcerer's stone. This show is great for Potterheads and muggles alike. The books are explored in-depth, with plenty of original drafts and drawings that will let fans of the series see how the stories evolved: Check out J. K. Rowling's original sketch of Hogwarts. And there's lots of serious scholarship about the mystical arts, including books and objects that are so out-there they seem like they're works of fiction: A thousand-year-old medical manuscript called Bald's Leechbook feels like it belongs in Dumbledore's office, but it's a part of this very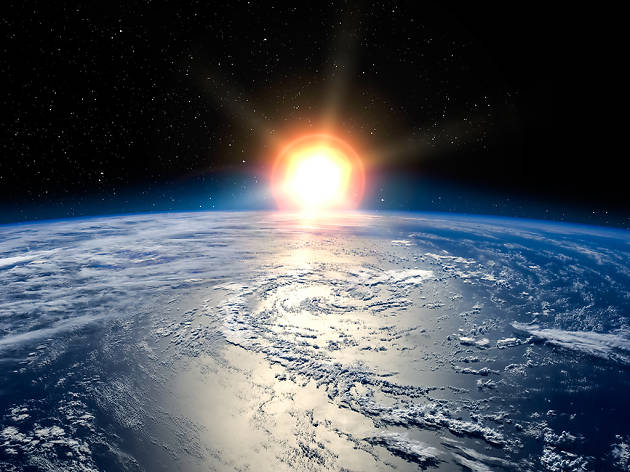 Escape your quarantine by taking a space tour with NASA
NASA is really stepping it up these days, finding creative ways to entertain folks under quarantine without having to leave the comfort of their couch. Case in point: the slew of virtual and augmented reality tours that the space agency offers on its website. Whether you want to check out the International Space Station (you should) or have always dreamt of stepping into the Armstrong Flight Research Center in California (we have), there is a tour for you. Here, we highlight eight of them. Our suggestion? Try them all.  Hubble Space Telescope mission operations center Another 360-degree virtual tour, this one of the Space Telescope Operations Control Center, which is found at NASA's Goddard Space Flight Center in Greenbelt, Maryland. International Space Station Suni Williams is the astronaut that will take you on this awesome tour of the International Space Station. Did you know that folks have lived and worked here for over two decades? Commercial Crew Program 360-Degree VR Tour To launch astronauts into space on American-built rockets and crafts, NASA makes full use of its Commercial Crew Program. This tour delves into the thick of that process. Next Stop: The Stratosphere Meet SOFIA: the Administration's flying observatory, which is "a Boeing 747SP aircraft modified to carry a 106-inch telescope." Ready to explore it? NASA's Exoplanet Excursions On this virtual tour, you'll be able to actually control the famous Spitzer space telescope yourself. How cool? In addi
Family attractions online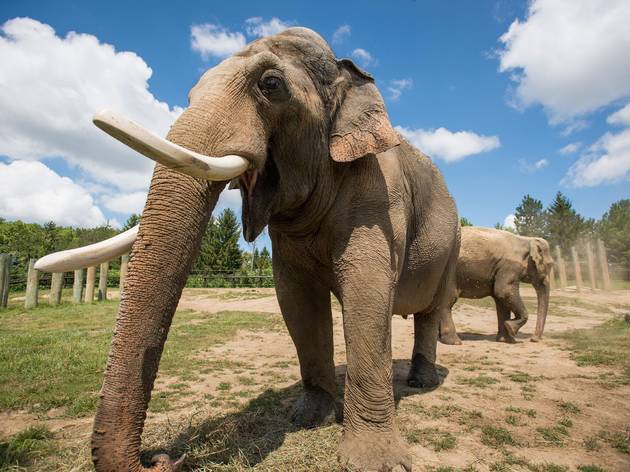 These videos and live feeds will turn your home into a zoo
Members of the Association of Zoos and Aquariums are taking their elephants, cheetahs, sharks and other magnificent beasts online! Simply go to the AZA's Zoo and Aquarium Videos and Activities page and you will get a calendar with links to hundreds of events going on at zoos and aquariums all around the United States and Canada.  Now you can watch zookeeper talks, catch storytime with animals, go on tours and take part in animal meet-and-greets with just a couple of clicks. It's like having all the creatures of the world in your living room!   The sheer scope of what you'll find on the Zoo and Aquarium Videos and Activities calendar is amazing. There are 35 events scheduled for just today, March 27. You can catch live video streaming from the Monterey Bay Aquarium (otters! jellyfish!), and watch the hippo feeding at the Toledo Zoo, and watch the sawfish and nurse sharks in the "Dangerous Lagoon" at Ripley's Aquarium of Canada, and so much more. This is another one of the amazing online resources introduced in recent weeks. From virtual storytimes, to online classes, to the thousands of books the NYPL lets you download for free, there's so much to keep kids occupied and having fun while they spend their days at home. The Zoo and Aquarium Videos and Activities calendar is another way to we can make the most of this time. Sign up to receive great Time Out New York Kids deals in your inbox each day.
The Bronx Zoo just launched adorable free drawing tutorials on Instagram
It's a wonderful time for little artists to hone their craft.  Free drawing classes and coloring book pages are easily accessible, and all the creative tools are right at home! Why not spend this time in sketching museum-worthy pieces? After all, the fridge exterior is looking a little bleak and could use some artwork.  If your little Picassos are looking for their next activity, we have your answer. The Bronx Zoo just launched a free video tutorial series on Instagram called "Zoodles," which provides step-by-step instructions to creating your favorite animals! First up? The super-cute red panda.  Have a look at the debut Zoodles video! All that's required is paper, a marker and some crayons! It's an easy way to bring the best of NYC right to your home. What animals do you hope to see next?  After the at-home art class, make sure to keep your pint-sized zoologists entertained with fun livestreams from the Association of Zoos and Aquariums, which hosts animal meet and greets, feedings and storytimes from attractions across the country. Perhaps this will inspire another bout of creativity for your artists!  If you're looking to entertain the kiddos with more drawing inspo, be sure to tune in for Mo Willems' daily doodling classes at 1pm or Dav Pilkey's Friday-morning classes. We can't wait to see what your kiddos create next! Happy doodling/zoodling!  Sign up to receive great Time Out New York Kids deals in your inbox each day.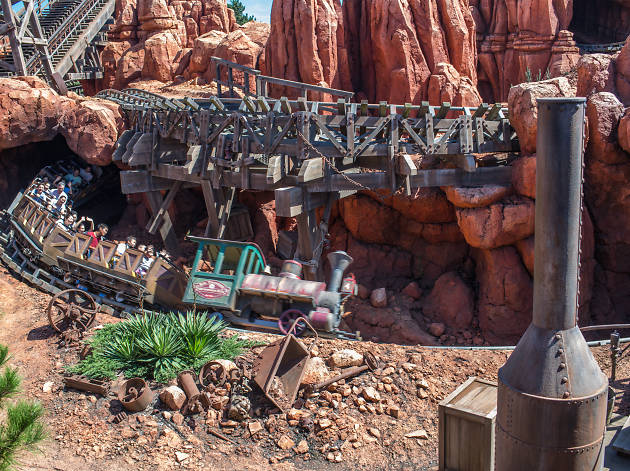 Disney World is closed, but these virtual rides bring the Magic Kingdom home
Disney World and all Walt Disney World theme parks are closed through at least March 31, but you can turn your home into the Magic Kingdom by using your computer, TV or other devices to go on a virtual ride. Since you can't head out for adventure, we're bringing a little bit of that fun to you: In this era of social distancing, we'll help you get your "whoo-hoo!" on without leaving the couch. Check out our favorite Disney rides—virtually:  Others observed that these online rides—though not affiliated with Disney—are loved by many, and we're positive that they'll make staying home a little more exciting for kiddos. You get to experience the full ride on classics like Splash Mountain, and epic new rides like Star Wars: Rise of the Resistance and even fan favorites like Frozen. All you have to do is stream the videos posted by dedicated fans who documented these amazing rides—and who waited in those legendary lines. (We're grateful.) Take a journey on Expedition Everest Visit Anna and Elsa on Frozen Ever After Head to a galaxy far, far away thanks to Star Wars: Rise of the Resistance  Have fun on Splash Mountain  Head out of this world with Space Mountain  After all, this is a great time to bring that uplifting Disney spirit into your home. You can inspire the kiddos with the best Disney songs of all time, or stream the best Disney princess movies of all time. If you want to keep the fam entertained and cheerf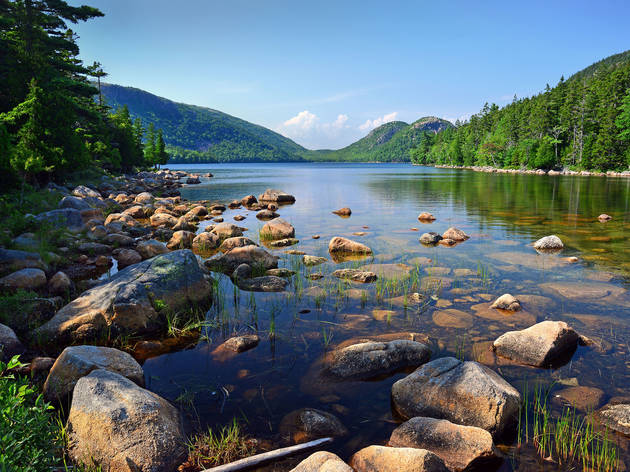 You can take virtual tours of America's greatest national parks on Google Earth
The silver lining involved in living through a pandemic in the age of the Internet is that, while the flesh may be self-quarantined/socially distanced/working from home, the spirit can take online journeys far and wide—all while wearing sweatpants. Take, for instance, the National Park System, truly one of the greatest in the world. Thanks to Google Earth, you can now virtually tour 31 national parks, even if, say, your office manager thinks you're working on, you know, that thing you're supposed to be working on. Using satellite imagery from Google Maps, the site shows the U.S. from space, with small photos of each park serving as an icon. Click on one of those, or on one of the larger images of each location listed alphabetically on the right of the dashboard, and you'll be whisked away to your destination. Tap on, for instance, Arches National Park in Grand County, Utah, and you'll find yourself deposited at the foot of one of its major features—a sandstone fin boasting two massive, eye-shaped openings known as the North Window. You can use street view to hike along the trail leading up to it, or you can switch to a bird's eye view of the landmark and the other trails around it. Google Earth's National Park tours span the country, from Mount Rainier National Park in Washington State to Virgin Islands National Park. So try it out—but maybe not during office hours.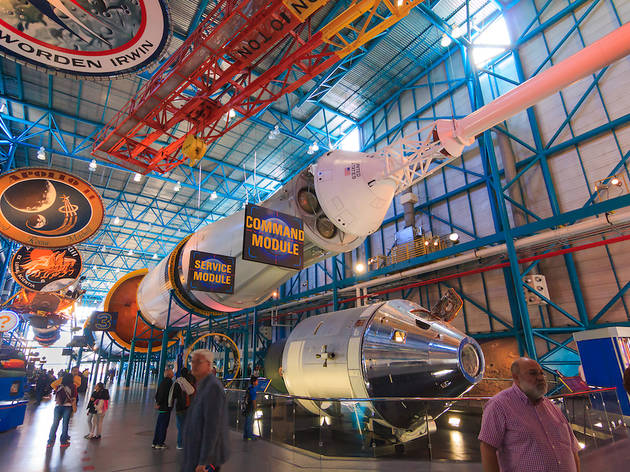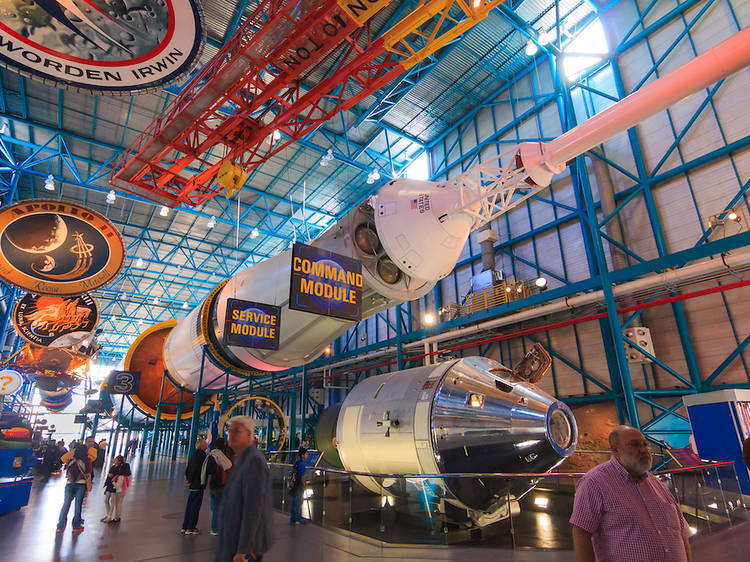 Visit the Kennedy Space Center without leaving the couch
We might have to put a pause on travel plans for the time being, but that doesn't mean we can't enjoy an-out-of-this-world family excursion. Curious about life on Mars? Wondering what it looks like inside Space Shuttle Atlantis? Get an up-close-and-personal experience right from home! All you need to do is find your nearest laptop and log onto the Kennedy Space Center's social media sites for a (virtual) intergalactic adventure. The Florida attraction is appealing to everyone in the family—little kids through teens—with a series of online offerings. Tune in at 9:30am ET, Monday Wednesday and Friday, to keep the younger ones in your brood entertained with a presentation, which is followed by a Q&A session. Older kids will want to hop online at 1pm for age-appropriate presentations. Both of these offerings can be found on Facebook, and resources like at-home activities can be found on the attraction's website. Thanks to NASA teaching materials, experiments based on Bernoulli's Principle and other nifty things to do, your scholars will be busy for hours. At a time when visits to kids' museums is forbidden, parents don't have to worry about learning and keeping kids entertained: Plenty of institutions are taking their services online. If your pint-sized astronaut is also interested in checking out other activities, have a look at our virtual museum visits, stortyimes, classes and performances.   
 Sign up to receive great Time Out New York Kids deals in your inbox each day.