Art
Art galleries, exhibitions and reviews of the latest and best art in New York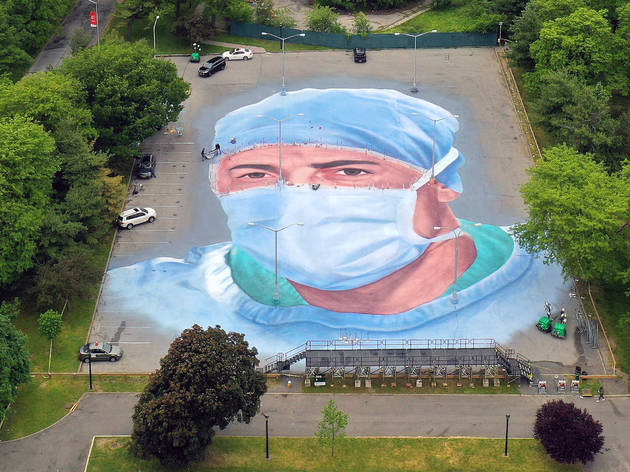 This giant new NYC mural is a tribute to the city's healthcare workers
New York City has a rich history of street art inspired by current events, and that's no less true for the crisis that's currently rocking the five boroughs. Artists have offered their responses to the pandemic by putting up posters, tagging walls and even drawing on curbside trash. But the largest example so far has to be a new 20,000-square-foot ground mural covering an entire parking lot in Queens. Located in Flushing Meadows/Corona Park between the Queens Museum and the New York State Pavilion, the piece is the handiwork of artist Jorge Rodriguez-Gerada and consists of a portrait of an ER doctor wearing PPE. Meant to stand in for the tens of thousands of lives lost to COVID-19, the image references a particular individual: Dr. Ydelfonso Decoo, one of the first medical professionals to succumb to the virus while battling the disease. He worked for SOMOS Community Care, a healthcare network comprised mainly of immigrant Latino and Chinese doctors treating patients in marginalized communities. Although the figure in Rodriguez-Gerada's rendering is mostly masked, his eyes are based on Dr. Decoo's.   Photograph: Courtesy GreenPoint Innovations   Rodriguez-Gerada is no stranger to working big: In 2008, he made a similar portrait of then-candidate Barack Obama out of 650 metric tons of sand and gravel on a Barcelona beach, while another of his creations—a 2014 homage to America's diversity for the National Mall in Washington, D.C.—was so large, it could been seen from space.
A major new outdoor summer art exhibition is coming to Queens
Since NYC went into lockdown, it's been strange days for New York's art world, with gallery exhibits limited to online viewing rooms and museums confined to offering virtual tours. But now, with the prospect of the city slowly beginning to lift the quarantine, all of that may change. Indeed, you might say an upcoming exhibition slated for Queens's Socrates Sculpture Park is a harbinger of things to come. Remarkably, the outdoor art showcase in Long Island City has been opened all of this time, because, well, it's a park. However, Socrates was only showing works installed before the crisis. Now, it's is making up for lost time with a new exhibition series, under the rubric, "Momuments Now," that will take place over the summer and fall. It kicks of with a trio of artists—Jeffrey Gibson, Paul Ramírez Jonas and Xaviera Simmons—presenting large-scale objects that take the premise literally. Gibson's piece, for example, consists of 40ft x 40ft plywood ziggurat inspired by the pre-Columbian earthen mounds created by indigenous people in the Mississippi Valley during the 13th century. It will be covered in a skein of brightly-colored geometric patterns.   Photograph: Courtesy the artist and Socrates Sculpture Park   Ramírez Jonas, meanwhile, is creating a functional community grill in the form of towering obelisk.   Photograph: Courtesy the artist and Socrates Sculpture Park   Finally, Simmons's boxlike cenotaph frames texts culled from historical documents related to racial dis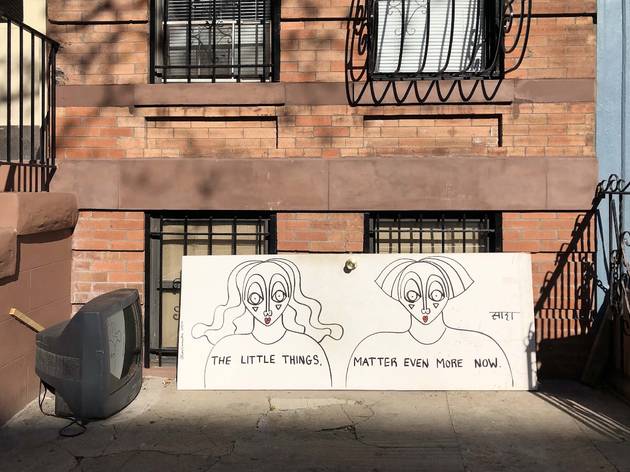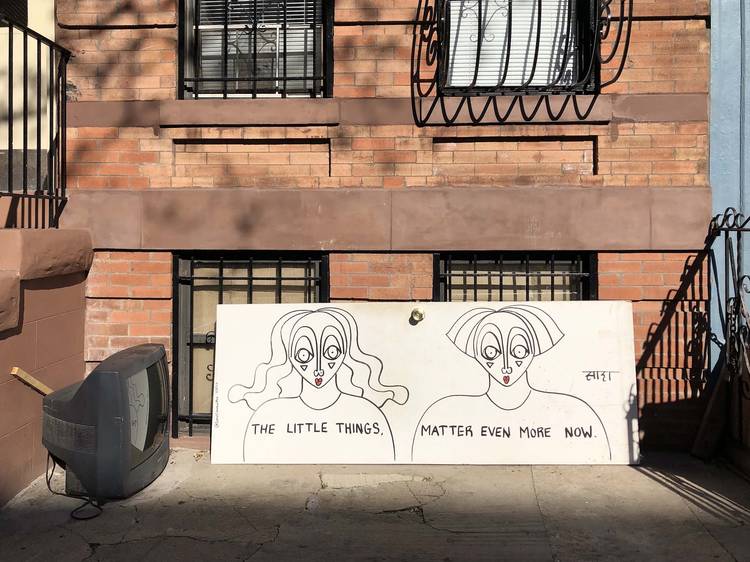 This New York artist is producing timely work on discarded items around the city
While the streets of New York City may have emptied since the start of the lockdown, street art has maintained an aggressive presence, spawning a new genre devoted to addressing the pandemic and how it's changed our lives.   Photograph: Courtesy Sara Erenthal   One artist of note in that vein is Sara Erenthal, a Brooklyn-based, self-taught artist whose work focuses on displacement, survival and liberation. "Art is my therapy," she tells Time Out, "I'm always creating art about my daily struggles, experiences and hopes, so my work naturally turned to the crisis as soon as it became a topic of conversation."   Photograph: Courtesy Sara Erenthal   Often appearing on objects discarded next to the curb (mattresses, appliances, pieces of furniture, etc.), her art depicts lone female figures above messages that range from public service-y ("Please wear a mask and practice social distancing") to heartfelt ("Can't wait for the day when I can hug you again"). This approach dates back to a habit of collecting canvases off the street to save money on art supplies. "One day I found a window that I wanted to take home and work on instead," she says, "but it was too heavy, so I drew on it and left it. Later, I learned a couple had picked it up, and since then I've been drawing on any object with a good surface."   Photograph: Courtesy Sara Erenthal   Going out in the middle of the crisis certainly entails risk, but Erenthal's says she feels compelled to pursue her work because it is "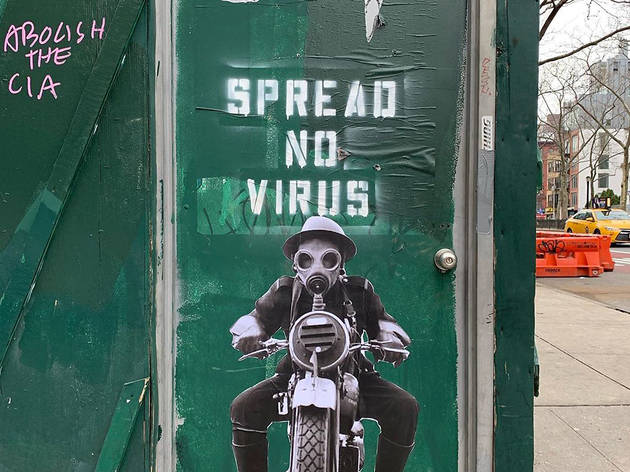 The best NYC street art inspired by our surreal times
One of the big questions surrounding the "New Normal" is how will it affect life as we know it in the long term. In what ways will it transform how we work, how we vote and how we entertain ourselves? Will going to the movies, seeing a musical or dining at your favorite boîte ever be the same? And then there's the issue of art, which has already migrated to the web in the form of virtual tours and online viewings. But more important is how the content of art is going to change. Will the art world go back to business as usual, or will the current situation become a principal subject for artists and the curators and collectors who follow their lead? In the gallery world, this has yet to happen in any concerted fashion, though there have been some efforts to address the crisis. Street art, on the other hand, seems to be making a more noticeable pivot towards responding to Covid-19 and its fallout. This may be due to the fact that street art is historically rooted in the idea of being a guerrilla activity, nimble in execution and subversive in content. So it shouldn't be a surprise that here in New York, the city that gave birth to the graffiti movement, several examples of pandemic-related street art have been popping up around town. We picked out some especially eye-grabbing pieces, which you can check out below. View this post on Instagram Fancy stores are removing their stock and boarding up their windows in NYC. A post shared by Adrian Wilson's art page (@pla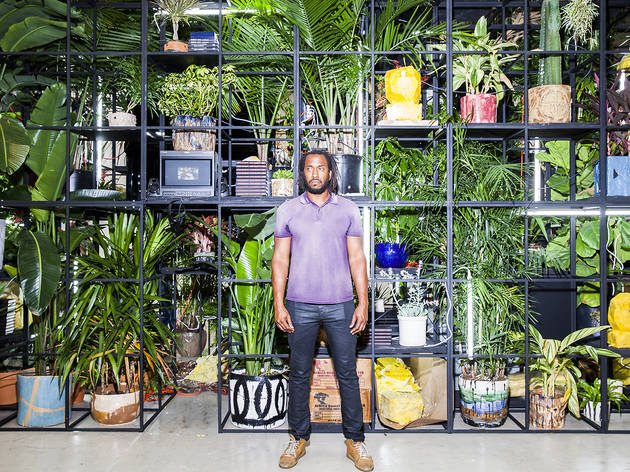 Artist Rashid Johnson's latest work ponders the limits of freedom
The youngest artist in the Studio Museum in Harlem's seminal 2001 exhibition "Freestyle," Rashid Johnson embraced curator Thelma Golden's notion of "post-black" culture more than any other artist in that show. Fifteen years later, Johnson's multimedia work has grown to encompass a wide range of everyday materials and objects while exploring diverse ways of expressing his experience as an African-American. Johnson sat down with Time Out New York to discuss his latest exhibition at Hauser & Wirth gallery in Chelsea (his biggest in New York to date), its theme of escape and how that relates to the arc of black history.       You've titled this show "Fly Away," after the old spiritual about leaving the burdens of earthly existence behind. Why that song?I've always been interested in the desire to escape and how it operates historically. Black Americans have had a complicated relationship with the idea, both in the North and the South, whether it was Marcus Garvey saying, "Let's go back to Africa," or Sun Ra claiming he's from Saturn. Then there's the writer Paul Beatty suggesting somewhat facetiously that all blacks should commit suicide as a way of getting off the plantation. How has that idea related to your life?Not just to my life. We all think these things, and we all have this feeling as young people of being in limbo, thinking, Where can I go? What am I searching for? We're all looking to escape some facet of how complicated our lives are. That was certainly true when I w
What's on view at NYC museums