Heads up! We're working hard to be accurate – but these are unusual times, so please always check before heading out.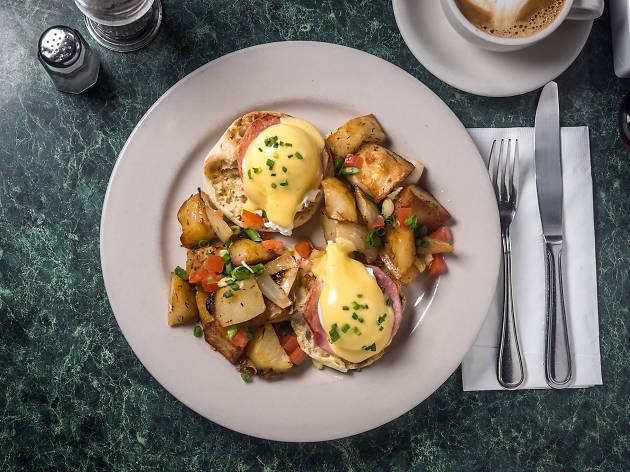 Foods you didn't know were invented in NYC
These culinary delights prove New Yorkers aren't just good at eating new foods—they're good at inventing them!
You probably knew that the Cronut was created here in NYC, but you might be surprised to learn about a few edible inventions that hail from Gotham well before the age of social media–induced food frenzies. And, because we know that just reading about food will make you hungry, we've included the best places to find each one. From Italian restaurants' classics to staples of the best brunch in NYC to the universally beloved best desserts, these foods are the products of different influences but never fail to bring people together. And knowing the backstories will help you appreciate the foods invented here in NYC that now and forever taste like home.
RECOMMENDED: Full guide to best restaurants in NYC
Foods you didn't know were invented in NYC
This potent brunch-time mix of vodka, tomato juice and Worcestershire sauce was "perfected," according to St. Regis staffers, by hotel barteder Ferdinand Petiot in 1934.
Spaghetti is Italian, and meatballs are Italian, but spaghetti and meatballs? That's 100 percent American. When Italian Americans came to the States between 1880 and 1920, meat was actually cheaper than it was in Italy, so meatballs grew in size. Tomato sauce became popular because canned tomatoes were readily available in American supermarkets, as was spaghetti. A dish that was filling and cheap, the pasta became a centerpiece instead of a side dish like it was back home. And voila! A star is born. For a taste of the classic comfort food done right, head to Le Zie 2000.
In the 1930s, Harlem's Wells Supper Club was a popular haunt for jazz legends like Nat King Cole. The signature dish, leftover fried chicken atop a waffle, catered to nighttime performers who had missed dinner but couldn't wait till breakfast to chow down.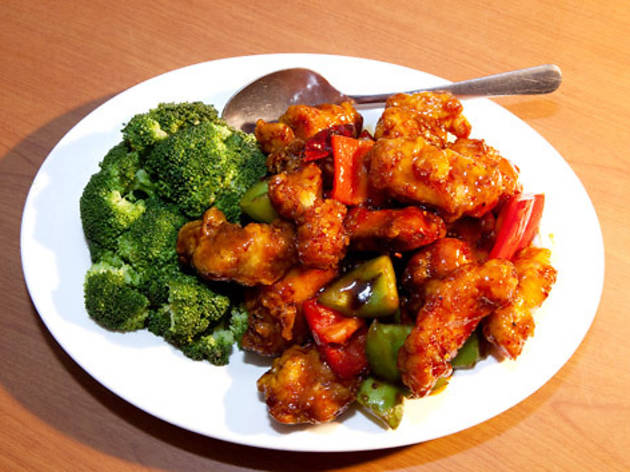 The most famous Chinese dish that you can't find in China, this lightly battered, sweet-and-sour chicken was cooked up in the 1950s by the late great Taiwanese chef Peng Chang-kuei at his eponymous restaurant in the East 40s.
As the story goes, one hungover stockbroker in 1894 stumbled into the Waldorf Astoria and ordered two poached eggs with crispy bacon, toast and hollandaise sauce. The famed maître d'hôtel Oscar Tschirky later added it to the menu.
Concocted in the early 1900s, these "cookies" are actually vanilla cakes with extra flour and frosting in two colors.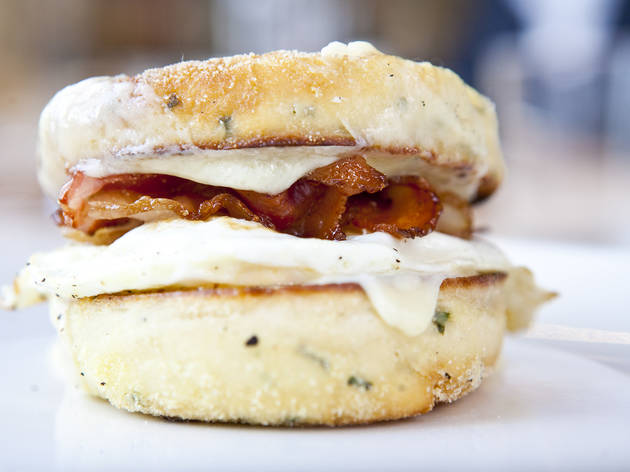 Time Out, Photograph: Jakob N. Layman
English muffins are actually (surprise!) not English. Instead, like General Tso's chicken, they are the invention of an immigrant, in this case Samuel Bath Thomas, who came to the U.S. in 1874 and opened a bakery. Not actually muffins, they were originally called "toaster crumpets" and later became a crucial ingredient in another NYC food invention—eggs Benedict. We're willing to bet you've only had store-bought English muffins, but you can try delicious sandwiches from the GoGo Grill food truck made on English muffins they actually bake themselves. 10-30 Canyon of Heroes, (646-425-1905, thegogogrill.com)
Fire and ice join forces in this strange but iconic Delmonico's dessert, in which meringue-encased ice cream is soaked in overproof rum and flambéed before serving.
In addition to eggs Benedict and of course the Waldorf salad, the Waldorf Astoria is also responsible for red velvet cake, formerly known as the Waldorf cake. Legend has it that a woman visiting from the West Coast was so taken with the cake that once she got back home, she wrote to the chef asking for the recipe. He obliged and also sent along a surprise bill for $350, the price of his intellectual property. Enraged, the woman disseminated the recipe to get revenge. Of course, the more people learned of it, the more popular it became. Today, at Two Little Red Hens, you can taste fluffy red velvet cake beneath a layer of perfectly thick cream cheese frosting.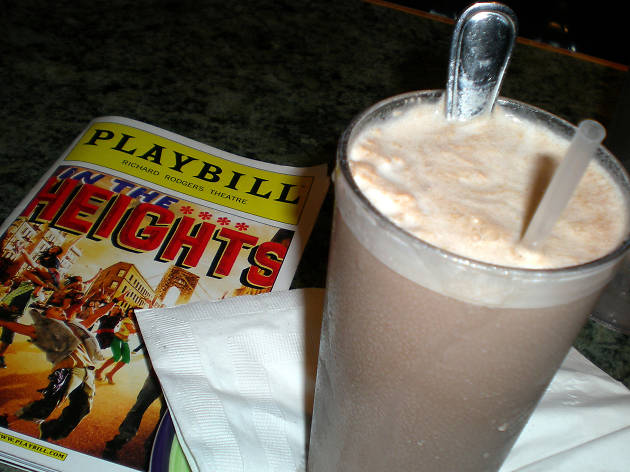 Photograph: Courtesy CC/Flickr/Kevin Harber
Despite the name, there's no egg in this drinkable dessert. Believed to have been developed by candymaker Louis Auster in the late 1800s, the recipe calls for just three ingredients: chocolate syrup, milk and seltzer.
This claim is heavily contested in the Midwest, but at least a few culinary historians agree: The combination of corned beef, kraut and Swiss cheese rose to fame at the now-shuttered Reuben's Delicatessen on 58th Street in the early 1900s.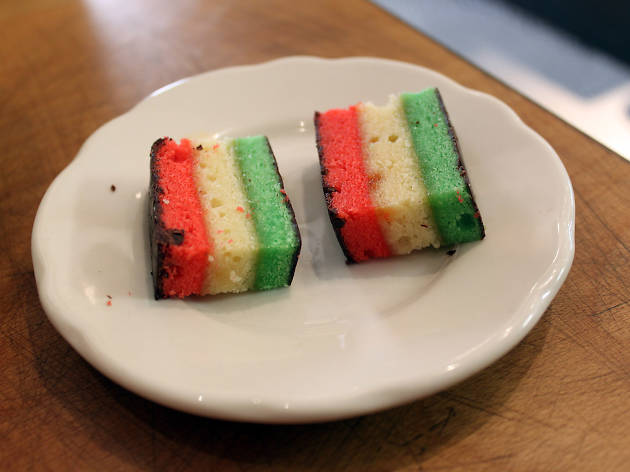 Photograph: Courtesy CC/Flickr/Veronica
The tricolor cookies (or rainbow cookies or Napoleon cookies) that you find in every Italian bakery are neither Italian nor really a cookie. They were invented from scratch by the Italian-American community in the 1900s as a tribute to the motherland. Thin layers of dark chocolate sandwich a dense almond-paste cake dyed in the colors of the Italian flag, each color separated by a layer of jam. La Bella Ferrara has the perfect, not-too-dense rainbow cookie, along with other delicious, authentic Italian pastries and cookies. 108 Mulberry St (212-966-7867)
Photograph: Courtesy CC/Flickr/Veronica
Want to learn more about NYC?
They're not all just numbers—these interesting street names in NYC have very interesting backstories