The best restaurants for Valentine's Day dinner in NYC
Check out the best restaurants for Valentine's Day dinner in NYC, whether you're celebrating with bae or going solo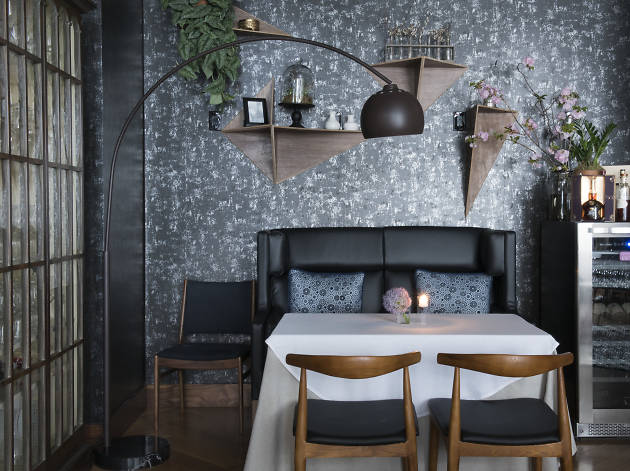 Come February 14, Gotham's lovebirds will either be cozied up at one of New York's bars with fireplaces, watching one of the 100 best romantic movies of all time or enjoying dinner at the city's most romantic restaurants for Valentine's Day dinner. But whether you're sharing the holiday with lovers or friends, don't miss out on special, one-night-only menus and dishes from some of the best restaurants in NYC. From shareable Spanish tapas to fine-dining Chinese, here are the best options for Valentine's Day dinner NYC has to offer.
RECOMMENDED: Full guide to Valentine's Day for NYC
Valentine's Day dinner in NYC
1
Price: $125 per person for dinner
On the menu: Spend the holiday in intimate, jazz-soundtracked digs at Williamsburg's beloved bivalve bar. Chef Damon Wise will turn out a special four-course prix-fixe menu for dinner on February 13th and 14th, including dishes like dark cocoa ravioli and dayboat scallop with with radish and aji dulce.
Read more
2
Price: $125 per person
On the menu: The East Village gem is offering a six-course meal from chef Brendan McHale. Start the meal with uni with burnt-onion broth and yuzu, and work your way up to the slow-roasted lobster or the grass-fed rib eye for an entrée. End on a sweet note with your choice of chocolate cake or smoked vanilla panna cotta.
Book now
Read more
4
Price: $135 per person
On the menu: Sail away on Hudson River aboard the North River Fish Bar for a price fixe, four-course dinner on February 10th, 11th and 14th from 7pm to 10pm. The dinner includes spicy garlic shrimp or black truffle burrata appetizers; skirt steak and mushroom fettucini are entrée options; and chocolate mousse or raspberry cheesecake for dessert. The dinner also includes a champagne toast and a festive rose.
Book now
Read more
5
Price: $245 per person
On the menu: This Bryant Park dining room is serving up a special menu during two seatings (5:30 to 6pm; 8:30 to 9pm) on Valentine's Day. The six-course French menu includes citrus diver scallops, fennel-cockle veloute, smoked eel carbonara and wagyu beef tenderloin. To make the night extra fancy, order American or Finnish caviar, served tableside.
Book now
Read more
6
Price: $85 per person
On the menu: At this charming Brooklyn Heights standby, executive chef Jared Braithwaite is offering a four-course feast for the holiday. Choose from appetizers like seaweed beignets and lamb breast (labneh, carrots, quinoa), and entrees including steak "au poivre" (tuscan kale, potato, anchovy) and pappardelle (egg yolk, black truffle, nasurtium).
Read more
7
Venue says: "For over 100 years we have been serving the freshest oysters & seafood in NYC! Our Oyster Happy Hour features Bluepoint Oysters, $1.25/each"
Price: A la carte
On the menu: Rev up the hormones with this special aphrodisiac menu at the Grand Central Oyster Bar. Chef Ally Ingber includes plenty of oyster options (a known aphrodisiac) including fried Bluepoints with Ipswich clams and "sweetheart fries" for an entrée ($27). There is even a special dessert menu from pastry chef Januz Noka, which includes a chocolate-peppermint sorbet ($6.50) and a vanilla cannoli tart with profiteroles and white-chocolate glaze ($8.50).
Book now
Read more
8
Price: $175 per person
On the menu: The Michelin-starred restaurant is preparing a five-course, à la minute menu with mood-boosting ingredients including peppers, avocado, and ginger to create dishes like oysters with garlic and saffron, and black sea bass with celery and star anise. Sweethearts can order a champagne-by-the-glass pairing for $95, or there's even an alcohol-free options for $35. The special is occurring on February 11th and 14th.
Read more
9
Price: $95 per person for first seating (5:00pm), $115 for second seating (7:15pm)
On the menu: Thomas Chen's wood-fitted Chinese charmer will offer two seatings for a romantic five-course affair. Both will offer dishes such as mushroom wonton, black bass with root vegetables and duck with sunchoke confit. The second seating includes champagne for each guest.
Book now
Read more
10
Price: $105 per person
On the menu: Try creative French fare from the Wallflower's new chef, Ezra Lewis. The five-course menu includes options like carrot fondue with black truffle and maple–foie-gras banana bread. Pheasant ballotine, sea bream or mushroom risotto are among the V-Day entrée options at the West Village spot.
Book now
Read more
Show more
Looking for a romantic hotel for Valentine's Day?
The most romantic hotels in NYC are the perfect places for luxurious pampering, stunning views and swanky staycations
Read more