The best restaurants for Valentine's Day dinner in NYC
Check out the best restaurants for Valentine's Day dinner in NYC, whether you're celebrating with bae or going solo
Come February 14, Gotham's lovebirds will either be cozied up at one of New York's bars with fireplaces, watching one of the 100 best romantic movies of all time or enjoying dinner at the city's most romantic restaurants for Valentine's Day dinner. But whether you're sharing the holiday with lovers or friends, don't miss out on special, one-night-only menus and dishes from some of the best restaurants in NYC. From shareable Spanish tapas to fine-dining Chinese, here are the best options for Valentine's Day dinner NYC has to offer.
RECOMMENDED: Full guide to Valentine's Day for NYC
Valentine's Day dinner in NYC
Maison's sunny sister, Sauvage is a great bar masquerading as a great restaurant. That's not to say you can't have a good meal at this Greenpoint follow-up, named after the French word for "wild"—you certainly can. Eat in the handsome dining room—as smartly dressed as its sibling, with potted ferns, handblown glass chandeliers and plenty of French walnut.
Price: $65 for a 4-course dinner
What we love: Boneless lamb ribs with brussels sprouts and honey crisp apple
The all-day brasserie near Union Square uses the park's frequent market to stock its seasonal menu from from Chef Ron Rosselli (Locanda Verde).
Price: $55 for a 3-course dinner
What we love: Lobster tagliatelle with soft herbs, lemon and fresno chili
In the sleek space outfitted with gray and black tiles and walls of nautical rope, you can order fish flown in daily from Japan, such as tuna-tail steak with teriyaki sauce, salmon or yellowtail marinated in sweet Saikyo miso, grilled cod, sushi rolls and sashimi. Fun fact: The name Wokuni comes from the Japanese word for fish ("wo") combined with chef Kuniaki Yoshizawa's first name.
Price: $75 for an 11-course omakase
What we love: Cream Spicy Shrimp
Robuchon is back, this time in the Meatpacking District. "Oh, that's just objectively amazing," said our dining companion—a well-traveled foodie who regularly eats at the city's (and world's) best restaurants, including the earlier L'Atelier—upon his first spoonful of the amuse-bouche, a foie gras parfait in port reduction and Parmesan foam. The magic never relented. "Flawless," he said after dessert, a chocolate sensation with Oreo (pardonnez-moi, "Oréo") crumble. "From start to finish."
Price: $275 for a 4-course dinner
What we love: Black bass, lemongrass, young leeks and curcuma
Four veterans of Public are behind this seasonal American restaurant in Brooklyn Heights. Paying heed to the current barnyard-chic aesthetic, the rustic eatery showcases a vertical herb garden, grown on a wall dividing the bar and dining areas.
Price: $85 for a 4-course dinner
What we love:Halibut with root vegetable ratatouille and caviar dill butter sauce
Thomas Chen's wood-fitted Chinese charmer will offer two seatings for a romantic five-course affair. Both will offer entrees such as beef with smoked potato and bone marrow jus.
Price: $115 per person for first seating (5:00pm), $130 for second seating (6:30pm)
On the menu: Foie gras mousse with scallion pancake and bosc pear
Chef-owner Alfred Portale made his name with towering New American constructions, and though the menu doesn't push any boundaries, the execution is impressive—as is the restaurant's soaring, masculine space.
Price: $175 for a 4-course dinner
What we love: House-made bonbons made with Taittinger Champagne
Show more
Looking for a romantic hotel for Valentine's Day?
The most romantic hotels in NYC are the perfect places for luxurious pampering, stunning views and swanky staycations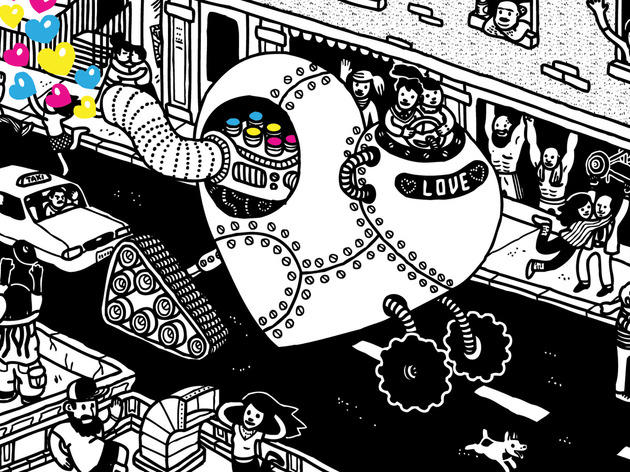 Things to do for Valentine's Day in New York
You know what's not sexy? Leaving your Valentine's Day plans to the last minute. Whether you're in love with love or anti-V-Day, we've compiled a list of the best parties, shows and things to do on this day of love/corporate blood-sucking holiday. And...
Sponsored listing
The Pennsy
Commuters, Midtown office workers and foodies alike know the Pennsy has their dining needs covered. The 8,000-square-foot space located above Penn Station hosts five restaurants, plus a La Colombe Coffee Truck and a bar. The Cinnamon Snail serves up vegan burgers, sandwiches and bowls like their Thai barbecue tempeh sandwich ($9.94), while The Little Beet offers a completely gluten-free menu. Think a miso chicken bowl with brown rice and veggie slaw ($11.94) and a salmon poke nori roll ($10.33). Chef Marc Forgione's Lobster Press serves more indulgent fare, like a bacon, lobster and tomato sandwich ($25) and lobster mac and cheese ($13). Carnivores will want to check out the black angus steak sandwich ($15) or maple-glazed short rib platter ($15) at meat purveyor Pat LaFrieda. Mario Batali's Mario by Mary has the Italian options covered, serving up such crowd-pleasers as an eggplant, ricotta and tomato panini ($11.02) and a truffle honey grilled cheese ($9.19).
Venue says: "Vegans, omnivores, pescetarians, gluten-free, and everything in between — we got you."