The Dyker Heights Christmas Lights 2021 guide
If you want to see spectacular holiday decorations, you must visit the Dyker Heights Christmas Lights 2021 display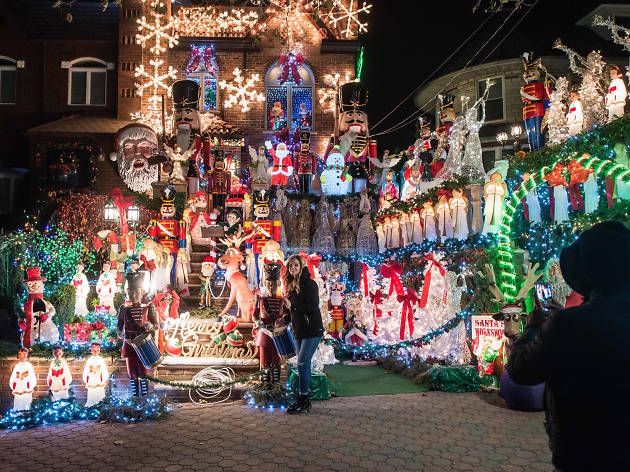 The Dyker Heights Christmas Lights 2021 display has become one of the best
New York attractions
during the holiday season. The Brooklyn neighborhood is home to the most over-the-top
Christmas light decorations
with life-sized Santas, sleighs, snowmen and some houses even bump Christmas carols from loudspeakers. Crowds of all ages flock to the Kings County neighborhood to wander down the multiple blocks and avenues and experience one of the top things to do in
NYC in the winter.
It truly is the center of all things Christmas.
RECOMMENDED: Full guide to Christmas in NYC
When can I visit the Dyker Heights Christmas Lights 2021?
Most of the homeowners—and professional decorating companies—hang their Christmas lights and decorations the weekend after Thanksgiving. However, the best time to see the lights is mid-December through New Year's Eve. We suggest going anytime between dusk and 9pm if you plan to travel by foot. Most of the houses turn their displays off after 9pm but some do leave theirs on later (depending on their bedtime).
Where are the Dyker Heights Christmas Lights 2021?
You'll see breathtaking light displays from 11th to 13th Avenues (also known as Dyker Heights Blvd) from 83rd to 86th St in Dyker Heights, Brooklyn.
How do I get to the Dyker Heights Christmas Lights 2021?
If you're traveling by subway, take the D Train to 79th St and New Utrecht Ave, Brooklyn. However, you'll have to walk 15 minutes to get to the houses (and the terrain is a bit hilly). Word to the wise: Traffic as well as parking is generally lousy, so you might want to leave your car at home, or leave enough time to sort the car.
Are there tours for the Dyker Heights Christmas Lights 2021?
Yes, bus tours are back from A Slice of Brooklyn, Dyker Heights Christmas Lights and more.
Is there anything else I should be aware of for the Dyker Heights Christmas Lights
2021?

If you are heading to Dyker Heights this year, be sure to respect the neighborhood like it's your own, starting with keeping properties clean of trash in the name of respect and sanitation. There will be extra receptacles in the area. Also, be smart! While in past years spectators often walked up the stairs of houses to get a better photo-op of the decor, this year that's a massive no-no. Many houses are putting tape across the front of their homes and entryways to avoid onlookers on their property.
See more Christmas lights around NYC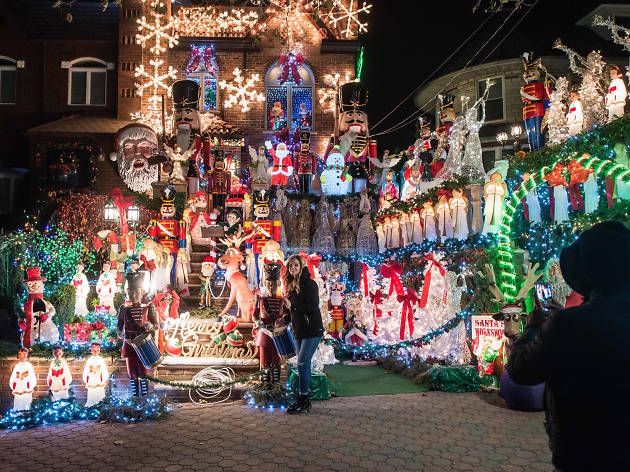 Dyker Heights Christmas Lights
On the day after Thanksgiving, the neighborhood of Dyker Heights undergoes a transformation, as residents along several blocks in the area festoon their homes with elaborate holiday decorations. And we're not talking about a Christmas tree or a simple nativity scene: Among the kitschy pieces you might see are life-size reindeer, huge inflatable Santas and snowmen, Christmas carols blaring from loudspeakers and tens of thousands of lights.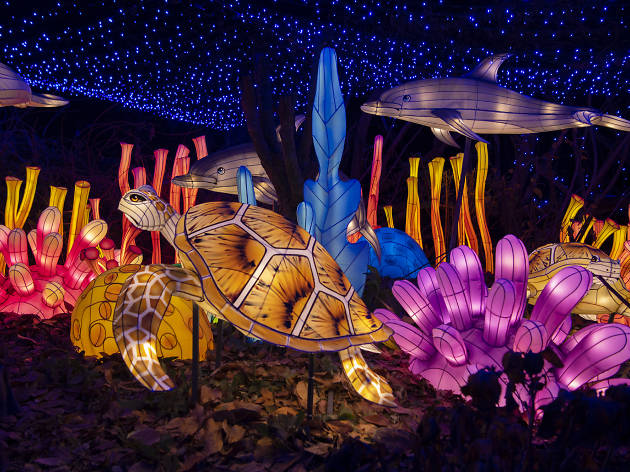 Bronx Zoo Holiday Light Show
The Bronx Zoo's sparkling seasonal celebration featuring animated lights and LED displays of animals from around the world is back this year. Expect the zoo to have close to 260 animal lanterns across five geographically representative lantern safaris from various corners of the world. This year are 79 new lanterns representing 30 new animal species, including an all-new walrus and guanacos! Not only that, but there will be a Forest of Color with 21 all-new larger-than-life lanterns representing toads, frogs, snails, sunbirds, turtles, moths, butterflies, and more. Entertainment will include holiday-themed music, ice carvings, costumed characters, stilt walkers, a holiday train, a wildlife theater, souvenirs and seasonal treats like hot chocolate and s'mores.
Buy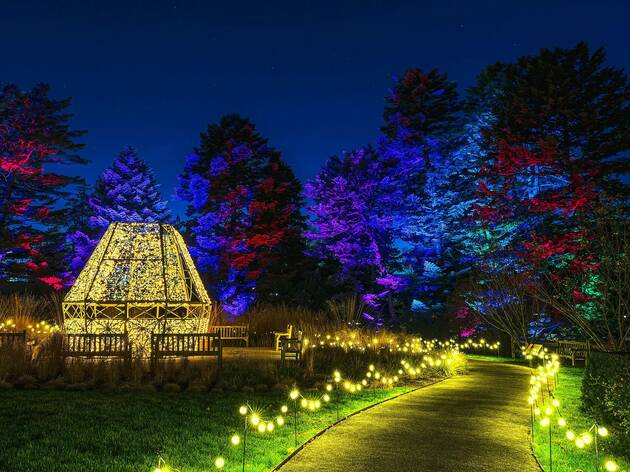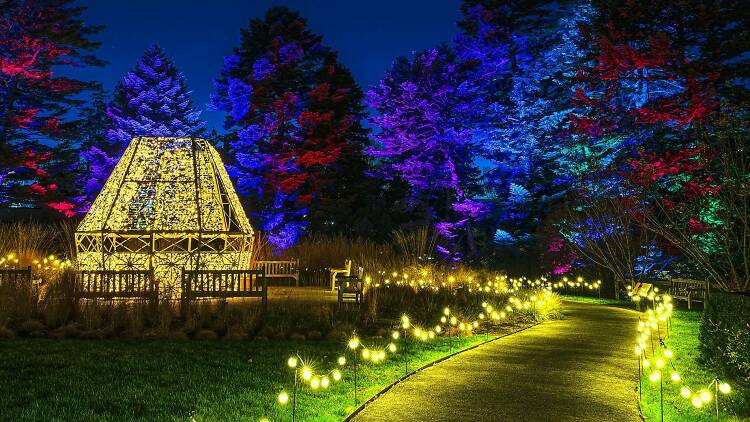 New York Botanical Garden Glow
Let it GLOW at the New York Botanical Garden this year at its second annual NYBG Glow! The outdoor light experience will brighten up the grounds with thousands of energy-efficient LED lights and festive installations. After dark, you can walk this expanded 1.5-mile colorful experience with even more illuminated displays than last year, including plant stories, and whimsical, picture-perfect installations reflecting the surrounding gardens and collections with the Haupt Conservatory and Mertz Library Building as glowing centerpieces. It's all an ideal backdrop for a family holiday photo op. Plus, there will be dance performances, ice carving demonstrations and other seasonal activities (and snacks) to enjoy. Tickets, which can be paired with Holiday Train Show tickets for a little bit more money, are on sale now. Learn more about the new safety measures online. All ages.
Buy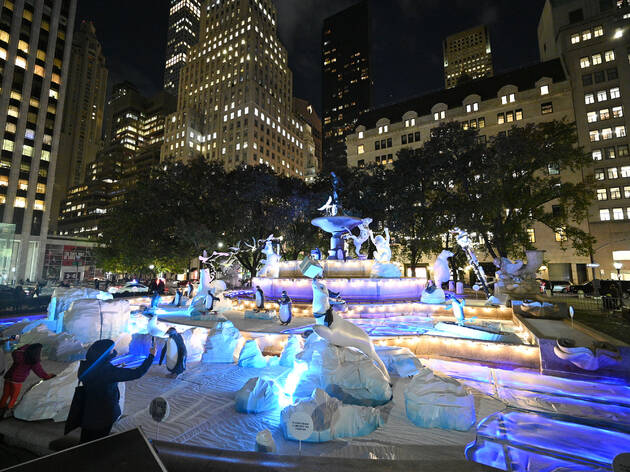 The Pulitzer Fountain at Grand Army Plaza
Fifth Avenue's Pulitzer Fountain has transformed into a winter wonderland for the holiday season. The Fifth Avenue Association has unveiled its "The Fifth Season" installation featuring 32 hand-crafted animal sculptures by Harlequin Designs in Brooklyn, 5,000 feet of lighting, a skating rink and 24 handmade icebergs surrounding the Pulitzer Fountain, all accompanied by music from composer Paul Brill. The installation builds on last year's "Make It Bright" series of glowing oversized toys, including a teddy bear, dreidel and red truck adorning Fifth Avenue from 47th to 60th Streets. You can see more photos and share your own by using the hashtag #TheFifthSeason, tagging @fifthavenue, @harlequindesign, @bychorus and charity partner @cityharvestnyc.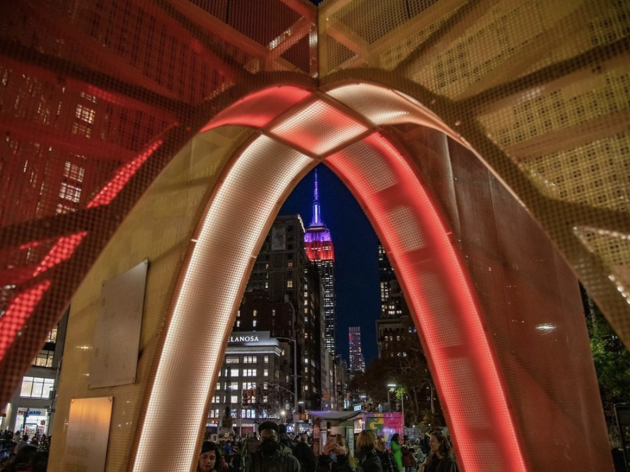 "Interwoven" at Flatiron
Lovers of art: the Flatiron is home to a new, only-in-NYC piece that is sure to delight you. "Interwoven" is a new interactive installation by design firm Atelier Cho Thompson now on display in the Flatiron North Public Plaza on Broadway, Fifth Avenue and 23rd Street. The piece, which seeks to celebrate the joys involved in being able to physically interact again, is the winner of the annual Flatiron Plaza Holiday Design Competition and will stay put through January 2, 2022. The experience is made up of backlit papers that are hung on a grid and invite those walking by to share their response to the prompt: "I dream of a world where together we can..." According to an official press release regarding the installation, the specific prompt was selected by Youth Fellows from the People's Bus NYC, a community-led, intergenerational initiative that focuses on engaging people in the city's civic life "through beauty and joy."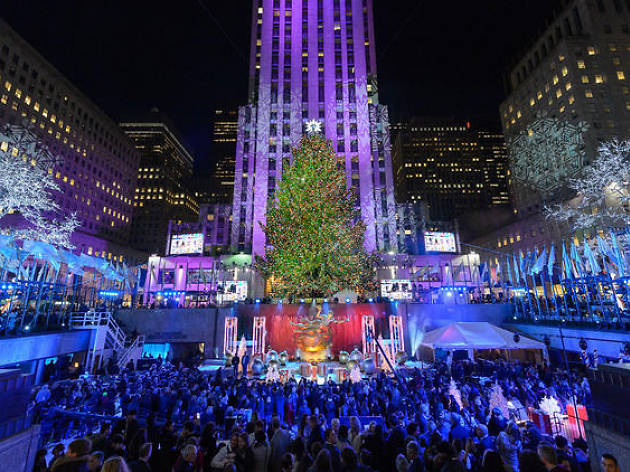 Rockefeller Center
Yes, Rockefeller Center is a major tourist trap during the holidays, but you can't deny it's beauty. (You can be a jaded New Yorker without being a total a Grinch.) Folks travel near and far to hit the slick stuff and ogle the humungous Norway Spruce covered in thousands of LED lights, as well as the golden angels and other illuminated shrubberies. Needless to say, this inviting landmark certainly brings it's A-game in terms of spreading holiday cheer.
Book online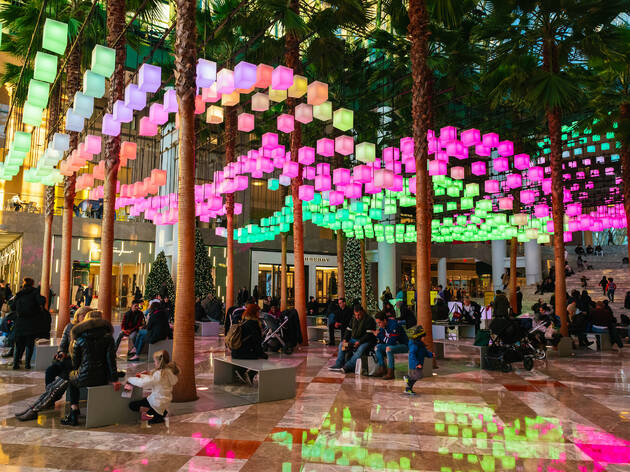 Luminaries
The colorful lanterns created by the LAB at Rockewell Group are officially back at Brookfield Place for the season. Open daily now through January 2, 2022 between 10am and 8pm, visitors will be able to send a motion-activated wish into the glowing lanterns up above. There's something simply magical about sending our wishes into a light-filled display of beauty. The destination will also be hosting a special new interactive experience titled Maestro this year. From 10am through 8pm on December 4-7, 11-12 and 16-19, visitors will actually get to conduct their own symphony. Holiday music will play in the background while patrons use gesture-controlled instruments to create unique light shows.
Central Park Holiday Lighting
For more than 20 years, the Central Park Conservancy has been draping the Charles A. Dana Center in holiday lights and ringing in the season alongside a hot-cocoa-bearing Santa. This year, the lighting will be virtual—families can listen in or join in for some holiday carols, while ice carvers from Okamoto Studios carve a nutcracker and a polar bear on site. The event is scheduled for 5:30pm on December 2, but the lights are illuminated all through the holiday season.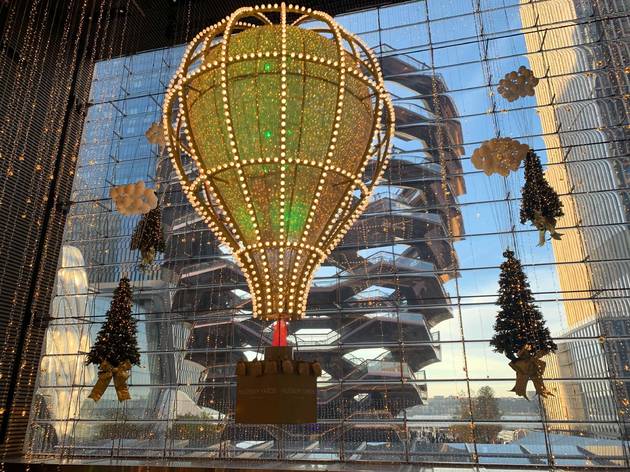 The Shops & Restaurants at Hudson Yards
Catch some dazzling set pieces and over a million lights at Hudson Yards during the "Shine Bright at Hudson Yards" event. The complex will be completely covered in 115-miles of string lights, 725 evergreen trees, 16-foot-tall illuminated set-pieces in the shape of hot air balloons throughout the public square and gardens and a 32-foot-tall hot air balloon centerpiece suspended in The Great Room of The Shops and Restaurants.
Saks Fifth Avenue
Saks Fifth Avenue's ten-story facade makes this department store a can't-miss stop on your Christmas lights tour. In the past, festive LED light projections included "Snowflake Spectacular," and a yeti, who according to a tie-in tale by Daily Monster creator Stefan J. Bucher, came down from Siberia to live on the roof of the department store. The usually two-minute show repeats every seven to eight minutes and ties in with the holiday display in the store's 12 windows.
Buy
Show more