The Dyker Heights Christmas Lights 2018 guide
The folks behind the Dyker Heights Christmas Lights 2018 display bring enough yuletide joy to cheer up any Scrooge
Out of all the yuletide razzle-dazzle NYC has to offer, the Dyker Heights Christmas Lights 2018 display is by far the most spectacular. (Sorry, Rockefeller Center Christmas Tree). Each year, over 100,000 people flock to the Brooklyn nabe to witness some of the most over-the-top Christmas lights we've ever seen­—think huge inflatable Santas and snowmen, and houses that blast Christmas carols from loundspeakers. There is a lot of ground to cover, as many houses in the area participate over multiple blocks and avenues. (We're talking tens of thousands of lights). Before you go, make sure to hit up one of the best places to to buy a winter coat in NYC since you'll be meandering outside for a few hours.
RECOMMENDED: Full guide to Christmas in NYC
When can I visit the Dyker Heights Christmas Lights?
Most of the homeowners—and professional decorating companies—hang their Christmas lights and decorations the weekend after Thanksgiving. However, the best time to see the lights is mid-December through New Year's Eve. We suggest going anytime between dusk and 9pm, if you plan to travel by foot. Most of the houses turn their displays off after 9pm.
Where are the Dyker Heights Christmas Lights?
You'll see breathtaking light displays from 11th to 13th Avenues from 83rd to 86th St in Dyker Heights, Brooklyn.
How do I get to the Dyker Heights Christmas Lights?
If you're traveling by subway, take the D Train to 71st St, Brooklyn. However, you'll have to walk 15 minutes to get to the houses (and the terrain is a bit hilly). Since it will be chilly outside, you can take the B4 bus toward Sheepshead Bay Knapp St to Bay Ridge Parkway and 12th Avenue to avoid a cold trek. Word to the wise: Traffic as well as parking is generally lousy, so you might want to leave your car at home.
Are there tours for the Dyker Heights Christmas Lights?
You bet! A Slice of Brooklyn hosts a great Dyker Heights Christmas Lights tour every night in December, excluding Christmas Eve, Christmas Day and New Year's Eve. The guided tour last approximately 3.5 hours ($50 for adults, Children under 12 $40) and allows you to explore the houses both on foot and by bus. You can purchase tickets here, but you better get your hands on them sooner rather than later—this tour always sells out early!
Dyker Heights Christmas Lights 2018
Archive Dyker Heights Christmas Lights content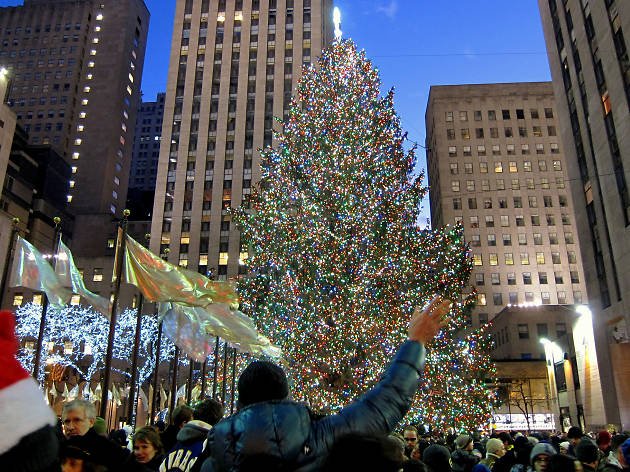 Each Christmas, thousands of New Yorkers (and tourists) travel to the bright and brilliant nexus of town: the Rockefeller Christmas Tree.