Restaurants without a set menu for Valentine's Day
Want the romance without the set price tag? Check out these ace Sydney diners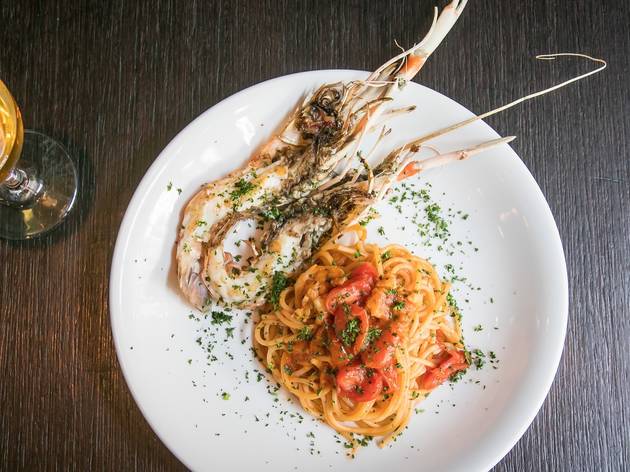 Whether you love or loathe Valentine's Day it rolls around every February 14 without fail, and Sydney restaurants capitalise on the day by dishing out set menus with hefty price tags. If still want to dine out on Valentine's Day but want to be able to choose what you eat, we've rounded up a bunch of the best spots to go that stick to a full a la carte menu on V-Day.
Want to impress with flowers instead? Check out our guide to Sydney's best boutique florists.
Feel like a drink? Here is our guide to the best bars in Sydney.
Restaurants without a set menu for Valentine's Day
1
If Italo snacks and funky wines are your jam head into 10 William for Valentine's Day. The full a la carte menu will be on offer and you're certain to feel a touch more romantic after a glass of blushing Sicilian Suscaru from Frank Cornelissen alongside a bowl of ragu pappardelle. Full disclosure – it will be very busy with other lovers.
Read more
2
Bea isn't not fine dining exactly, but it's classy as hell and ticking a lot of boxes, especially on the water views, slick service and exciting use of native ingredients front. If you have yet to check out this ambitious hospitality project down at Baragaroo, maybe Valentine's Day is a good day to start.
Read more
4
This Italian institution will be dishing out all the favourites – risotto all'Ametriciana, lasagne, calamari fritti, bresaola and tiramasu – all night long. Note that there's no reservations – so slip in early or try coming a little later if you want a chance on V-Day.
Read more
5
Rather than choosing some airy harbourside venue with Opera House views, why not head to Neil Perry's special subterranean temple of spice. You'll find a menu that roams China from Sichuan to Yunnan to Guangxi. The service is breezy yet professional, and if you don't want to sit down straight away there's a bar out the front serving cocktails named after the animals of the Chinese zodiac.
Read more
6
We all know that more love is found in a pub than a restaurant, so why not head to this Oxford Street boozer on Valentine's Day? Forgo any air of fanciness and celebrate romance over a golden brown schnitzel, a beer and a round of pool.
Read more
7
Cho Cho San has what is quite possibly the most beautiful restaurant interior in Sydney, which makes it a top notch spot for the day of love. Inspired by the izakayas of Japan, it has plenty of snacks, raw options and meats cooked over coals, and the drinks list is as impressive as the food.
Book now
Read more
8
A decade and a half since its arrival transformed Sydney's understanding of high-end Thai cuisine, Longrain remains a buzzing stalwart on the local dining scene. They will dish out their full a la carte menu on Valentine's Day so get ready for smoked river trout with grated green papaya, hot with chilli and mint.
Read more
9
Rosetta spreads out over three levels with a split-level bar, a crudo and mozzarella bar, and a 60-person outdoor terrace with harbour views. The sprawling space means you've got a decent chance of getting a table (even on one of the busiest dining days of the year) and you can order up vitello tonnato, osso bucco and cotoletta alongside Bellinis, Negronis and Italian beers.
Read more
11
This Willougbhy kitchen helmed by Alessandro Pavoni (Ormeggio at the Spit, Sotto Sopra, Chiosco) and Angelo Malerba (Otto Ristorante, Sir Stamford, Vanto) will be doing three courses for $75pp or four courses for $85pp. They're not dealing in complicated, fussy food here – rather, it's all about simple, classic flavours, drawing on regional specialties from Northern Italy using locally sourced produce.
Book now
Read more
12
This New Orleans inspired bar and eatery sits within Barangaroo's Tower One and it's got water views (tick that box for romantic dining destinations) and a Southern accent, so you can see if New Orleans-inspired dining is also the food of love.
Read more
Want more great date night options?
This is the definitive, ranked list of where to eat in Sydney right now.
Read more