The best Malaysian restaurants in Sydney
Time Out's picks of the best Malay diners in town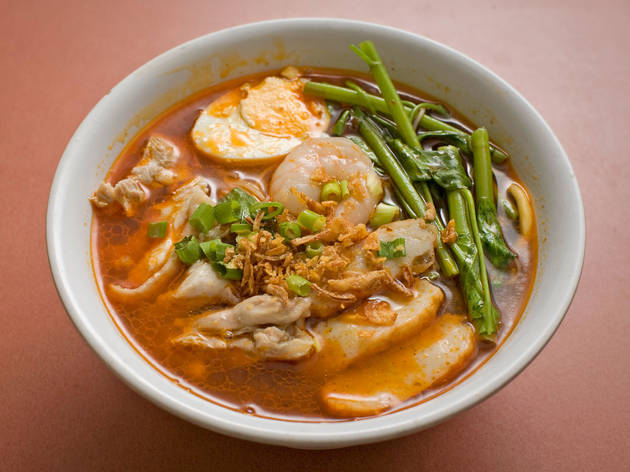 Whether your pick is spicy sambal, soupy laksa or sticky, hot AF Singapore chilli crab, Malaysian food has got it going on. Here's where to get your roti on Sydney-style.
Albee's is a welcome addition to the small Malaysian food scene where dishes cooked with a nod to authenticity are prized above location and water views. The menu is short and sharp, with set meals that are very popular with the predominantly Asian crowd.
Read more
From the people who brought you Chinta Ria, the temple of Malay deliciousness down at Darling Harbour, comes a new venue in Double Bay where char kway teow, nasi lemak and laksa are all on the menu.
Read more
Don't judge this restaurant by its cover. Jimmy's Recipe may look like an innocuous little place hidden away in a CBD shopping complex, but their laksa is legendary. Opt for the chicken or beef variety and load up on chilli pastes, fresh corianders and spices. Great takeaway bowls are available too.
Read more
Expect feather-light roti that comes apart in your fingers like pieces of tissue paper, accompanied by bowls of rich chicken curry or steaming plates of char kway teow with wide, silky noodle tongues, stir-fried with bits of fish cake, sausage and chicken, resplendent with chives and green onion.
Read more
For the last 50 years the Malaya Restaurant has been serving up a mix of traditional and contemporary Malaysian cuisine on King Street Wharf.
Read more
The kari ayam is a rich, mouth-filling mild curry of chicken pieces (thigh and drumstick, predominantly) with chunks of potato. Eat it with rice or scoop it up with a roti canai and wash it down with a limau ais – a mix of fresh lime juice and lime cordial with water. They also make one of the tastiest nasi lemaks in town.
Read more
An enduring family favourite among locals and ex-pat Malaysians alike, Sambal dishes up amazing and authentic Penang cuisine from a modern space of benches and long tables. The Sambal char kuay teow is hailed by many as the best in Sydney. The laksas and Hainan chicken rice also win fans.
Read more
Want more?
In Sydney, there's good Thai and there's great Thai, and we're all about the latter. From the best deep-fried snapper to the finest pad Thai outside of Chang Mai, here's our list of the best places to get your Sydney-Samui on in town.
Read more