The best Malaysian restaurants in Sydney
Time Out's picks of the best Malay diners in town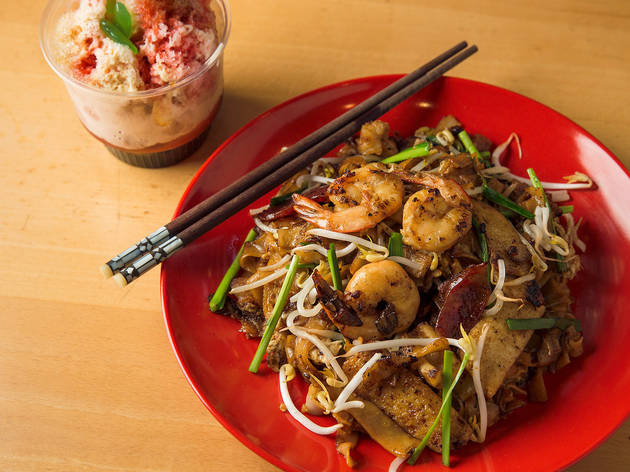 Whether your pick is spicy sambal, soupy laksa or sticky, hot AF Singapore chilli crab, Malaysian food has got it going on. Here's where to get your roti on Sydney-style.
After a bargain bite to eat? Check out the 50 best cheap eats in Sydney.
1
At this food-truck-turned-restaurant, you have to get the soft shell crab. It's a pile of ultra-fresh, crisp-edged crab surrounded by a pool of spicy, oily, tomato based chilli sauce and four little fried, crisp, fluffy mantou buns for swiping up all that sauce.
2
The people behind Mamak's impossibly popular roti canai have opened up a Malaysian street food outlet doing lesser-known dry and soup noodles, fried bread and little pancake turnovers filled with creamed corn and peanuts. It might sound weird, but the effect is closer to sweet pudding than canned vegetables – scout's honour.
3
It's cheap, it's quick and for a couple of dollars more you get a bib for your laksa – trust us, with soup this fluorescent you'll need it if you're wearing anything other than a burlap sack. The nasi lemak (coconut rice, chicken curry, sambal, dried shrimp, boiled egg and cucumber) is served in a dinky segmented tray and there's a different special for each day of the week. A sensational chicken curry has roti on the side and their laksa is three kinds of awesome.
4
The enormously popular Malaysian eatery tucked into a little pedestrian laneway in central Parramatta doesn't go in for frippery or frills – they would only distract you from the flavours in your bowl, and they deserve your whole-hearted attention. The beef rendang will quiet all those tiresome people who come back from a Malaysian holiday only to moan about how nothing here compares.
5
Is Alice Tan's char kway teow still the best in town? It certainly gives its competition a run for its moneybags. For one thing, Alice's version isn't halal, unlike many other top Malaysian places in town, which means it can be closer to the Platonic ideal of the original version of the dish cooked in Penang, with its little bits of crisp fried pork fat tossed through the noodles.
6
Queues still snake outside this Chinatown cheap eat on a nightly basis. Roti canai here is a must – tear away bite sized bits of the fluffy piles of pastry and alternate dunking it between the three curries. Start with the gentle, nutty hum in the lentil curry, then step up to the fiery, fishy sambal before rounding it out with a rich, red chicken curry. Make sure you take a bite of the roti on its own to appreciate the buttery layers and crisp to soft ratio.
7
Given there are now seven PappaRich outlets in Sydney, it seems they've hit on a formula for success – affordable, no-frills hawker-style food and drinks. Here, the Hainanese chicken has been so gently poached it trembles to the touch and is served in a dipping sauce fragrant with chilli, ginger, sesame oil and soy sauce.
8
Don't judge this restaurant by its cover. Jimmy's Recipe may look like an innocuous little place hidden away in a CBD shopping complex, but their laksa is legendary. Opt for the chicken or beef variety and load up on chilli pastes, fresh corianders and spices. Great takeaway bowls are available too.
10
This hawker-style restaurant has an open kitchen that'll fire up laksa, stir-fries, salt and pepper eggplant and a handmade butter roti (served with curry) so good, you won't want to share them with anyone else. You'll also roll out of there with change from a $20 easily.
Want more?
In Sydney, there's good Thai and there's great Thai, and we're all about the latter. From the best deep-fried snapper to the finest pad Thai outside of Chang Mai, here's our list of the best places to get your Sydney-Samui on in town.