The best Thai restaurants in Sydney
From salads to curries to grills, these places give the best Bangkok for your buck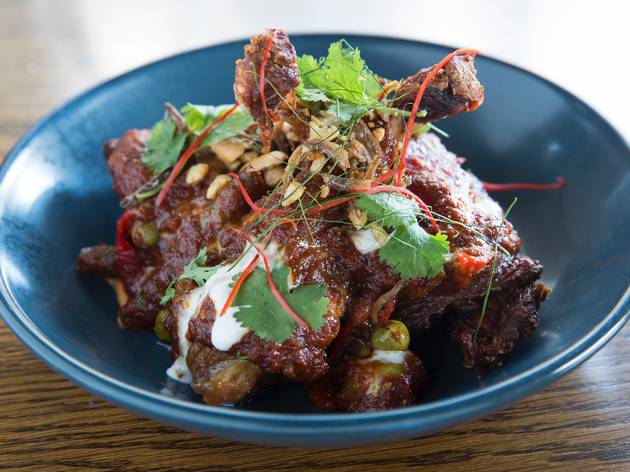 The best Thai restaurants in Sydney
11
House and Spice I Am may only be a two-step away, but neither offers a comfortable dining room like Muum Maam. The genuinely tasty gear includes their winning version of crisp pork belly with Chinese broccoli and a red curry of beef with crisp noodles that's a rich mess of potato, meat and sweet curried coconut cream.
Read more
10
When you walk into this Hall Street staple you can instantly smell fragrant Thai basil and hear the sounds of woks clanging. They do seriously big serves (one serve will satisfy two) of grilled meats, super rich curries and wok-fried favourites. You'll also find a whole page of the menu devoted to duck (try the boneless roasted 'Lucky' duck) and lamb (the massaman uses whole lamb shanks) alongside plenty of vego dishes.
Read more
9
Among the selection of snacky-type things, there's not merely salt-and-pepper squid, but a whole S-and-P menu covering tofu, squid, prawns and soft-shell crab. Among the more interesting smaller things are the tod mun, the traditional fish cakes leavened with a healthy addition of minced pork.
Read more
8
Let's Eat is the rare Siamese outsider in the very Vietnamese neighbourhood of Illawarra Road. Order the Tar Zan in the Jungle. Putting the name to one side, it's as rich in herbs and eggplant (both apple and pea varietals) and as pungent as any jungle curry, but deploys those flavours not in a wet dish but a stir-fry of prawns. A must.
Read more
7
The Westfield venue is the flashest of the lot. Old favourites are executed with precision, flavours are sharp and seasoning is bang on. Order the pad Thai – it's the Prada of its kind, luxed up with roasted and boned duck, silky noodles, tamarind sauce and green onion. And it comes with its own condiment set!
Read more
6
Caysorn specialises in southern Thai cuisine – a part of the world known for its heat. Kanom jeen – a vermicelli-like noodle traditionally made with pounded fermented rice – is offered in several versions. But the house special is kanom jeen tai pla: noodles sauced with a dark, complex salted fish curry that seethes with chilli.
Read more
5
The menu here is easy to penetrate: start with crisp hunks of pork belly with greens, or super hot-and-sour prawn soup. Move on to some soft, glutenous dumplings filled with fine shreds of garlic chives, or some grilled Isaan-style sausage, packed with chilli and served with peanuts, raw ginger and dried chillies.
Read more
4
Boon Café in Haymarket is from the folks behind Sydney's indefatigable (and consistently excellent) food chain, Chat Thai, and is one-third styled-up city café, one-third restaurant and one-third Thai supermarket. The menu is overwhelmingly long, but thankfully there are lots of pictures, which make it easier to choose. There are a range of Thai sambos here that you need to check out, like the naam todt, which is a brioche bun stuffed with sour fermented ground pork, smashed up spicy rice cakes, mayo and fragrant herb salad.
Read more
3
Spice I Am feels like a genuine little piece of Thailand in Surry Hills. It's busy, buzzy and the staff even write down your order in Thai. Order the nam khao tod, a kaffir-heavy salad of fermented rice, chilli and Thai sausages. Its freshness is on a whole other level.
Read more
1
Long Chim Sydney has the kind of menu that'll either paralyse you with options or see you throwing caution and cash to the wind to try everything. But all three problems are solved if you just go the $45 set menu: it's an affordable treat with all the good bits in reasonable portions – and reasonable means you'll be full to bursting, but very, very pleased with your life choices.
Book now
Read more
Still hungry?
What could be more perfect than finely ground meat placed between two sweet slices of bread with cheese and pickles? Nothing, that's what. Whether you like them stacked to the nines, fat-rich and salty, veggie or vegan, here are the best burgers in Sydney.
Read more