The best staycations in Sydney
Stay right where you are, and get excited, Sydney – we've curated ten staycations worth taking in your own backyard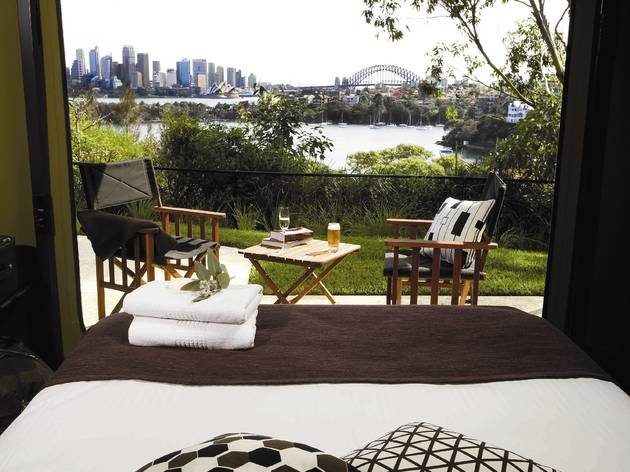 If you're feeling that travel itch, but can't afford to fork out the cash (or annual leave) for an extended stay, don't resign yourself to wanderlust. There's plenty to explore right here in Sydney.
Because day trips are overrated – and weekend traffic sucks – stay right in the heart of Bondi and wake up with the beach outside your window at Bondi 38.
Check prices
Read more
Bust a move to the west for a super soak and some old-school fun at Sydney's last remaining drive-in cinema beforing splashing out in style at Atura Blacktown.
Read more
Inside a nondescript sandstone terrace on bustling Darling Street, you'll find (green) tea and sympathy at Ryokan Gojyuan, a two-room Japanese guesthouse that's an oasis of calm.
Read more
Sunsets, surf, killer fish and chips – Watsons Bay is a coastal getaway all on its own. And a recent renovation reaffirms landmark local Watsons Bay Boutique Hotel's reputation as a serious Sydney drawcard.
Read more
Stretch out, climb new heights, take in a show – and have your meal prepared by Posh and Becks' former chef – at the recently remodelled Pier One Sydney Harbour.
Read more
Hit the park after dark – where cars are discouraged, rolling lawns are plenty and lazy amblers rule. Then rest your head for the night at one of the cottages inside the Residences in Centennial Park.
Read more
In a town filled with great spots to watch the sunset, we dare you to find a better one thanTaronga Zoo. Or a more exhilarating wake up call – who wouldn't want to (safely) rise to the sounds of the jungle? That's where Roar and Snore comes in.
Read more
Grab the ferry and head north to Manly for surf, sea spray... and spooks, at the old (and allegedly haunted) Quarantine Station.
Read more
More nearby travel...
Natural beauty is one of Sydney's best assets, so it makes sense you'd want to experience a night or two in the city's great outdoors. Fortunately, camping around Sydney is not only possible, it's often very affordable. Check out our edit of the city's best camping sites for the chance to wake up next to the Harbour, adjacent to crashing waves, or deep in a national park.
Read more