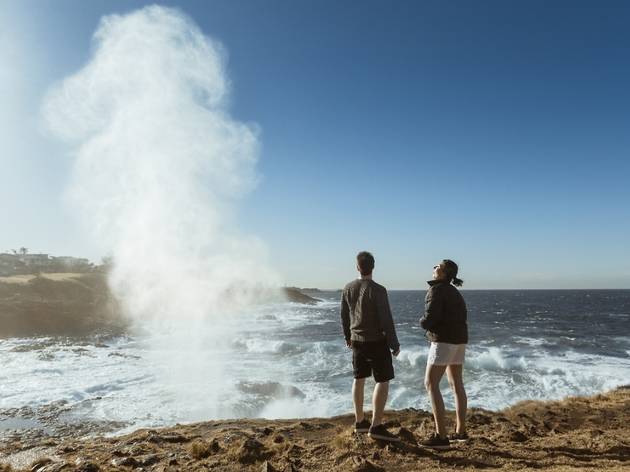 The best day trips from Sydney
Venture to one of these countryside, coastal or mountainous locations about two hours from Sydney
Sydneysiders are a lucky bunch. Jump in the car and within just a few hours you can find yourself in some of the most beautiful spots in the state.
But with so many options to choose from, it begs the question: where should you visit first? You're certainly spoilt for choice, so we've cherry-picked a selection of the best day trips from the city – featuring quaint villages, seaside hangouts and mountain escapes.
Around a two-hour drive or a scenic train ride away from the CBD, you'll find yourself rambling through eucalypts and gums, gazing out over gorgeous ocean cliffs, or watching the world go by in a sleepy village café. All these places have two things in common: they're close enough to get you there and back within a day, and they're well worth your time.
While you're on an adventure, check out the power of nature at these waterfalls and blowholes in NSW. Want to make a night of it? We've rounded up some of the best caravans and campervans to rent and tiny houses to stay in.
The most awesome day trips from Sydney
You'll discover deep-rooted history and picturesque landscapes at Ku-ring-gai Chase National Park, 50 minutes north of Sydney by car. Feast your eyes on views of Pittwater to the Central Coast from the sandstone viewing area at West Head Lookout. Take a short walk through the bush to find important Indigenous sites on the Aboriginal Heritage walk, which includes viewings of historic rock engravings and handprints made by the Guringai people. The park includes many waterways including Hawkesbury River, Pittwater and Cowan Water, plus numerous creeks and coves to explore. Want to see more? Hire a paddle boat from the Bobbin Inn.
How far? 43km
Get there by car. It's about 50 minutes' drive from Sydney CBD.
The Royal National Park has endless possibilities for sightseers and explorers eager to connect with nature. Trek the expansive coastal cliffs and walk through eucalyptus bushlands, swim under the waterfalls in Wattamolla, or paddle down Hacking River by hiring a canoe from the Audley Boatshed. You can even catch a glimpse of whales migrating north for the winter from May to November. Cyclists can brave the 10km Loftus Loop Trail and unroll a picnic blanket for lunch at Ironbark Flat or Wattle Forest afterwards.
How far? 36km
Get there by car. It's about one hour away from Sydney CBD. Or take the train from Central to Otford, which takes just over an hour and costs $4.82 with an Opal card.
Dedicate a few solid hours to simply wandering around this adorable seaside village, stopping in at cute cafés and the famous Ice Creamery, Kiama (aaaaaaah). A trip here wouldn't be complete without a visit to the Kiama Blowhole, where waves spurt out through a crevasse in the cliff, forming a fabulous salty fountain. Play golf at the rural golf course or walk the Kiama Coast Walk for views of lush green cliffs overlooking rocky shores, rivers and private beaches. There are also plenty of surrounding coastal towns connected by cycleways for fitness fanatics to conquer. You can also book magestic activities like dolphin watching cruises, outdoor rock climbing and kayaking tours.
How far? 130 km
Get there by car, it's about two hours away from Sydney CBD.
Take a train to the Blue Mountains and make a day of visiting gobsmacking lookouts like Echo Point and wandering along tracks that boast rich Indigenous history. Trek the scenic loop of the Grand Canyon track near Blackheath to see world heritage listed waterfalls, sandstone walls and native plants. Or soak in the vibrant shades of flora in the Blue Mountains Botanic Garden in Mount Tomah. Take a peek into the Glow Worm Tunnel in Lithgow where the bioluminescent glow of fungus gnats covers the walls and ceilings. Or relax in at the Echoes Day Spa for massages, facials, soak therapies and body wraps.
How far? 79km
Get there by car, it's about one hour away from Sydney CBD. Or catch the Blue Mountains line train from Central to Katoomba, then the bus from Katoomba to Echo Point for the lookout. It costs around $8.44 with an Opal Card.

Home to panoramic coastal views, sunny weather and an infamous surf, Palm Beach is the ideal Australian package. Located one hour away from Sydney's CBD on the Northern Beaches, this hot spot is perfect for a relaxing day trip away from the commotion of the city. Cruise the crystal waters on a boat charter, tee off at the Palm Beach Golf Course, or grab a bite at the Boathouse for lunch after embarking on a Pittwater kayaking tour. The Barrenjoey Lighthouse delivers a bird's-eye-view of the sandy dunes, 91 metres above sea level. And if you're a die-hard Home and Away fan, you can pretend you're a Summer Bay local, as much of the show's filming was done at Plam Beach and the surf lifesaving club.
How far? 44km
Get there by car. It's about one hour away from Sydney CBD. Or catch the L90 bus from Wynyard Station for around $4.80 with an Opal card.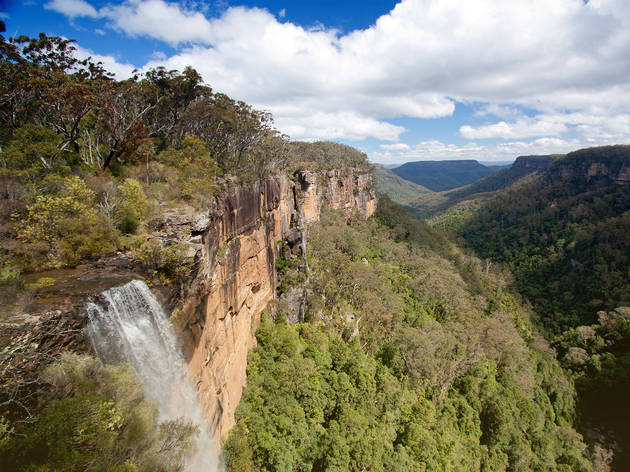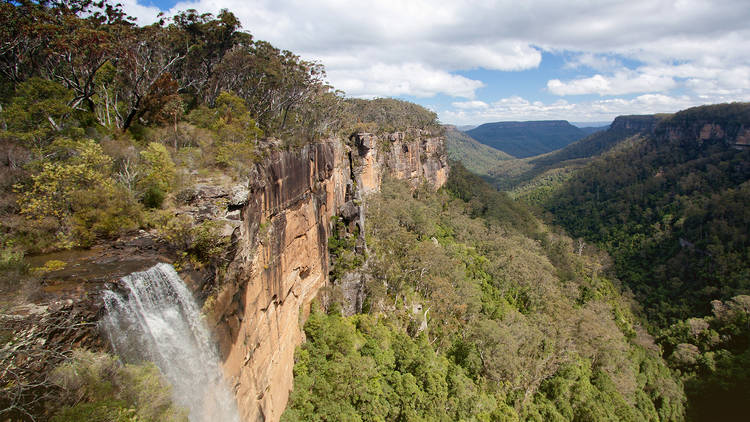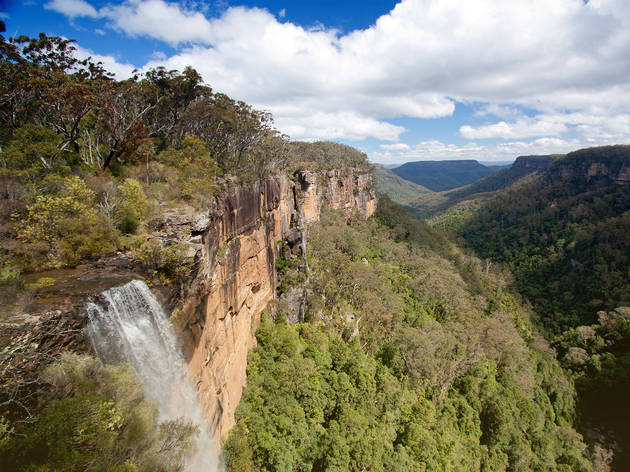 Photograph: Andrea Shaffer
If you're looking to escape to the countryside, Kangaroo Valley, located two hours south of Sydney, has got you covered. Go wine tasting at the Yarrawa Estate Winery, where you can sample locally made jams. Entertain the kids by kayaking down Kangaroo River or go horse riding through rainforest and grazing lands. You can admire the Victorian architecture of the Hampden Bridge or the bushland views from Mannings lookout, too. The Flavours of the Valley Foodie Trail also offers a range of hands-on classes in gourmet cooking, gardening, soap-making and the art of high tea.
How far? 156km
Get there by car. It's about two hours and ten minutes away from Sydney CBD.
Despite being a two hour drive from Sydney CBD, Port Stephens offers adventure and scenic views that make it worth the time at the wheel. Embark on a camel ride at Oakfield Ranch or dive in for a snorkel with dolphins. Sandboard the largest dunes of Stockton Beach during the day, or do it by sunset for a more romantic picnic setting. For adventurers, the outdoor rock climbing at Port Stephens' sea cliffs will have you reaching unimaginable heights overlooking the ocean slapping the rocky shore.
How far? 179km
Get there by car, it's about two hours and 30 minutes away from Sydney CBD.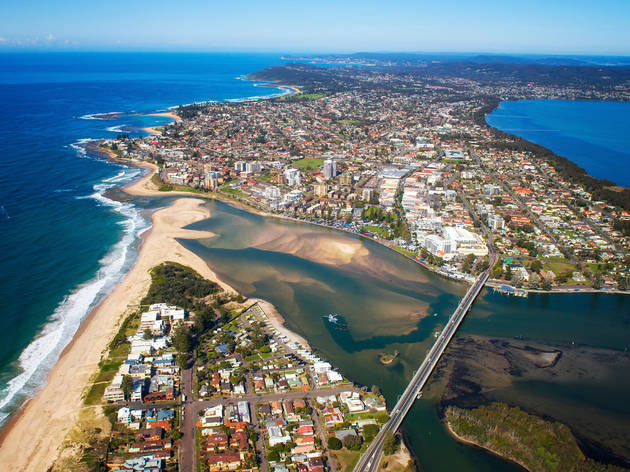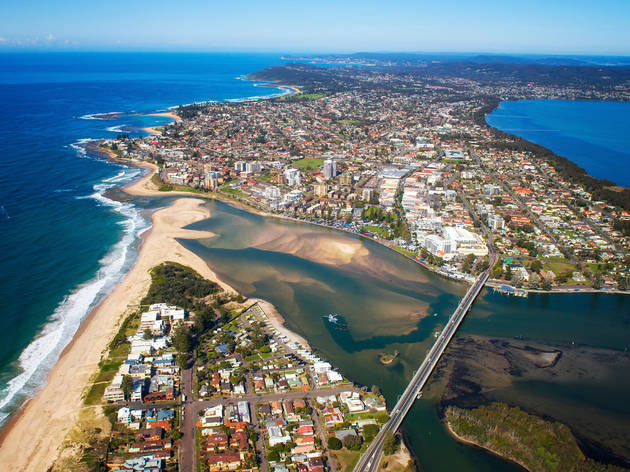 Photograph: Destination NSW
Less than two hours north of Sydney, you'll find one of the most charming corners of the Central Coast. Famed for its community of hungry pelicans – there's a public feeding of the local 'scoop' (that's the collective noun) every day at 3.30pm, which can attract up to 50 hungry birds – this coastal town sits astride the natural ocean channel that separates the sapphire waters of Tuggerah Lake from the Pacific. A day out here is perfect for those who enjoy the outdoors but want to keep one foot planted in civilisation – the town has plenty of cafés and restaurants you can retreat to when you need a feed or a coffee. There are many super spots for fishing and prawning and multiple places in town where you can hire the necessary equipment if you're not already kitted out. If you're a keen cyclist, the 12-km shared trail along the lake will have you spoilt for beautiful views and just north of the Entrance, there are a number of easily manageable bushwalking tracks through Wyrrabalong National Park. During the sunnier months, head to Tuggerah Beach, which boasts more than 8km of golden sands lapped by ocean waves, and if you're not put off by chillier waters, surf conditions are excellent here all year round.
How far? 110km
Get there by car. It's about 1.5 hours from Sydney CBD.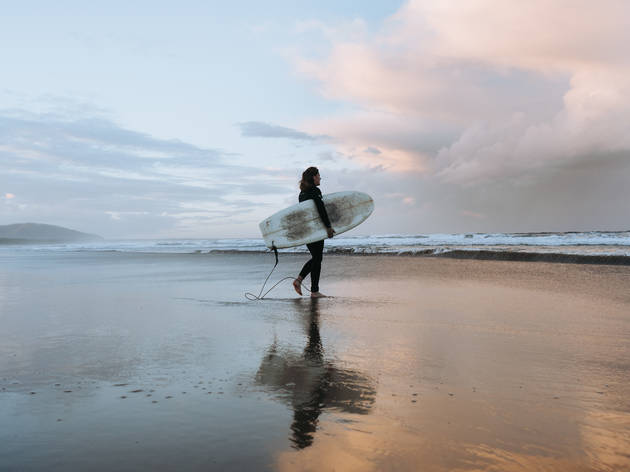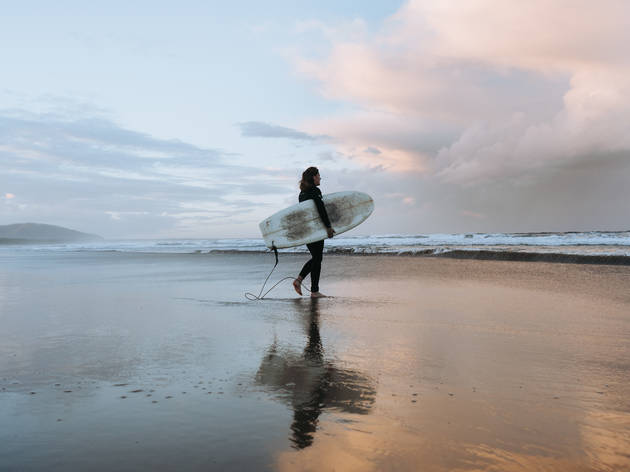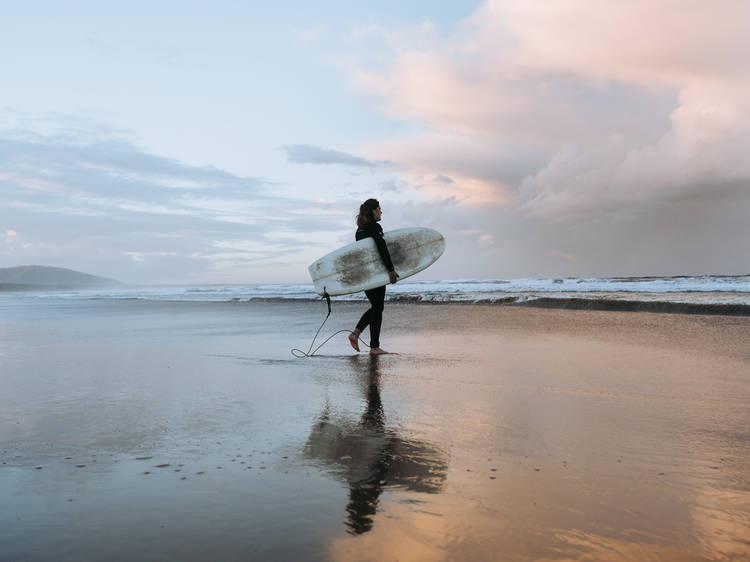 Photograph: Destination NSW
This quaint spot is the South Coast getaway for people who live on the South Coast, and being locally adored is always a good sign. It's basically a two-for-one holiday: the salty sea breeze floating up from Seven Mile Beach to the sprawling green hills makes you feel like you're in a small country town and a forgotten seaside village in the same breath. There's incredible baked goods to be found at the Berry Sourdough Café and Milkwood Bakery (run by the same carb masters) and you'll find unusual bottles of plonk at the almost-too-cool Justin Lill Wines & the Berry Bottleshop. If fancier eats are in order, Queen St Eatery is an elegant little restaurant on Berry's main drag executing the classics with style. A generous plate of prawns grilled in their shells carry a whisper of aniseed from the Pernod flambe, and the herbal spiciness of a proper Café de Paris butter on a minute steak is balanced by a crunchy nest of wafer-thin fries. If you're ready to burn some energy, the three-hour return hike to the stunning plateau of the Drawing Room Rocks is always a winner. Looking to stay the night? Plan a long simmer in a balcony bath with sightlines out to the ocean at the stunning Mount Hay Retreat.
How far? 138km
Get there by car on a two-hour drive that'll take you past some gorgeous ocean cliffs – stop off at the Kiama Blowhole on the way, or take your pick of other South Coast adventures.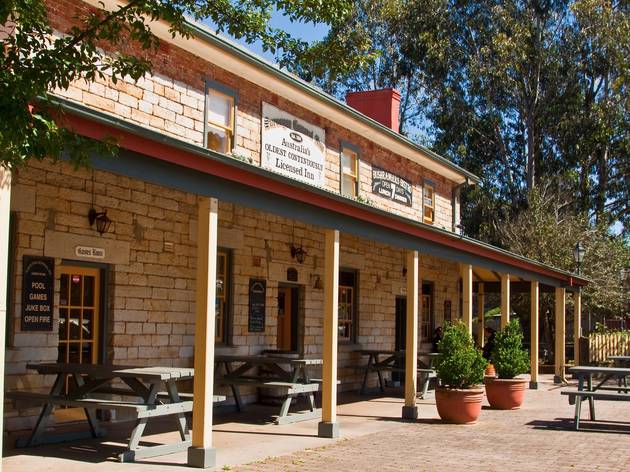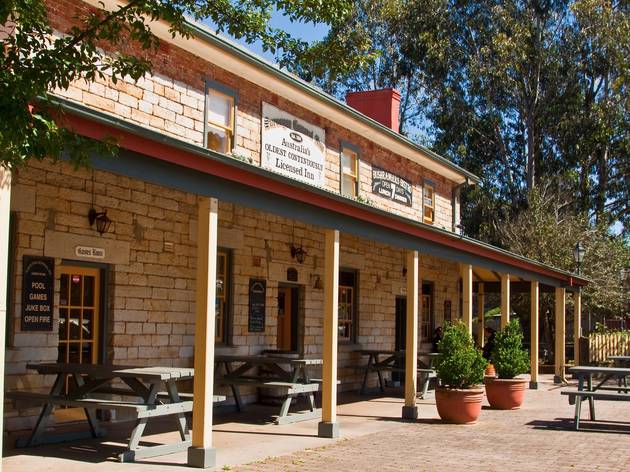 Photographer: Michael Dawes
Step into another time by visiting the historic village of Berrima, established in the 1830s. Widely recognised as the preserved example of a Georgian village on the Australian mainland, Berrima is surrounded by wineries, charming centuries-old architecture, and fancy boutiques. Buy handmade country produce at Mrs Oldbucks Pantry and warm winter knits from the Australian Alpaca Centre. Stop by Eschalot for lunch for a hatted fine-dining experience at a heritage-listed building. Walk by the Berrima River for a platypus sighting, or book yourself a ghost tour at the local courthouse.
How far? 125km
Get there by car. It's just under two hours away from Sydney CBD.
While you may only know Lake Macquarie for its expansive body of water, this unassuming region sandwiched between Sydney and Newcastle has a lot to offer city folk looking to slow down and get back to nature. If you want to go there and back again in a day, Bilbo Baggins-style, then we must recommend a trail ride with AAA Horse Riding & More. You'll be trotting and cantering under palm tree canopies, along lush fern pathways and through skinny gums stretching skyward at the foothills of the Watagan Mountains. Afterwards, become a salty skipper while you cruise around the region's namesake lake on a private runabout boat with Jetbuzz Watersports.
How far? 127km
Get there by car in just under two hours, driving through the bushlands of Ku-ring-gai Chase National Park.
Situated on the northern tip of Wollongong, Stanwell Park is where Australian aeronautical pioneer Lawrence Hargrave first flew in his box kite in 1894. Since then, Bald Hill lookout has been the spot for hang gliding and paragliding, as well as a good place to enjoy an alfresco lunch. You can also hike the 6.5km walking track of Wodi Wodi or hand feed kangaroos at Symbio Wildlife Park. If all else fails, slap on some sunscreen and head to the beach for a splash.
How far? 64km
Get there by car. It's about one hour, 15 minutes from Sydney CBD. Or take the train from Central to Otford, which takes around one hour and costs $4.80 with an Opal card. The walk from Otford Station to Stanwell Tops takes 22 minutes.
Trek through the bush, swim in rivers and chase waterfalls around Mermaid Pools near Tahmoor Gorge. You'll encounter steep steps and rocky platforms as you venture to the water, but the views are well worth it. While the Mermaid Pools themselves are not the safest to swim in, the many swimming holes you'll encounter on the trek are ideal for a splash. The See Through Pools are the perfect pit-stop for a swim, allowing you to view hidden rock formations underwater.
How far? 100km
Get there by car, it's about 1.5 hours from Sydney CBD.
Find the best walks in Sydney
Head further afield
Pack the boot, roll down your windows and let gorgeous scenery whizz past – be that soaring coastal cliffs, native bushland, or towering alpine forests. Trust us, no one will be asking if you're nearly there yet.