Heads up! We're working hard to be accurate – but these are unusual times, so please always check before heading out.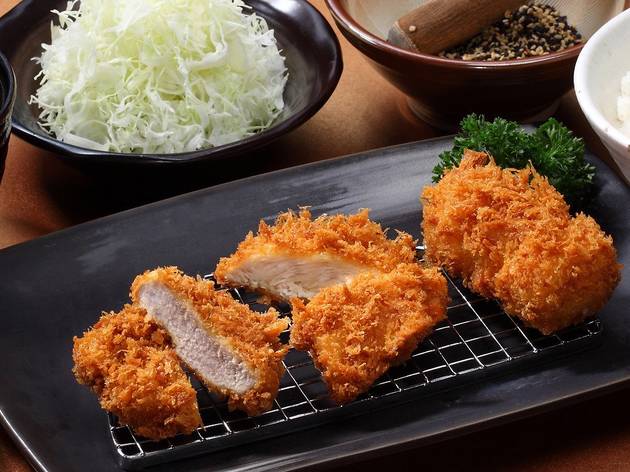 Hong Kong's top 10 pork chop rice dishes
We run down the best places to get some heavenly ju paas in town
No, when we talk about 'ju paa' here we're not talking about unattractive ladies (as per local slang) but that beautiful combination of fried pork and rice. Like that other HK classic, char siu rice, pork chop rice is one of our city's fundamental dishes. There are many variations across town and the quality is equally varied. So where to find the best in town? Read on to find out.

RECOMMENDED: If this doesn't satisfy your appetite, why not try Hong Kong's best dim sum or the best restaurants in Tai Po?


The best pork chop rice dishes in Hong Kong
Despite the increasing number of buzzy restaurants and artisanal coffee shops in Sheung Wan, one of the neighbourhood's most popular lunch spots is this decades-old family diner. Reportedly opened by a health-conscious Chinese medicine practitioner, this hole in the wall is best known for its no-frills 'gold medal pork chop rice', which consists of two basic components: white rice, and impossibly tender pork marinated in sweet soy sauce. We like ours with an egg on top, sunny side up.
Price: $56, with drink
As evidenced by its name, logo, and motto – 'We all grew up eating pork' – this retro Causeway Bay joint takes the humble hog seriously. Its popular homemade pork chop rice is dotted with cubes of Taiwanese-style braised pork belly and topped with deep-fried pork chop. A seasonal ginger and scallion version with white rice offers a fragrant, lighter alternative. Hogology's cart noodle-esque order sheet allows diners to customise their order with different sauces and toppings, which is always a win in our books.
Price: $58-$62
Look past the inexplicable pirate theme at Satay King and you'll find unexpected treasures, like its signature lemongrass pork chop with white curry. Thick cuts of tender pork are fried with ample amounts of lemongrass and served alongside hearty coconut-flavoured curry and mound of white rice. While both the meat and sauce are a touch oilier than we'd like, we can't deny that they go down a treat.
Price: $51-$61
Delicious Kitchen may operate in the city's glitziest shopping districts, but its food is anything but pretentious. This Shanghainese restaurant consistently draws crowds in Causeway Bay and Tsim Sha Tsui every day by living up to its name with delicious, reasonably priced pork chops. The juicy rib chops are encased in crunchy golden batter, lightly glazed with honey and taste just as good as they sound. A generous portion of steamed bak choi rice serves as the perfect contrast to the meat and makes us feel slightly better about the frequency of our visits. Slightly.
Price: $55
While this Japanese tonkatsu chain may be best known for its mille-feuille-style pork cutlets, its other porcine dishes are not to be sniffed at. One particularly satisfying alternative – the "bitesized" katsu tenderloin – comes on a sizzling hot plate with crispy breaded meat, lots of onions, and delightfully smooth, soy-drizzled scrambled eggs that bring to mind Cantonese silky egg (wat dan) dishes. Add unlimited refills of rice, miso soup and salad and you've got yourself a winner.
Price: from $150
This classic curry house in Wan Chai is famed for its pork chops, and is one of the few tourist attractions in the district that locals still love (we're looking at you, Lee Tung Avenue). Here, an above-average $78 gets you a very generous portion of juicy, lightly battered pork chops, white rice, and enough rich curry sauce for two. While there's been grumbling from regulars about price inflation over the years, the hefty servings and friendly staff more than make up for it in our eyes. Pro tip for penny pinchers: to-go orders at lunchtime are only $45.
Price: $85
Few dishes are as synonymous with old Hong Kong as baked pork chop rice, so where better to eat it than a cha chaan teng? Luen Wah has been serving up solid comfort food to Sai Ying Pun locals for decades and its baked chops do not disappoint. Slightly fatty, meaty chops are slathered in a thick tomato sauce, baked until lightly charred and come with a veritable mountain of egg fried rice and a side of soup. What's not to like?
Price: $61 including soup
Serving up some of the juiciest pork ribs in town, Kam Cheung has been standing proud in Sai Wan for over three and a half decades. Garnering a loyal fan base with its Shanghainese recipe passed down from generations, the pork ribs are beaten by hand to ensure tenderness with every bite. Everything is fried to order here so you know it's a guaranteed lip-smacker, whether you pair it with rice or noodles. While you're there, don't forget to try its handmade wontons and beancurd rolls too.
Don't be fooled by this cosy little restaurant's focus on the humble tonkatsu. Opened by the folks behind one of Hong Kong's best yakiniku restaurants, 298 Nikuya, and it shows. The small, stylish space serves high quality aged Kagoshima pork during the day and doubles as a saké bar at night (although we certainly won't judge you for having the saké pairing at lunch). The signature 'full house set' comes with thick cuts of aged sirloin and tenderloin meat, mincemeat cutlets filled with molten mozzarella and an array of sauces. It's best to come hungry as the set also includes rice, salad, soup, and pickles.
Price: $200 for lunch set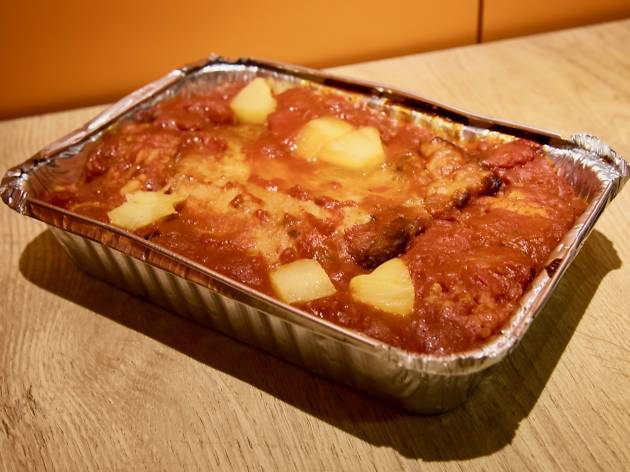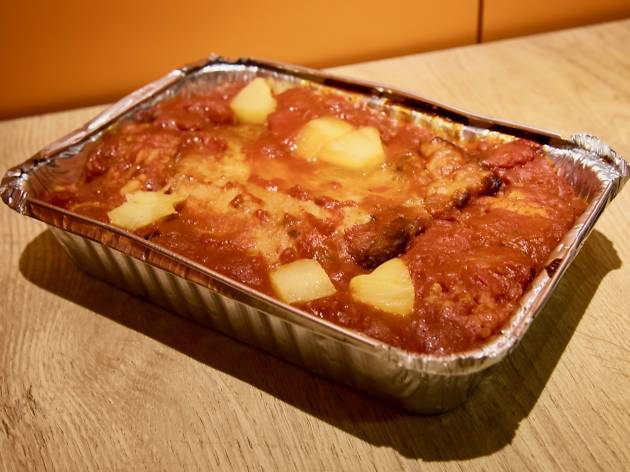 Annette Chan
Without fail, every single Hongkonger consulted for this article suggested Fairwood, the cheap and cheerful fast food chain – a choice which shouldn't be that surprising given the unpretentious and ubiquitous nature of baked pork chop rice in this city. Even less glamorous is the aluminium tray the takeout version is served in, but it does a bang up job of keeping the pork piping hot. Compared to its competitors' overstuffed versions, Fairwood's baked pork chop rice is practically minimalist, with only egg fried rice, meat, tomato sauce and pineapple, but it just works.
Price: $43
Hungry for more?