Open your mouth and say art
Open wide for some of Hong Kong's most artistically inspired dishes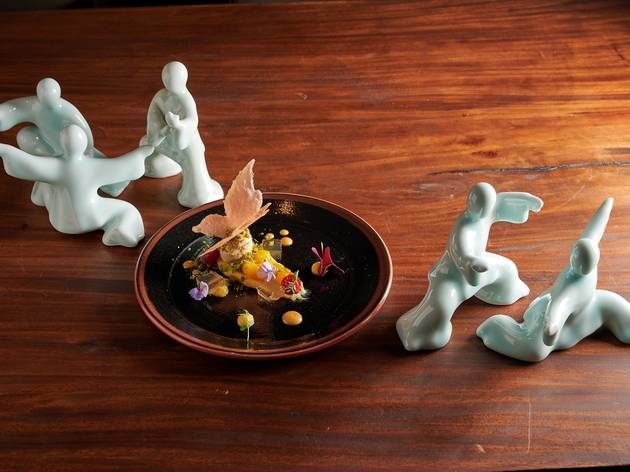 Spring is synonymous with the arts in Hong Kong, and while this year's Art Basel and Art Central have both been cancelled, there's still plenty of art to enjoy in our city, sometimes in places where you wouldn't necessarily expect it. Take your dinner plate, for example. From scent and taste to plate presentation, artsy innovation is everywhere within Hong Kong's food scene. The following dishes illustrate that perfectly by stimulating the eyes as well as the taste buds.
RECOMMENDED: If you like your art with tea, why not follow a trip to these restaurants with a stop at one of Hong Kong's most relaxing tea houses?
Artsy food
Cordis Hong Kong's Michelin-starred Cantonese restaurant Ming Court comes together with French crystal brand Lalique in 2020 for the artistically inclined Nature Sauvage collaboration. As part of the year-long campaign, one of Ming Court's private dining rooms is transformed into a nature-themed space replete with elegant furnishings and artsy crystal tablewares from the French maestros, to please the pupils before the palate.
Of course, the food matches the inspiring surroundings, with an 11-course menu of meticulously crafted works by Executive Chef Li Yuet Faat. Among them is the Yoshihama Dried Abalone in Jian Nan Chun Chinese Liquor, an exquisitely delicious dish with oscietra caviar and preserved plum jelly. Not only does the fragrant Chinese liquor lend complexity to the abalone, but the caviar brings the perfect amount of saltiness for a flavoursome bite that doesn't overpower the other ingredients. Served in an alluring Lalique crystal bowl – that is a work of art in itself – this is an epicurean experience sure to bring out your inner art aficionado.
Price: $2,888 per person (reservation compulsory for parties of six or 12)
Spring wouldn't be spring without busy butterflies flocking around flowers, and this image is exactly what inspired Executive Pastry Chef Kevin Chiu's latest set of creations. His crowd-pleasing dessert is a blossoming garden made up of delectable flowers crafted from decadent treats like yuzu, plum wine jelly, mango, green tea crumble, and Valrhona Dulcey chocolate cream. Cue butterflies, which Chiu meticulously hand crafts from freshly-baked crust. The beautiful bug is finished with a generous spray of cocoa oil for that natural shimmer, in a piece stunning enough to make your eyes water, not just your mouth.
Price: lunch set starts from $320; additional $58 for dessert
Available throughout March.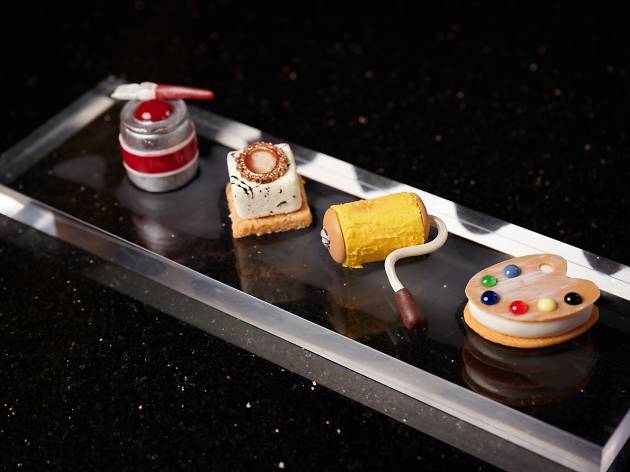 Calvin Sit
Themed afternoon tea at Tiffin
Last year the Grand Hyatt Hong Kong brought in Smita Grosse as their first female Executive Pastry Chef, and since then has been surprising sweet-toothed Hongkongers with a slew of creative desserts. The latest creations from Grosse draw on her childhood infatuation with decorating and paint, and accordingly, Tiffin's all-new afternoon tea set provides patrons with cute desserts in the form of mini paint tins, brushes, rollers, palettes, and easels – providing an experience that is a far cry from watching paint dry.
Not only are the intricately detailed desserts great for the 'gram, but they're also top for the taste buds, with Grosse personally selecting all ingredients. A hazelnut caramel cake with raspberry gel makes for an adorable paint tin and brush, whilst the paint roller is a passion fruit and mango swiss roll in disguise. As for the palette, prepare for a delectably balanced fusion of yuzu tart and Valrhona Dulcey chocolate. For cheesecake fanatics, the easel is composed of baked cheesecake with chocolate fudge.
Price: $656 for two person themed afternoon tea with five snacks, four theme desserts, and signature scones, Monday-Friday; $596 Saturdays, Sundays and public holidays,
Among our favourites in the city, one-Michelin-starred Duddell's is so much more than your run-of-the-mill restaurant, with an impressive collection of art that makes the establishment seem as much art gallery as eatery. Anyone that dines here regularly will know that, much like the paintings on the walls, the food often has a deliciously artsy streak. This is exemplified in the Garoupa Dumpling, Shrimp, Spicy Termite Mushroom, that gives an artistic twist to the humble har gow (traditional shrimp dumpling).
The reinvigorated dumplings are crafted in the shape of a goldfish and painted in bold colours with a Chinese calligraphy brush. Drenching the surface of the plate is a layer of termite mushroom oil, embellished with salmon roe and seaweed beads to give the illusion of a goldfish swimming in a pond. The dumplings are, in true Duddell's style, prepared with only the finest ingredients, while the termite mushroom is slightly-spicy, which brings out the freshness of the shrimp in a dish that ticks all the boxes.
Price: $108 for two dumplings
Founded by celebrity chef Julien Royer, the French restaurant Louise is known for its exquisite fine dining; but the artisanal French desserts also make those with a sweet tooth. The chocolate sphere, for example, is basically an oversized Ferrero Rocher of top-grade French chocolates and crushed hazelnuts, adorned by gold leaf. Inside the sphere is a mouthful of smooth, luxurious chocolate and hazelnut spread to truly satisfy your sweet tooth.
Price: $118
More treats to whet your appetite