Meet the Undateables: Natsumi and Josiah
We take two Hongkongers who swear they're totally undateable, and put our matchmaking skills to the test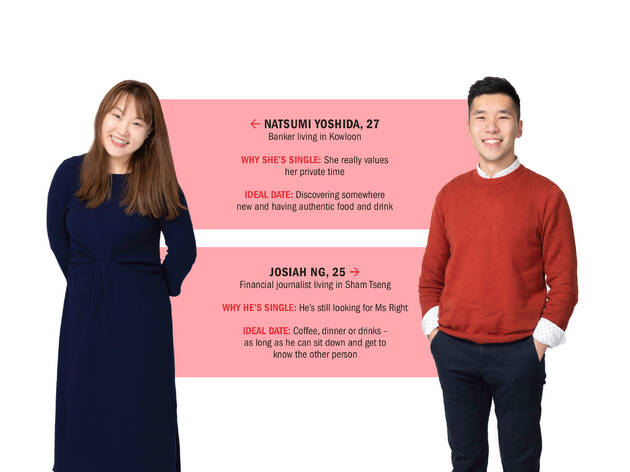 FIRST IMPRESSION
Natsumi: "He was on time and very polite. He asked me some questions and tried to make me talk about myself."
Josiah: "She seemed a little bit aloof at first but I guess it's because we were both a little nervous. After I found out she was an investment banker, since I'm a financial journalist, we sorta took it from there and started talking about everything."

CHEMISTRY
Natsumi: "I don't know what exactly the chemistry is but we could find something in common to talk about, which was nice for both of us."
Josiah: "A little bit. She's really easy to talk to. The conversation ran itself so I was very happy about that. But there's not a lot of intersection in terms of hobbies. She does yoga and hikes and is overall more outdoorsy. I like to make music and do indoorsy things."

AWKWARD MOMENT
Natsumi: "He followed me on Instagram. I generally use Instagram for close friends only so it was awkward that somebody I met for the first time followed my IG account. Maybe it's a cultural difference?"
Josiah: "I don't think there were any. But that's from my side. I'm not sure what she thought!"

AFTERWARDS
Natsumi: "He took me to a whisky bar, which was really cosy and nice. We shared an Uber, then went home."
Josiah: "We went to The ThirtySix after. Our dinner started late though so by the time we finished our first drink it was already 2am and we decided to end it there. It could have gone on longer had it not been for the time."

THE VERDICT
Natsumi: ♥♥♥ "It was nice and I enjoyed talking. Actually, the dinner started at 9pm, which was very late and I went home at around 2am. I had a very important exam the next day before noon and after that, I had to fly for a business trip, so I was bit distracted."
Josiah: ♥♥♥♥ "It was a really good first date. It checked all the boxes – there was good food, good conversation and just enough common ground."

Want to get set up? Sign up here or email us at info.hk@timeout.com.
THE RESTAURANT
Natsumi: "Service was very good and food was also good. I feel like I found a very good Italian restaurant in Hong Kong, which is very rare!"
Josiah: "Food was fantastic. There's a lot of attention to detail and a really great balance of flavours. Overall it's a great space. It's very comfortable and easy to relax and have a good time."