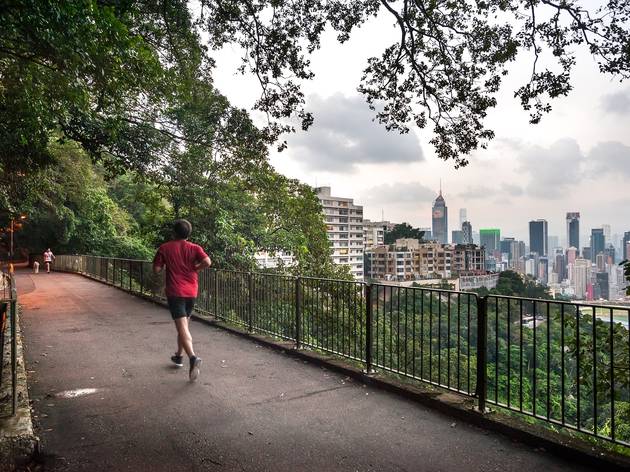 6 breathtaking places to jog in Hong Kong
These will take your breath away. Literally.
When most people think of Hong Kong, the first thing that comes to mind might not be jogging, but don't be fooled, our city boasts some pretty awesome places to jog. If you're going a little stir crazy and wanting to get out and burn off the cobwebs, here are some places that you can run responsibly – no marathon crowds here. From meandering paths to mountain tops, these are some of the most breathtaking – literally – jogging routes in Hong Kong.
RECOMMENDED: Cycling more your thing? Check out these top Hong Kong cycling routes.
Breathtaking places to jog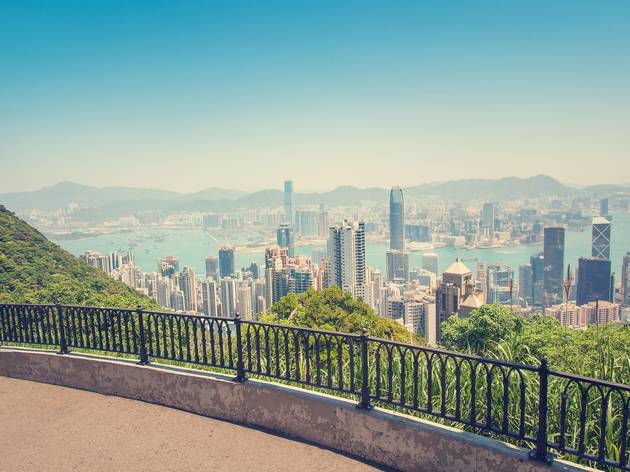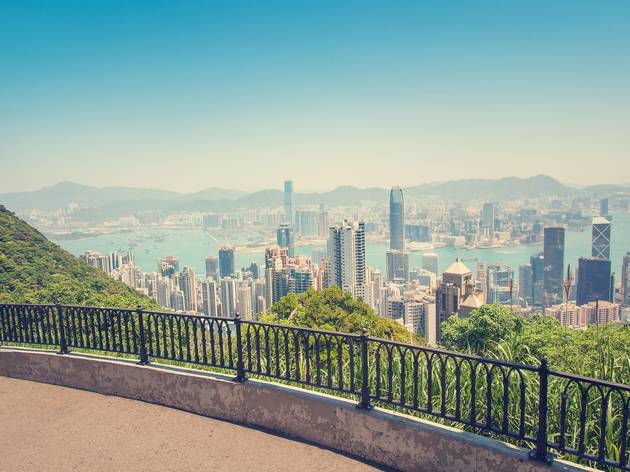 Photo from Shutterstock
One of the most iconic runs in Hong Kong is the circuit around Victoria Peak. Many fit tourists love to do this one as it offers pretty much non-stop panoramic views of the city below. We recommend getting there around sunrise or sunset to get the most spectacular experience; you can even make it a romantic jog with your significant other! Either way, runners can traverse the trail in any direction, and getting there is as easy as taking the cable car up to the peak. For the fit and very brave, it's also possible to run – or feel free to walk – up to the Peak, along the Central Green Trail that follows the tram line.
Photo from Shutterstock
Every runner in Hong Kong has heard of this paved path in the Mid-Levels; it being one of the most popular jogging routes in the whole city. We recommend starting from Magazine Gap Road just above the hustle and bustle of Central, but you can also start at the other end, by alighting the number 15 bus at Hong Kong Adventist hospital. The flat, 4km route is a piece of cake, making for a pleasant jog with views of Wan Chai's highrises.
Photo from Shutterstock
Central and Western District Promenade
Who doesn't love a run on the water's edge? This is one of the most visually stunning places to run in Hong Kong, with near uninterrupted views of the harbour and Kowloon on one side, and the Hong Kong Island skyscrapers on the other. This flat route stretches from Wan Chai to Sheung Wan, and you'll be breathing in fresh sea air as long as you're running it.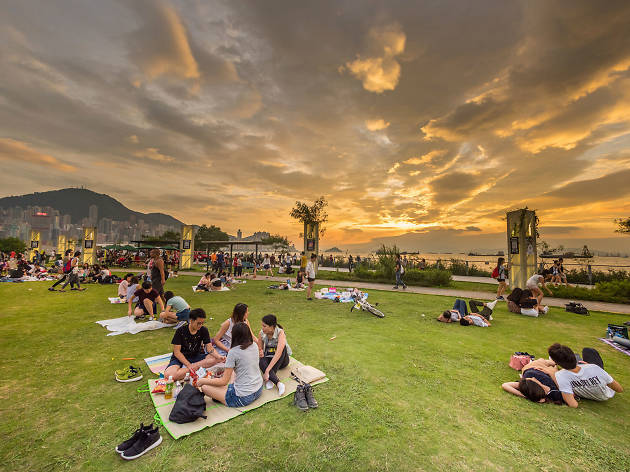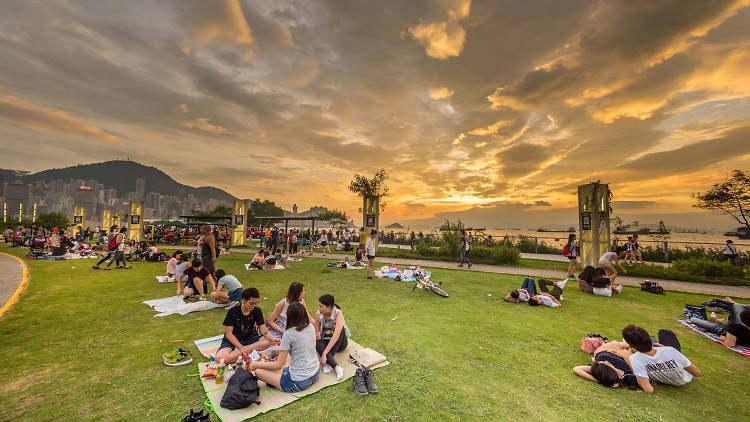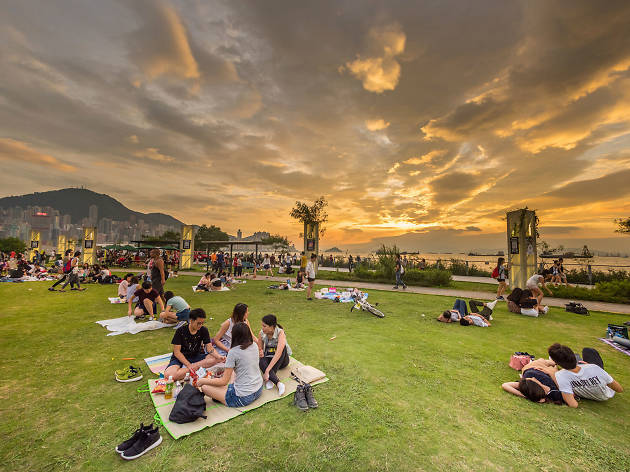 Photo by WKCDA
This is arguably the best view to be had on any Hong Kong run. The West Kowloon Art Park is well known amongst Hongkongers as a tranquil, green place to stroll and relax, but the park – particularly the waterfront promenade – is fantastic when it comes to getting that jog in. Enjoy the greenery, the sea breeze, and the stunning views of the Hong Kong Island skyline while you run. We recommend running there around 8pm, when the nightly Hong Kong light show will illuminate your run with a stunning light show.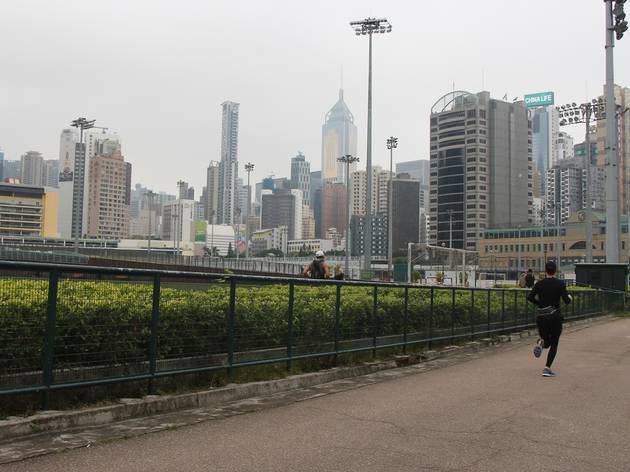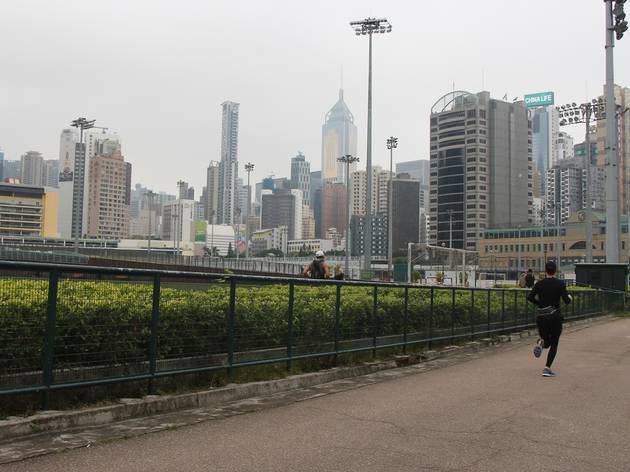 Photo by Sam Evans
Happy Valley Recreation Ground
Among the most important sporting clusters in the city, around the Happy Valley Racecourse can also be found the Hong Kong Football Club, and the huge recreation ground that covers much of the infield area of the racecourse. While there's a designated 1.1km jogging circuit within the grounds, a lot of joggers tend to prefer the 1.4 km service road that encircles the recreation grounds. Make no mistake, the road isn't as pretty as the painted track inside, but it's longer, much wider, and provides some impressive views of Causeway Bay and Wanchai, especially when running anticlockwise in the northeastern section of the track.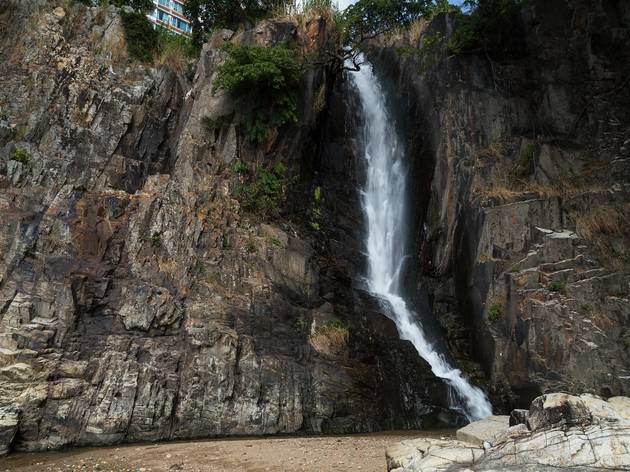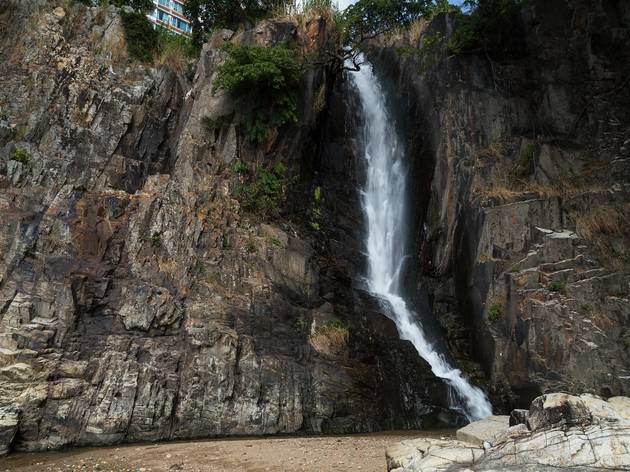 Photo from Shutterstock
Waterfall Bay Park is a beautiful feature in the southwest of Hong Kong Island, and can be reached easily by getting a bus to nearby Wah Fu estate. From here the park and waterfront promenade is just a short walk, and the promenade stretches for over a kilometer. Running along here you're likely to see old men fraternising and people taking a seat and chilling out. There's also good views of Lamma Island, and a stunning waterfall in these parts too, as a reward for your jogging efforts.
in the mood for a hike?