Eight quick tips for getting through Hong Kong airport stress-free
The best travel accessory of the season? Our guide to stress-free travelling at Hong Kong International Airport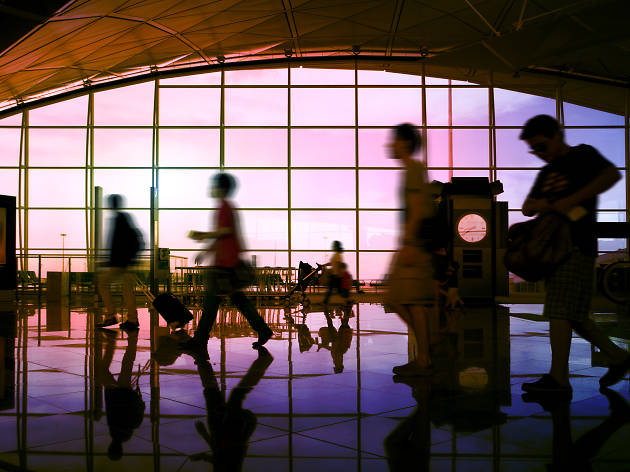 Delayed flights, overweight baggage, missing passports – these are just some of the things that can set our teeth gnashing about airline travel. We're here to change all that. This guide to stress-free travel in HKG will keep you staying cool, calm and collected at all times. From baggage storage to the airport's free shower facilities, navigate Hong Kong airport like a pro with our nifty tips and tricks. By Karl Lam

RECOMMENDED: Avoid any hangry tendencies by chowing down at one of these restaurants at the airport. Your flight got cancelled? Check-in to a Hong Kong or Kowloon hotel.
How to navigate Hong Kong airport stress free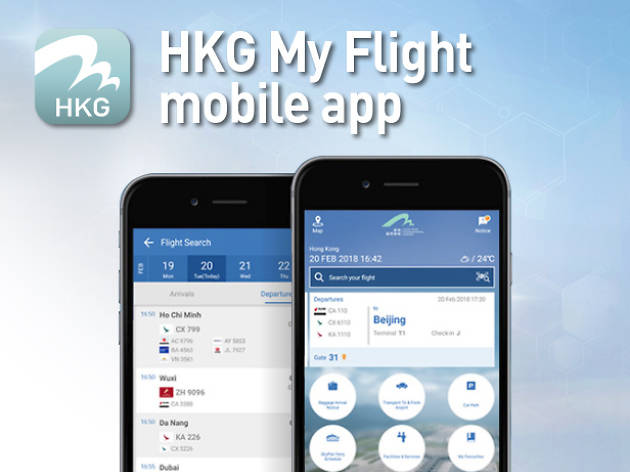 Stay updated with the HKG My Flight app
First things first – before you even arrive at the airport, you can be well prepared and stay ahead of the game with Hong Kong International Airport's official app, HKG My Flight. From receiving real-time flight updates and boarding alerts to seeing when your baggage is going to arrive, the app provides all kinds of useful information that takes a lot of the stress out of flying. It even helps you translate airport signage and has a directory for public transportation to and from the airport.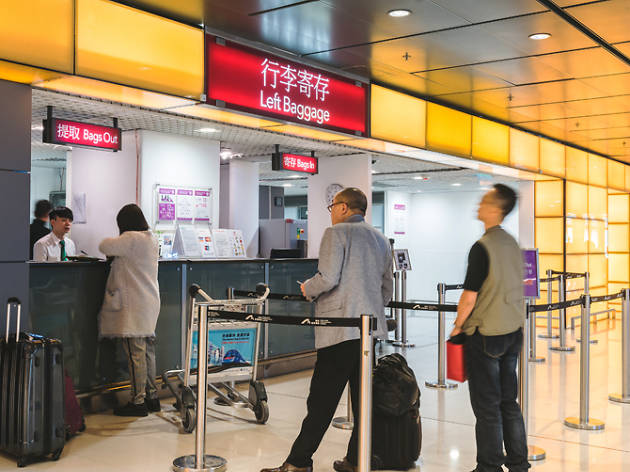 Hong Kong International Airport
Stow your bulky baggage items
At only $12-an-hour or $140-a-day, the Hong Kong Airport Baggage Storage service is great for those travelling with bulky carry-on items they don't want to lug around. Items exceeding 30kg cost extra but it's well worth the money. Located on the third-floor Arrivals Level in Terminal Two (near the coach station), dump your things and have a grand old time shopping at the airport.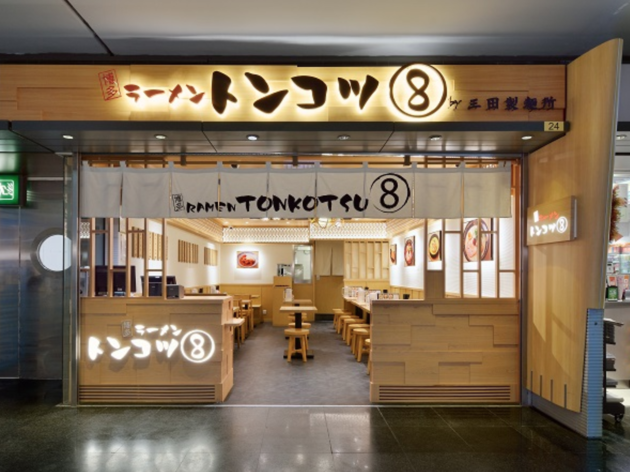 Grab some late-night grub at Tonkotsu 8
Got an awful red-eye flight ahead of you? Well, everything's better on a full stomach. While most restaurants at the airport close late, Tonkotsu 8 is open 24-hours, so there's no last orders here. The ramen joint serves eight different noodles, dishing up warm comfort food before your journey. Looking for more restaurants? Check our guide here.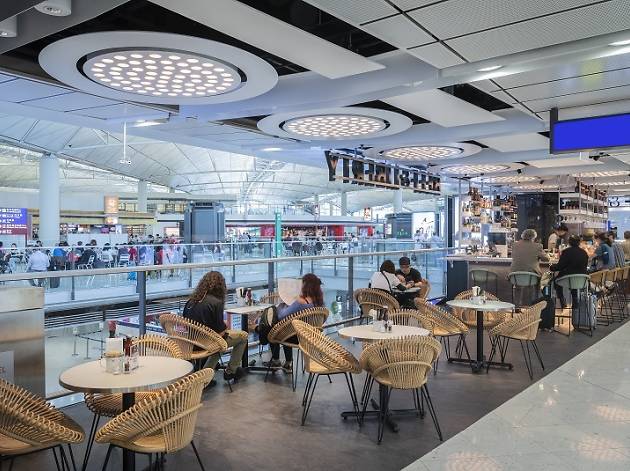 Enjoy self-serve craft beer
Popular burger joint Beef & Liberty, which opened a new branch at the airport earlier this year, is a great spot to grab a good ol' bacon cheeseburger with caramelised onions and a dollop of B&L's Tiptree ketchup. And the best part? The restaurant's self-service beer bar where you can enjoy craft beer, courtesy of Moonzen Brewery, straight from a tap. The perfect pick-me-up before a flight.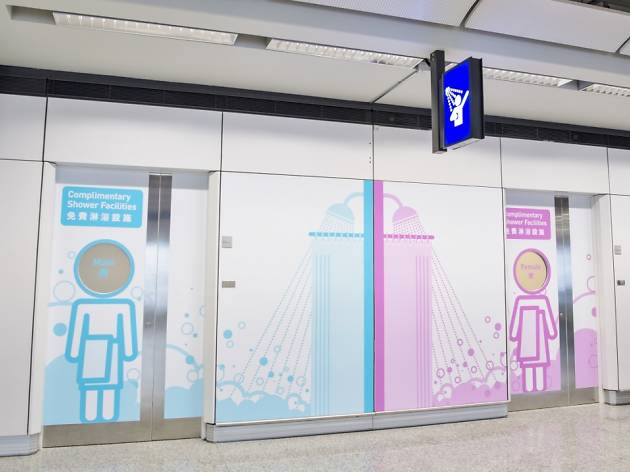 Hong Kong International Airport
Freshen up at the free shower facilities
Had a long day at work before arriving at the airport? Freshen up with an invigorating shower at the airport's free 24-hour shower facilities. Located near Gate 22 in Terminal 1, the showers are on a first-come-first-serve basis. Perfectly clean, the only downside is that there are no towels provided, so remember to bring your own.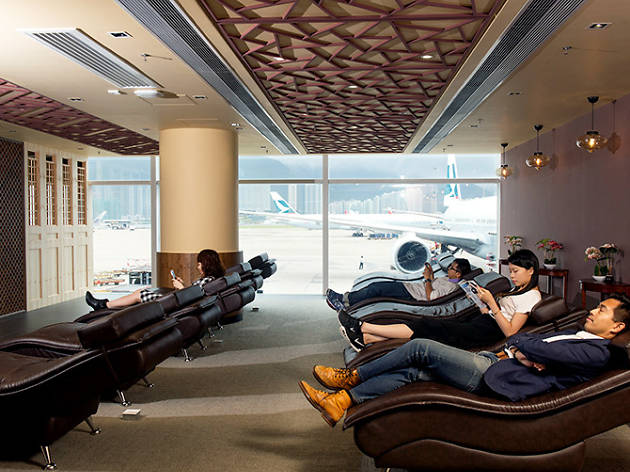 Hong Kong International Airport
Recharge for free at the relaxation corner
Forget paying lounge fees, head to the free 24-hour relaxation corner – near Gate 23 in Terminal 1 – for a quick snooze. Equipped with lounge chairs, free WiFi and smartphone charging stations, the best part of the relaxation corner is its fantastic view of the tarmac – perfect for any aviation-geeks out there. But if you don't mind splurging on some much-needed TLC before your flight, they also offer basic massage services like acupressure and reflexology at $248 for 30 minutes and $198 for 20 minutes respectively.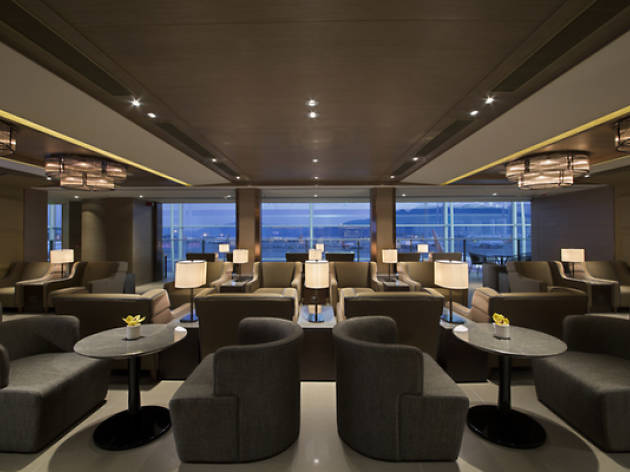 Savour luxury pampering at Plaza Premium Lounge
While the free lounges are great for a quick stop, you might want to head to the Plaza Premium Lounge for a longer sojourn. Starting from $580, tuck into a wide array of hot and cold dishes and fuel up at the fully-stocked noodle bar. The massage services and shower facilities are perfect for some R&R. The good news? If you're already a Priority Pass member or hold any American Express Elite Cards and select HSBC credit cards, access to the lounge is complimentary. The adjoining Wellness Spa and Salon offers everything from mani-pedis and foot massages to blow-dry services. It's ideal for weary-eyed business travellers.
For added luxury, head to the newly opened Plaza Premium First, near Gate 1, which boasts a sit-down restaurant, impressive whisky collection and even a lounge ambassador to help with all your pre-flight needs.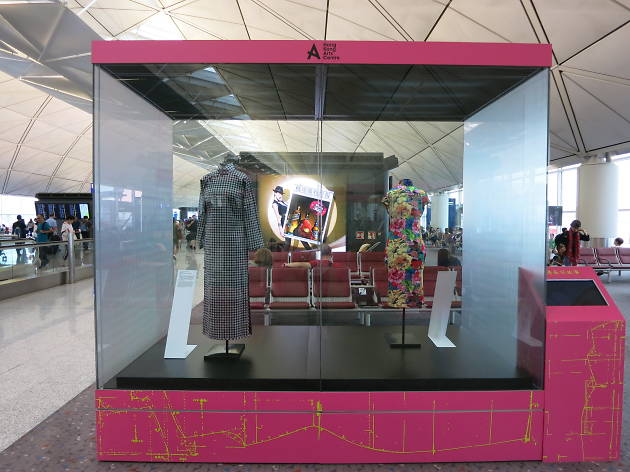 Get cultured at the public art exhibitions
Take in some art before you jump on board with the various exhibitions stationed near the gates. Currently, one of the best is More Than Just Food, which features the works of local ceramic artists, expertly curated by the Hong Kong Heritage Museum. Exhibitions change regularly and have included everything from local cheongsams to the history of teaware.
Make the best of your trip at the aiport