Heads up! We're working hard to be accurate – but these are unusual times, so please always check before heading out.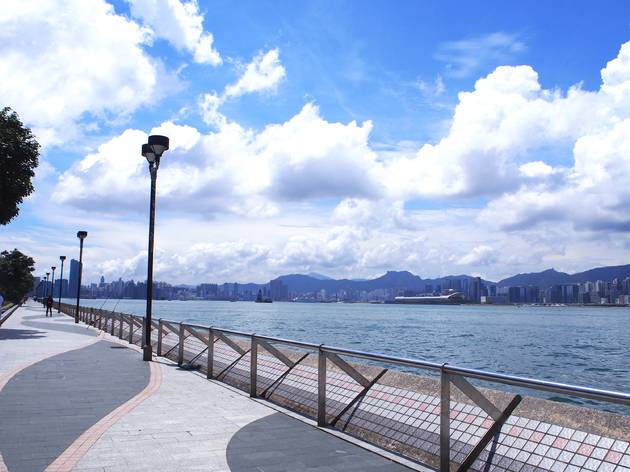 Sai Wan Ho: Ultimate Guide
There are tons of fantastic local eats and harbour views at this Eastern District neighbourhood
Known primarily as a residential area, Sai Wan Ho has often been overlooked in favour of seemingly trendier and more popular areas in the Eastern District like Quarry Bay and Shau Kei Wan. If you're looking to explore a neighbourhood that eschews the typical glamour of Hong Kong, then Sai Wan Ho is the place for you. With local street food, scenic views and even a film archive to discover, this nostalgic 'hood is an ideal place to explore. Read on to find out the best places to visit in Sai Wan Ho. By Mabel Lui and Kaitlyn Lai. Photography by Mabel Lui
RECOMMENDED: Fan of harbour views? It's tough to beat the view from Hong Kong's best rooftop bars.
Best things to do and eat in Sai Wan Ho
Along the concourse of Quarry Bay Park lives the historic relic of Alexander Grantham, a 500-tonne flagship fireboat first commissioned in 1953 to serve in the Hong Kong's Fire Services Department. After its retirement in 2002, the fireboat was converted into a gallery showcasing unique firefighting and sea rescue artefacts like a Morse code signalling lamp and a breathing apparatus mask. There's also an interactive game to learn more about the fire department's rank markings and uniforms – perfect for curious children and adults alike. Don't forget to visit the upper deck as well for an elevated look at the stunning Kowloon skyline that lies over the railing.
Every evening, this art and ceramics gallery is transformed into a Shanghainese private kitchen. The meal is made up of 12 and 14-courses – depending on which set you go for – making up a long night of tasting adventure. Diners have the option of signing up for one-and-a-half hour pre-dinner ceramics and painting workshops for extra $500. For the full experience, reservations are absolutely necessary.
Relive the golden age of Hong Kong cinema at the Film Archive. The five-storey building houses a collection of rare and historic films, books, movies, magazines and audio-visual materials that can be viewed in the archive itself or borrowed for comfortable at-home viewing. The archive also boasts an in-house 125-seat cinema for public screenings of old Hong Kong classics, for which tickets are sold at a small fee. The ever-changing exhibition hall, on the other hand, is completely free. Grab a film buff and head here to bask in the nostalgic glory of local cinematic masterpieces.
Winner winner, chicken dinner! Hainanese chicken rice is well-loved all over Hong Kong, but not many shops do it quite as well as this stall in Tai On Building. Originally a takeaway-only store, the eatery has since opened up an adjacent sitting space due to overwhelming popularity. With fresh chicken, no bones and an option to request different parts of the bird (yes, even intestine), you can't go wrong with a simple but hearty meal from Hainanese Chicken Specialist. An added plus: the meal comes with your choice of free winter melon soup or sweet dessert soup, but if you're feeling adventurous, you can add $15 for a bottle of olive juice.
This stop doesn't necessarily have the most creative of names, but it's certainly an accurate one. Hung Kee's egg waffles are indeed top quality, albeit slightly different in texture than your run-of-the-mill version of the local delicacy. Hot off the egg waffle maker, this golden-brown gem of snack is, as expected, crispy on the outside. Hung Kee's version is especially fluffy and tasty, even hours after it's cooled down. The soft, cakey filling is a welcome departure from other eggettes, making the snack feel especially light and airy. There's no wonder that this shop has been operating for 11 years and counting.
Take a leisurely walk along Sai Wan Ho Harbour Park after your meal at Soho East (which we'll come to it later). The promenade is a prime spot for an impromptu photo shoot, complete with a picturesque backdrop of the sea. The harbour park is also perfect for family strolls and dog walks with plenty of open space for hyperactive children and hardcore runners alike. Stop by the little kiosk for a nibble or two, with street food choices like curry fish balls, hot dogs, as well as spam and egg noodles.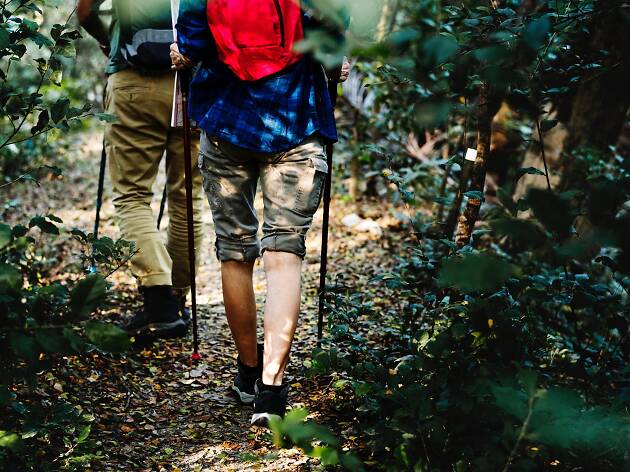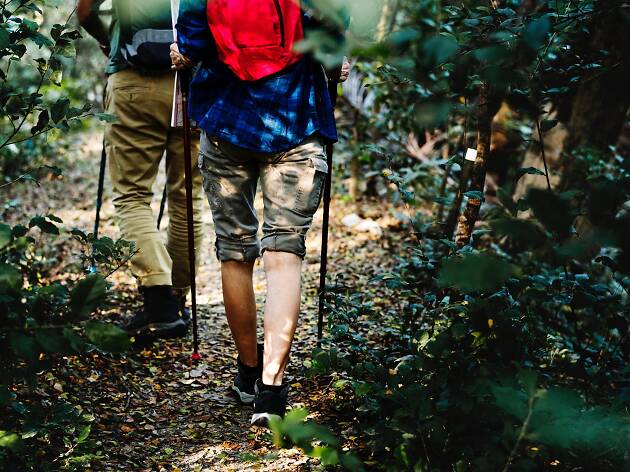 Sai Wan Fort Morning Trail
Quality time with Mother Nature is hard to come by in our concrete jungle. If you are tired of the crowded Hong Kong Trail and Dragon's Back, try embarking on a new adventure via the Sai Wan Fort Morning Trail. For nature lovers who happen to be historians, this trail features remnants of the Sai Wan Battery, which was used by the Japanese army in WWII. The monument also gives you a wonderful bird's eye view of Hong Kong East. To reach the trail, take Bus 14 outside Sai Wan Ho MTR Exit A, alight at the Lei Yue Mun Holiday Village bus stop and turn left up to the slope.
Located right by the harbour, Soho East offers a cosmopolitan taste of Hong Kong in an old-school neighbourhood. Lining the Sai Wan Ho waterfront are a wide variety of speciality restaurants, themed bars and chill cafes where are you enjoy cuisines from all over the world in a rare tranquil setting in Hong Kong. Think of it as an underrated version of Stanley and Kennedy Town waterfronts, Soho East and its relaxed ambience provides a refreshing respite in this fast-paced city.
Often overlooked as just a mere rundown industrial block, Tai On Building is, in fact, one of the few remaining 1960s-style buildings still standing in Hong Kong. While many streetside dai pai dongs have since become chain restaurants and gleaming highrise residential blocks now claim the harbourfront, Tai On Building remains a cacophony of street hawkers, old arcades and fluorescent signs, transporting visitors to a Hong Kong of old. This mini time portal has earned a new status as a foodie's paradise, where you can sample everything from siu mai to beef offal noodles to eggettes. If you are looking to savour authentic local delicacies without breaking the bank, or hoping to venture back in time, this gem in Sai Wan Ho is the place to go.
Explore other Hong Kong neighbourhoods