Things to do in Hong Kong this weekend
Make the most of that sweet, sweet downtime with our pick of the top Hong Kong events, things to do, concerts, festivals and more
No plans for the weekend yet? Don't worry! Here you'll find the best events taking place from Friday night through to Sunday, along with the finest art galleries, museums and our ultimate guide to the best things to do in Hong Kong.
The best things to do in Hong Kong this weekend
While most audiences would often relate Takashi Murakami to imagery and motifs featuring clusters of cartoon sunflowers with smiley faces on it, his repertoire expands far beyond it. Continually evolving while blending everything from traditional Japanese painting to otaku subculture to Western art theory to hip-hop. Presenting new paintings seen by the public for the first time, the solo exhibition features variations of Murakami's own larger-than-life characters and a mural-sized painting that perfectly encapsulates his flirtation with high art and popular culture.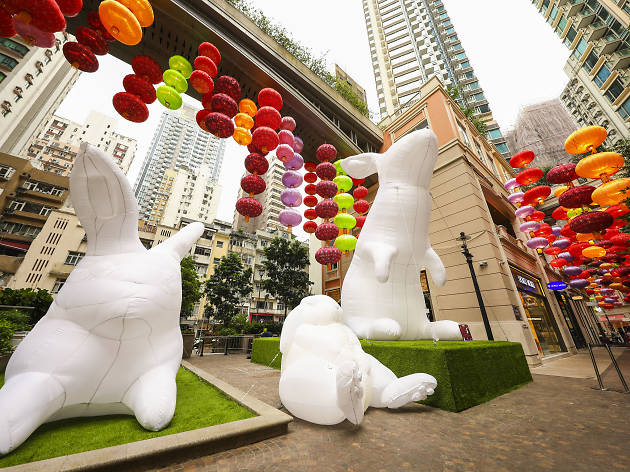 Following the massive popularity of the giant floating moon installation that hung over Lee Tung Avenue, the shopping street has up their game this Mid-Autumn Festival to bring Hongkongers 10 giant illuminated rabbits – you know, to represent the moon rabbit from the Chinese folklore – by renowned Australian artist Amanda Parer. Her inflatable rabbits have made its round across the globe in over 80 cities, and for this Mid-Autumn, 10 installations of varying sizes will be hopping over to Lee Tung Avenue and China Hong Kong City to celebrate the festival. Whether it is the 800 red lanterns or Victoria Harbour serving as backdrop, it makes for a stunning photo-op either way. What's more, these huge bunnies are also making an appearance at our next Time Out Dining Series: Moonrise Picnic at China Hong Kong City, where diners can eat, drink and chill with the rabbits under the moon.
Find more things to do in Hong Kong this weekend