Covent Garden bars
Find the best classic cocktails and foamy pints with our guide to Covent Garden bars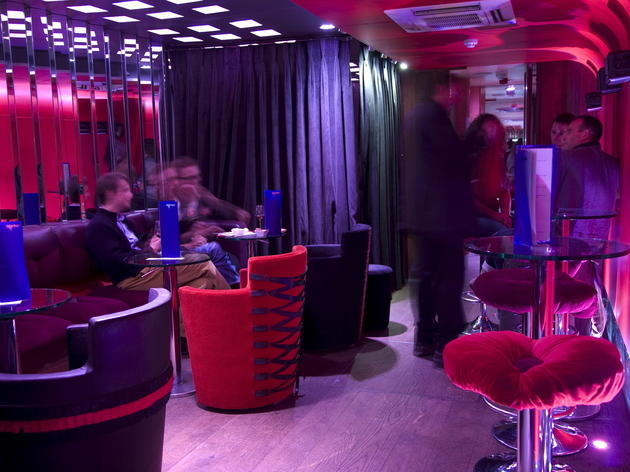 Cabaret, live music and some of the city's best cocktails - Covent Garden has it all. Try the raunchy fun of cabaret bar Cellar Door, or hang out at relaxed wine bar Bedford & Strand. The area's drinking scene is diverse, so check out more of our picks of the best places for after-hours drinks in the area. Think we've missed a great bar in Covent Garden? Use the comments box below or tweet your suggestions. And don't forget to read our guide to Covent Garden pubs.
The original Hawksmoor, in Spitalfields, was a simple bar and grill with high aspirations. Cocktail supremo Nick Strangeway was hired by Hawksmoor's owners - no slouches in the drinks expertise themselves - to create a distinctively different cocktail bar...
Book now
Read more
Beneath a row of flags topping the stern, stylish Covent Garden Hotel, this bar-restaurant offers guests and chatterers a lovely environment in which to sip drinks and munch on snacks - but at a price.
Book now
Read more
A gaudy neon arrow points the way to this tiny basement, where cabaret, lounge singers and drag acts ensure things go with a swing.
Read more
In an area otherwise dominated by tourist traps, Bedford & Strand is popular with local workers, who stream to the basement bar for after-hours drinks.
Book now
Read more
Kitsch, messy and a late-night legend, this basement bar attracts a regular crowd of debauched luvvies and miscreants. Play spot-the-soap-extra as you order a pint of Red Stripe, Kirin Ichiban, Heineken or Wells Bombardier at the bar, which is surrounded by signed black-and-white publicity shots of not-quite-familiar faces. The club is members only, but the trick to enjoying its way-past-midnight hospitality is to arrive before 8pm and stay put.
Book now
Read more
Venue says: "Open for Sunday lunch on March 26 to celebrate Mother's Day! Check out our website for more details and call or email to book your table."
Behind a very discreet entrance on Endell Street, almost opposite The Hospital members' club, jazz joint Octave played its last 7th augmented flat 9th chord in July last year, and Circus has now moved in.
Book now
Read more
Sponsored listing
The Black Penny
It was a marketing wheeze that really, really worked. This new café/takeaway in Covent Garden sold every dish for a penny on opening day, and when we went a few days later there were huge queues waiting for tables and (mostly) takeaway. It reminded us of the old drug dealer's trick to get new clients: 'the first one's free'. Addiction to Black Penny may become a recognised medical condition, but it won't be because of cost – low though that is. When you finally reach the counter, you see dishes that look like those at many another coffee place: soup, sandwiches, salad, quiche, a stew, lots of baked sweet things. But when you finally sit down in the small back dining room, you realise this isn't the stuff of two-for-a-penny cafés.  The quality is high in both sweet and savoury dishes. Salads are a particular strength, with confident seasoning in the dressings and excellent assemblies of sprightly ingredients to carry them. The kitchen has a masterful pasty-maker, as we saw in both a savoury tart and a Pennsylvania-Dutch-style apple pie. They also had a good ceviche on the menu when we were there. Portions are enormous and prices eminently reasonable - £7.50 for a salad box that some people would be happy to share between two, sandwiches just under a fiver. In the food, the only downer was inelegant presentation of salad selections. The separate components were piled together so that their flavours blended in some unappealing ways: ceviche on top of couscous is never a good