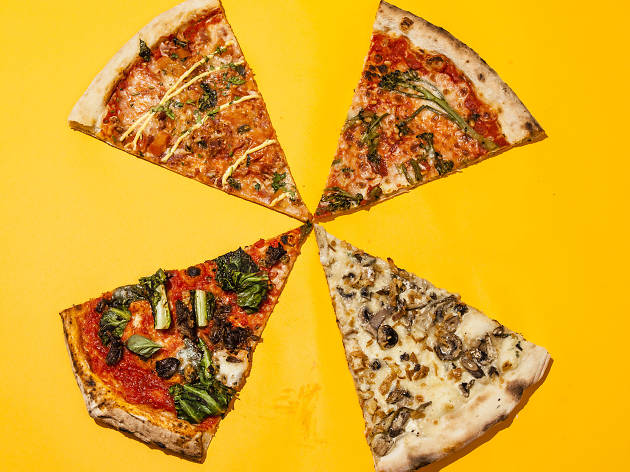 Pizza the action: eight of London's top pizza toppings
Posted: Friday February 24 2017, 5:34pm
What are this town's top toppings? Which pizza players whack the whackiest things onto their dough in the most brilliant ways? Take a bite out of these bad boys available by the slice or pie...
1. The Full Moon Slice at Voodoo Ray's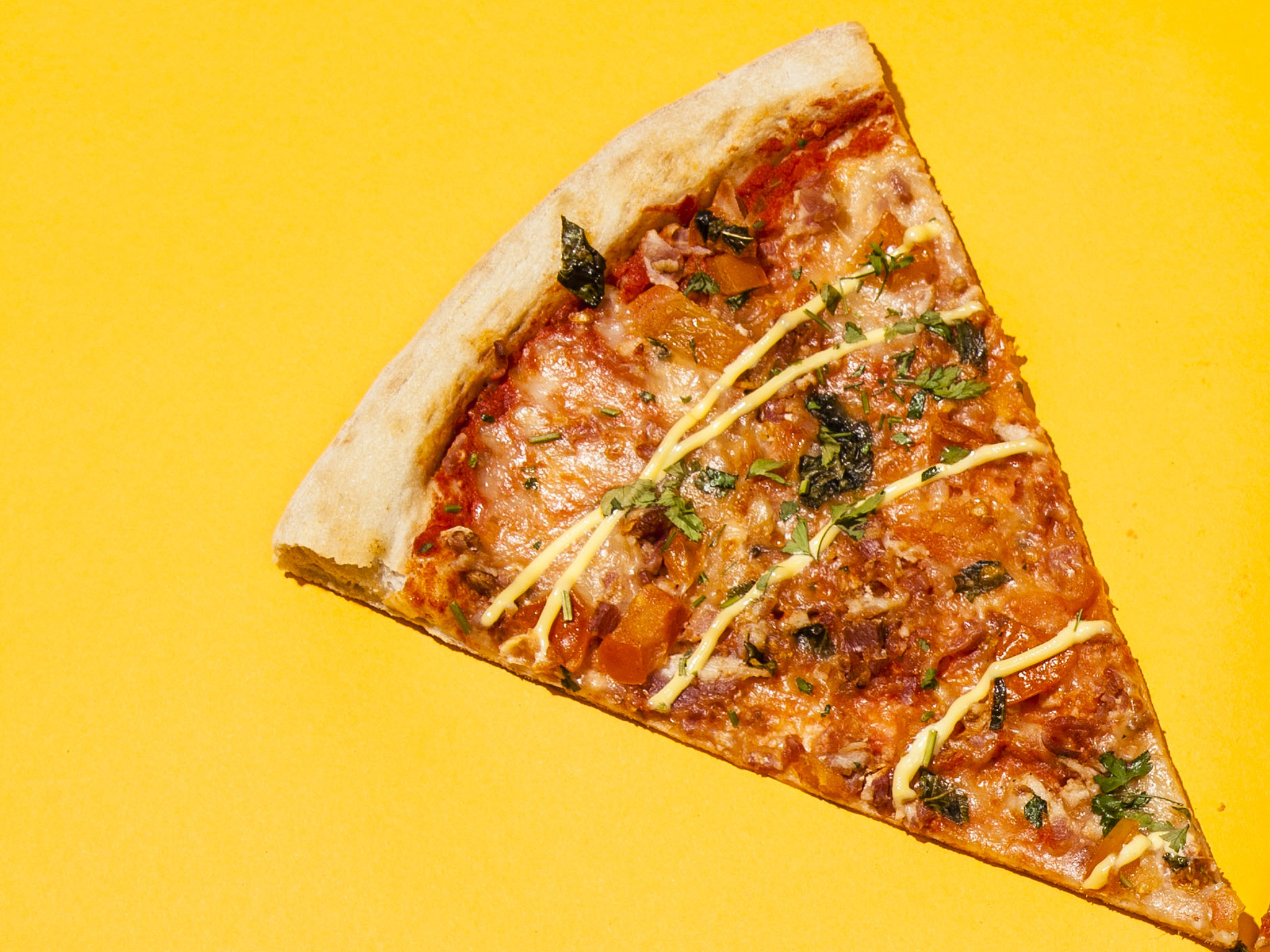 It sounds like something your flatmate's friend who slept on the sofa for five months and tried to grow mushrooms in the bath would have cooked up for Glastonbury. But no: the mayonnaise pizza is real, and a slice of it can be yours. Voodoo Ray's wildcard option (it's only available after midnight, for obvious reasons) features bacon sprinkles, marinated tomatoes and mozzarella, all held together by splodges of cult Japanese mayo brand Kewpie.
The one for… Mayonnaise-loving werewolves.
£4 (slice). Get a 22" pizza and four cocktails for £35 at www.timeout.com/raysbaroffer.

Not to be confused with the banking giant, Yard Sale's TSB is all the reason you need to eat your greens. Manchego and pine nuts are the supporting acts for leggy florets of tenderstem broccoli (hence TSB), gorgeously charred. And if you finish your veg, it's totally fine to have one of their freshly baked brownies for dessert.
The one for… Chlorophyl nuts.
From £9.50.
3. XO pig cheek, collard greens and crackling furikake at Homeslice

At first glance, this new addition to the Homeslice menu looks pretty trad. Meat, veg, tomato sauce, crispy bits. Nothing to see here. But take a bite and it's a totally different story. Salty-sweet pig cheek, cooked low and slow, makes an inspired partner for Deep South-style greens. And the crackling furikake (a meaty twist on sushi seasoning) gives the whole thing a thumping, porky bassline.
The one for… Italian-Japanese-US soul food fans.
£20 (serves 2-3).
4. Wild mushrooms, crispy shallots, truffle oil, parmesan and cream chive base at Joe Public

Your eyes meet across a dimly lit Infernos, and it's like Rihanna said it would be – you've found love in a hopeless place. They suggest a trip to Joe Public for pizza. 'Handy for the tube,' they say, giving you a wink. But what should you order? You want to establish yourself as a person of quality – someone who flosses and owns a corkscrew. A couple of slices of the wild mushroom, truffle oil and parmesan pizza ought to do the trick. Frozen margaritas on the side? Nicely done.
The one for… Persons of quality (ie show-offs).
£4 (slice).
5. Veal meatballs, prosciutto, sage and cream at Pizza East Portobello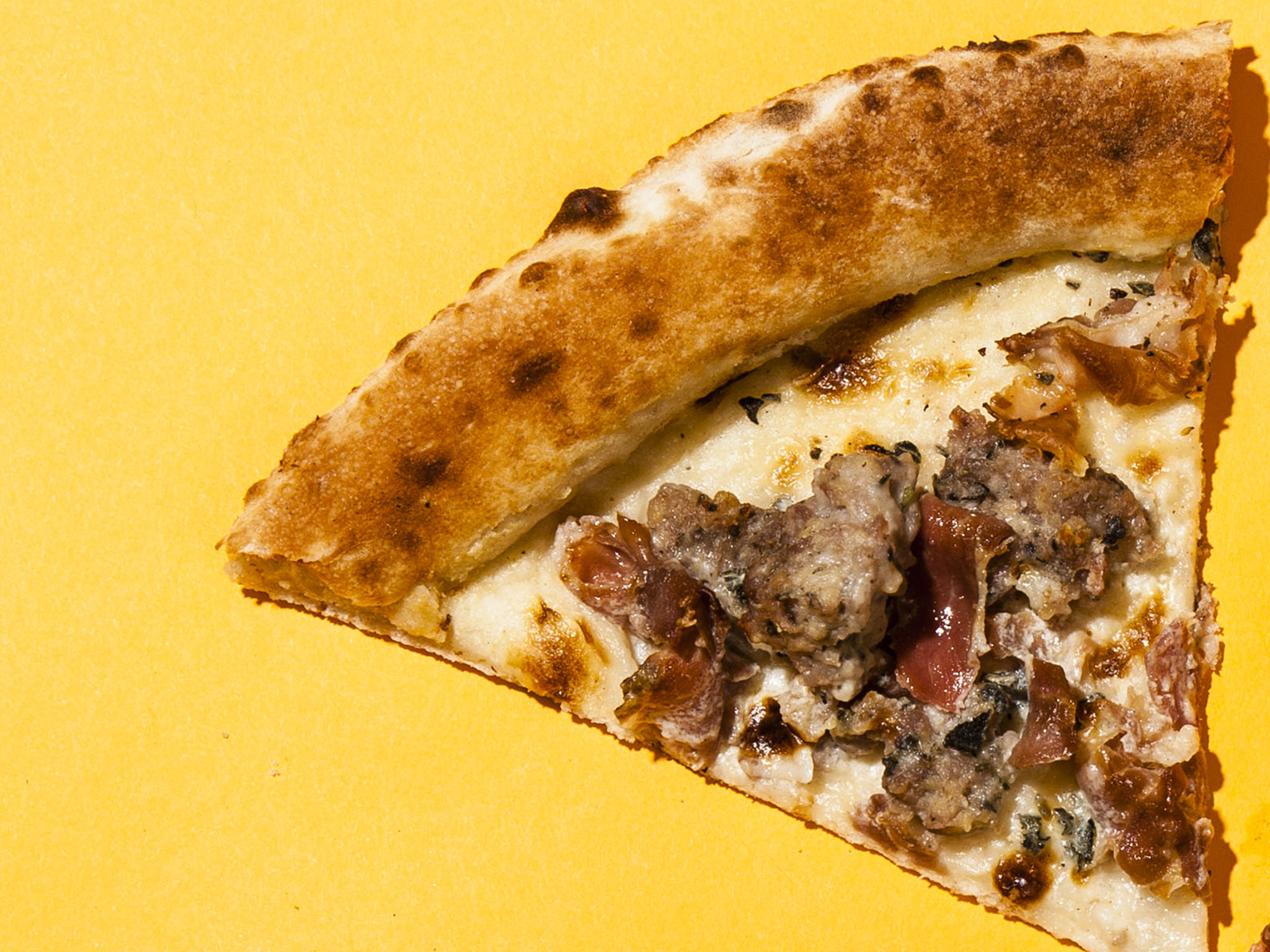 The meat feast, beloved of gents who wear morph suits to the rugby and use 'quality' as an adjective, gets a 'Lady and the Tramp' makeover at Pizza East. Rustic veal meatballs cosy up to slices of prosciutto on a huge ciabatta-style base. Oh, and there's half a pint of herb-infused cream in the mix, too. Loosen your belts, lads.
The one for… Real men. You know: men's men.
£14.
6. Pumpkin, crispy kale, chilli, ricotta, walnut and mozzarella at Lardo Bebé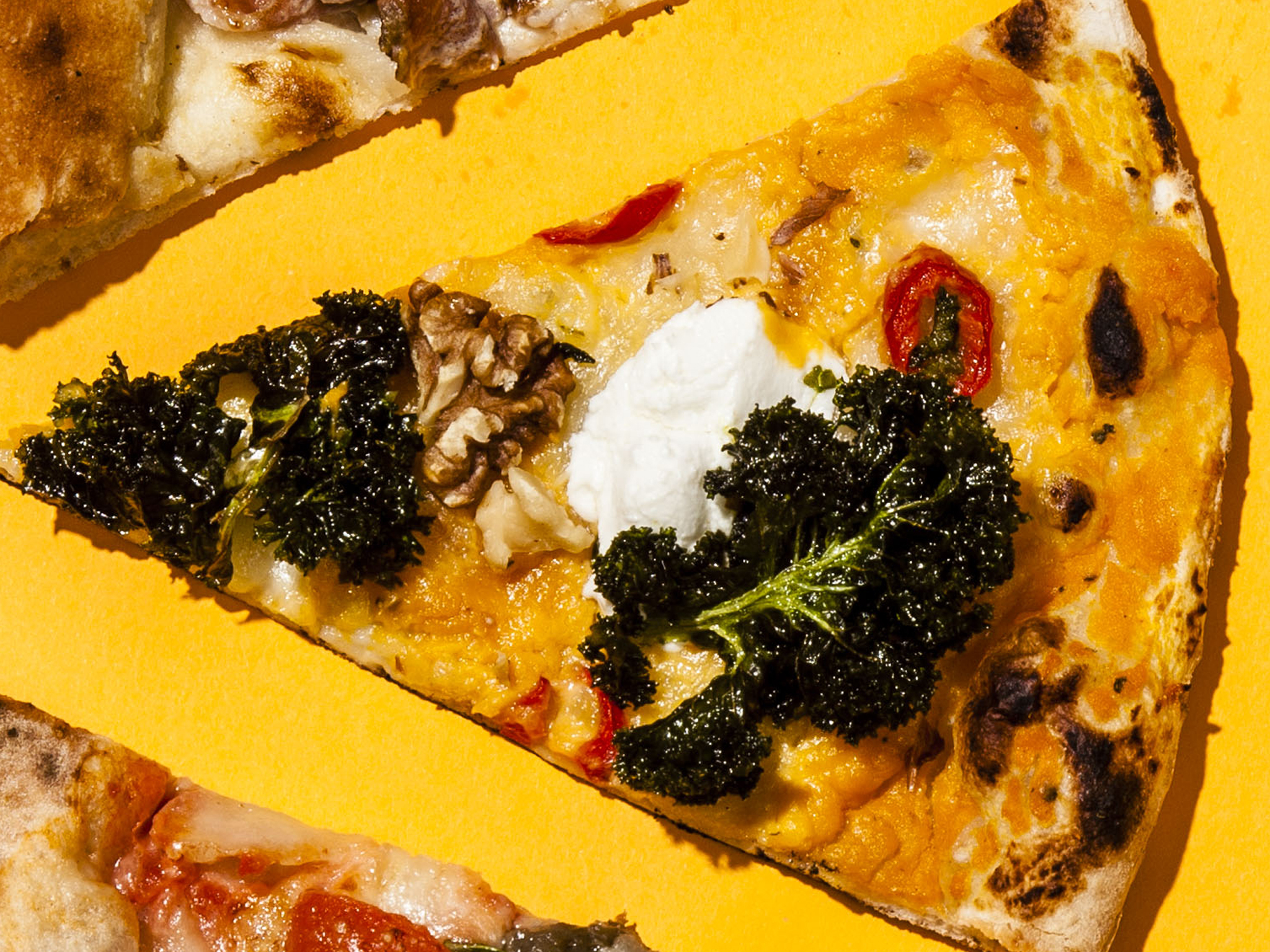 Lardo Bebé's bases are crisp, blistered and bigger than most hubcaps. But the dough is mostly a vehicle for the ingredients du jour: pumpkin purée, dollops of ricotta and, of course, crispy kale. This is about as #wellness as pizza gets – but even if you don't know one end of a spiraliser from the other, it's a winner.
The one for… Self-deluding #cleaneaters
£12.
7. Aubergine, parmesan, baby plum tomatoes and garlic at Pizza Pilgrims

Who doesn't love parmigiana? Especially when it comes with something dough-based to mop up all that delicious sauce. 'If only someone could find a way to combine the two,' you think, wistfully. Well, Pizza Pilgrims have done just that, gussying up their already excellent margherita with roasted aubergine and plenty of garlic.
The one for… Menu ditherers.
£9.
8. Ground aged Hereford beef, green chilli, onions, tomato and mozzarella at Four Hundred Rabbits

The sloppy joe is one of the oddest things they eat in the USA. But, although a ladle of spicy mince might not sound that great between burger buns, it's a very different proposition when it arrives on a Four Hundred Rabbits sourdough base. It doesn't hurt that the beef is from rare-breed cattle, the mozzarella is fior di latte and the tomatoes are the best in the business.
The one for… Not-too-sloppy Joes
£8.95.
Share the story