London's best restaurants for kebabs
Discover where to eat the best kebabs in London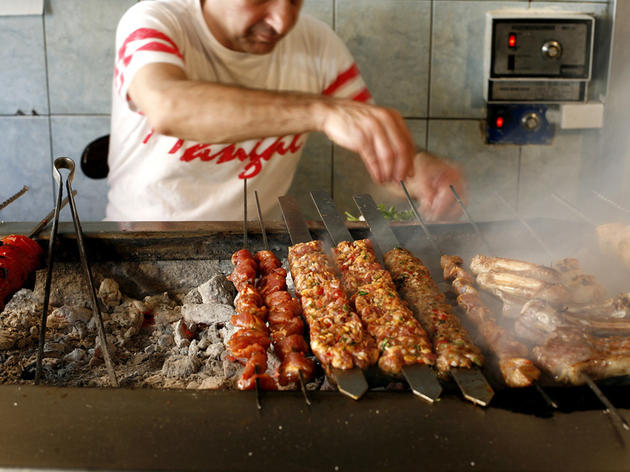 We've tried and tested the very best kebabs that London has to offer. Whether you're looking for grilled meat across town meant for more than just soaking up booze or you're after a traditional taste of Anatolia in Green Lanes, Dalston and beyond, let this list guide you. Have we missed your favourite meaty treat? Tell us in the comment box below.
The best kebabs in London
Venue says: "A unique fusion of the traditional ocakbasi (charcoal grill) and rich, cold and hot plates with the warmth of Turkish & Kurdish hospitality"
Recommended dish: Adana lamb kebab
Trendy Dalstonites now join the Turkish families that have been dining here for years, and prices have crept up, but 19 Numara remains good value. It's particularly strong on kebabs, from a classic 'sis' (shish) to the 'full mixed kebab', a huge platter (including quail) to feed two or three.
Book now
Read more
Recommended dish: Lamb shish kebab
Antepliler (which also has a younger, smarter sibling on Islington's Upper Street) serves adventurous cooking from the Silk Route. The sogon kebab is a case in point: meatballs served with pomegranate sauce and grilled shallots, with a crisp salad and traditional Turkish pide bread.
Read more
Recommended dish: The chicken shawarma
A cut above your typical kebab joint, this cash-only hole-in-the-wall uses prime meat from Smithfield market. Our warm chicken shawarma, was moist and with nicely charred edges, and the addition of tangy, chilli-spiked taramasalata (recommended as a side) improved the overall dish. Judging by the long weekday queues snaking out of the door, the locals think it's worth it.
Read more
Recommended dish: Single kebab skewer (chicken or lamb)
This consistently reliable Whitechapel canteen deals in full-flavoured Punjabi street food, from snacks and curries to the eponymous meat-on-a-stick. In spite of this joint's moniker, there are only two kebabs on offer – one seekh (a 'sausage' of seasoned, finely minced lamb on a skewer), and a classic chicken kebab: both are excellent.
Read more
Recommended dish: Lamb köfte kebab
The original branch of this Turkish charcoal grill may have basic décor, but it still scores big for its generous portions of good quality meat, sold at low prices. The exceptional beyti (spicy minced lamb) and shish (marinated lamb chunks) are skewered, char-grilled, and served with an oversized salad and warm leavened bread.
Read more
Recommended dish: Lamb kebab
On a small side street off the Edgware Road, this tiny Persian hole-in-the-wall specialises in the char-grilled koobideh style of kebabs, where minced and seasoned lamb or chicken is moulded like a long sausage down the length of the skewer. Factor in the terrific just-cooked flatbreads and verdant salads packed with herbs, and you'll forgive the cramped, basic surroundings.
Read more
Recommended dish: Lamb koobideh kebab
Though there are plenty of rich, homely stews at this Persian restaurant, the tender kebabs are no means poor cousins. Head for the likes of lamb koobideh kebabs (minced, seasoned meat, fashioned around a skewer) or the chello joojeh kebab – a small whole marinated chicken (the joojeh in the name), all with grilled tomatoes and fluffy rice.
Book now
Read more
Recommended dish: lamb shish kebab
Huge portions make this Kentish town kebab joint rather popular. We liked the tender chunks of char-grilled meat in the lamb shish kebabs best; salad fillings are varied and well-dressed. There's an equally good range of sauces, including a fiery chilli.
Read more
Recommended dish: The lamb shish kebab
A long way from the Turkish heartlands of Green Lanes and Dalston, Marmaris nonetheless delivers some top-quality Anatolian-style grills in south-west London. Although primarily a takeaway (with a choice of breads wraps), you can also eat in; there's a small licensed restaurant inside.
Read more
Recommended dish: Chicken shish kebab
It may not have good looks or charming service, but no matter: it's the high standards and reasonable prices here that keep the regulars happy. Chicken shish kebabs come perfectly chargrilled, but we'd also recommend the large iskender kebab: Tad's take on this traditional dish is to use slices of lamb döner meat, which are topped with cold yoghurt and hot tomato sauce.
Book now
Read more
Find more turkish food in London
Find Middle-Eastern restaurants in London
Sponsored listing
Tanakatsu
A sleek Japanese restaurant in Angel, with concrete walls and lots of dark wood. The concise menu boasts katsu curry, katsudon (rice bowl), teriyaki and sushi. Ice cream can be had to finish and drinks include wine, prosecco, Champagne, sake, beer, juices and genmaicha (green tea).
Venue says: "Have a bottle of Asahi beer on us when you use the code phrase: "A seacret corner of Angel" this week!"