London's best restaurants for pizza
Discover where to find seriously good pizzas in London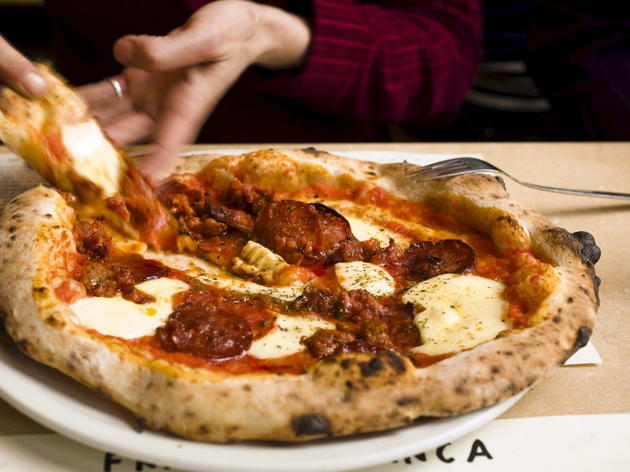 This delicious staple has been elevated far beyond its humble roots in London's Italian restaurants and beyond. So we've tried and tested the very best pizza to give you our top London pizzerias. Do you agree with our choices? Use the comments box below to let us know, or tweet us your suggestions.
Find more great fast food in London
The burger bandwagon rolls on and on. We've seen the rise and fall of hot dogs, ribs and kebabs, but the cravings for burgers in London never seem to die. Here, in our humble opinion, are the best burgers in town.
Read more
Sponsored listing
The Stable
If you (like me) aren't from the West Country, then you (like me) might think of cider in one of three ways: crafty pints of Strongbow purchased underage; saccharine faux-fruity bottled stuff; White Ace. Fortunately, The Stable is from the West Country, with 13 branches across the South West and Wales, and it's just arrived in Whitechapel to try and wean Londoners off craft beer. Will it succeed? My hangover says: quite possibly. The capacious old Rhythm Factory has been given a soulless, slightly passé post-industrial refit, which is a shame. There's still live music but it seems to tend towards anonymous acoustica. Food is served (including a 'Chirpy Cockney' pizza – yikes!) but cider reigns supreme here. The printed drinks menu can't keep up with the rotating selection behind the bar, so ignore it and chat to one of the 'Stablehands' (double yikes!!), who are clued-up and generous with tastings. Flat, fizzy, sweet, dry, cloudy, clear: the options are virtually endless. We tried the ginger-and-chilli Orchard Pig Maverick (delicious) and the 7.5 percent Lilley's Bee Sting (peary and potent). Everything slipped down like a dream. Who cares about the tacky branding when it's this easy to get gurt lashed?