Heads up! We're working hard to be accurate – but these are unusual times, so please always check before heading out.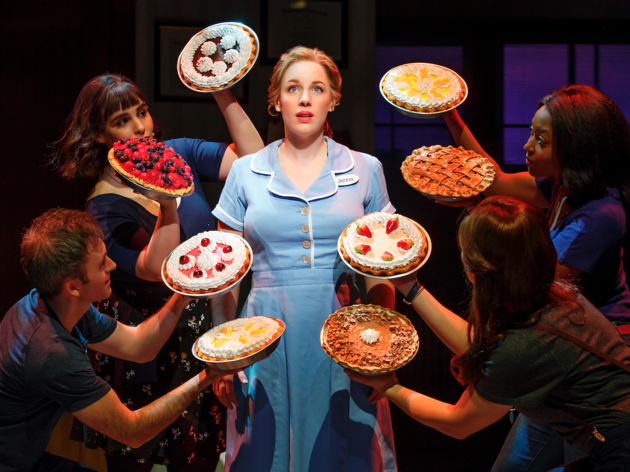 How musicals became cool (again)
Four new musicals are launching in London this month. Existing shows are drawing huge audiences. Is this a new golden age for singing on stage?
Last summer, Londoner Ernest Amoako – not a fan of musicals – was annoyed that his girlfriend had bought them tickets to see a show called 'Hamilton'. It clashed with the France vs Belgium World Cup semi-final and he was not happy. That changed once the curtain went up.
'By the end of the first song I'd forgotten about the football and was hooked on the hip hop,' enthuses the 29-year-old Bethnal Green resident. '"Hamilton" is a musical of a type that's never been seen before. I'm a big hip hop fan, so to see rapping on the West End was always going to go down well with me, however I wasn't expecting how catchy and clever the songs would be.'
It's not a unique story. Chris Dawson, 48, a web designer, had seen some musicals. But none had ever moved him until a few weeks ago when – as a fan of Anaïs Mitchell's cult folk album 'Hadestown' – he'd gone to the National Theatre to see the musical version. He was blown away – 'I spent some of the time watching it with tears in my eyes' – and is now hoping to see 'Hamilton'.
Musicals have been the lifeblood of the West End for decades now, often teetering towards the guilty pleasures category. But now they're becoming cool, and in doing so are connecting with huge new audiences.
The stats back this up. Last month, the Society of London Theatre released its annual box office figures for the West End, which showed that Londoners have gone musicals mad: in 2018 audience numbers for the genre were up by 8.2 percent, to 9,460,743, and gross box office revenue was up 15.4 percent to a walloping £503,950,355. And there's no slowdown in sight.
Last Monday marked the start of a flurry of major musical arrivals, with three Broadway smashes hitting the West End – 'Come from Away', '9 to 5' and 'Waitress' – and a fourth show, the year's big Brit contender in the shape of Paul Whitehouse's 'Only Fools and Horses the Musical'. In the summer we're getting another Broadway sensation, 'On Your Feet!', and in late autumn we're finally going to see the multi-Tony-winning 'Dear Evan Hansen', and pop producer Max Martin's tongue-in-cheek 'Romeo and Juliet' sequel '& Juliet'.
So what's going on?
We need to start with 'Hamilton'. Lin-Manuel Miranda's hip hop musical about the colourful life and times of US Founding Father Alexander Hamilton has been a genuine gamechanger, mixing old-school hip hop with massive showtune melodies, pointedly diverse casting and a thrilling true story.
It's sucked in hip hop fans like Ernest who'd never dreamed they would fall for a musical. He and his friends now have a 'Hamilton' WhatsApp group. In it they trade their own versions of songs from the soundtrack. 'Each rendition raises the bar on the last one,' he says. 'Beatboxing, duets and harmonies have now become the norm.'
Opening on Broadway in 2015 to huge acclaim, 'Hamilton' made a superstar out of Miranda, and became so oversubscribed that top ticket prices soared into the four figures. 'We were in the same season as "Hamilton",' says Diane Paulus, the US super-director helming 'Waitress'. 'And it's good for everyone because suddenly theatre is on the front page of the newspaper, you go to parties and everyone's talking about musicals. That has always been my dream: how do we get theatre back into the mainstream?'
'Hamilton' fans have plenty of interesting new shows to check out now, too. 'Come from Away' is an interval-free 100-minute folk musical that's entirely made up of the real-life stories of people stranded in the remote Canadian town of Gander after their planes were grounded by 9/11. 'Dear Evan Hansen' is about a lonely young man who insinuates himself into the life of the family of a classmate who killed himself. 'Waitress', about a smalltown server who dreams of escape, tackles big themes of domestic abuse, via the medium of spiky pop from songwriter Sara Bareilles.
'Whether it's Sara Bareilles or Lin-Manuel Miranda, I think Broadway is having a great moment of pushing the boundaries of what sort of music is considered a musical,' says Paulus. 'So I think that's increasing the audience. And also the subject matter: the idea that musicals are fluff or are comedy – they can be, but they can also be the most powerful, visceral, cathartic ritual theatre.'
Sure, there are those light shows: '9 to 5' is a hen-do-friendly adaptation of the Dolly Parton film; 'On Your Feet!' is a jukebox affair based around the music of Gloria and Emilio Estefan; '& Juliet' looks enjoyably ridiculous. Not every musical should be 'cool'; but there are a lot more smart shows garnering widespread hype now.
Another gamechanger for musical theatre: Spotify. When the 'Hamilton' soundtrack hit number three on the Billboard 200 album chart in 2016 (it's still in the top 50), it was symptomatic of a new phenomenon: cast recordings becoming big on streaming services. That's great for the shows because it gets the songs out there.
When the cult musical 'Heathers' opened in London last summer, tickets for the tryout run sold out almost instantly. When it transferred to the West End, audience members could be overheard comparing notes on 'I Say No', a new song added for London that wasn't on the original American cast recording. All five of the new US musicals transferring to the West End this year have their songs up on Spotify already, winning them fans before a penny is spent on marketing in the UK.
One thing you may notice: almost all these shows are American. One way of looking at it is that we do the plays and they do the musicals. But it's hard to shake a sense that maybe we could be doing a bit better here.
'It is a pity that producers aren't investing in new British musicals in the same way [as American ones],' says Mark Shenton, head of the Critics' Circle. 'Though obviously it's easier – and less risky – to transfer a ready-made show.'
The RSC's 'Matilda' is the only monster homegrown musical smash of the past decade (though 2017's 'Everybody's Talking About Jamie' is still pulling them in). Could 'Only Fools and Horses' be that next big hit? Or will it be stomped on by its US competitors? Sensibly, its director Caroline Jay Ranger is too busy to worry about it. 'We don't have the time to have rivals,' she says. 'Putting up a show is an all-consuming business and we wish the other new shows great success. There is room for everyone,' adding that she just wanted to honour the legacy of John Sullivan, creator of the iconic Britcom.
Lest we have a crisis of confidence, remember that while we may not have come up with any of our own great musicals of late, we still put on world-class productions of the oldies. The Americans are chomping at the bit to get Marianne Elliott's reworking of Stephen Sondheim's 'Company', currently blowing minds at the Gielgud Theatre, while super-director Jamie Lloyd's take on Andrew Lloyd Webber's 'Evita' is the hottest ticket of the summer.
So will 2019 be another blockbuster year for musicals in London? Well, Brexit isn't likely to be great for either box office or audience growth – don't expect quite such brilliant figures this time next year. But it's not going to stop people writing great musicals. It's not going to stop people staging new musicals, and it's not going to stop 'Hamilton' from being amazing. We will surely need escapism more than ever. And whatever happens, right now we're in a musical golden age – let's enjoy it.
Pictures from top to bottom: 'Waitress' (photographer Joan Marcus) 'Hamilton', 'Come From Away', 'Dear Evan Hansen' (photographer Matthew Murphy).
Want more musicals?