Heads up! We're working hard to be accurate – but these are unusual times, so please always check before heading out.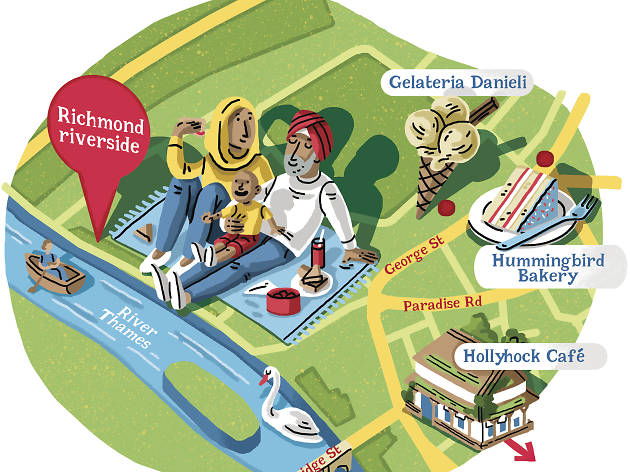 Seven hidden picnic spots in London parks
The best undiscovered picnic spots and secret green spaces for al fresco lunches in London this summer
Looking for a lunch spot for dates, lunches with friends or a cheeky snooze under the plane trees? Dodge the big parks and go for a perfect picnic in a cute, lesser-visited spot. When the sun comes out, the likes of Green Park and Soho Square are always closely patchworked with picnic blankets and denim jackets spread out in the sunshine – but your own picnic doesn't have to be as densely populated. From central London's overlooked oasis Phoenix Gardens to South London's Hilly Fields and the Thames-side riverbank greens of Richmond, there are dozens of little-known gems that are perfect for bakery-bought sandwiches and DIY cocktails. Here are our favourites.
RECOMMENDED: The best picnic spots in London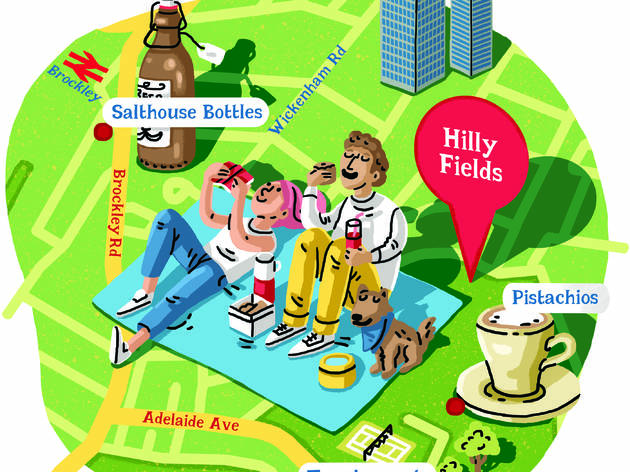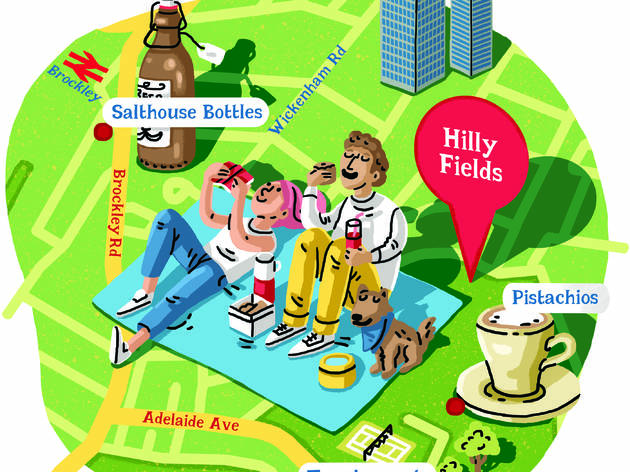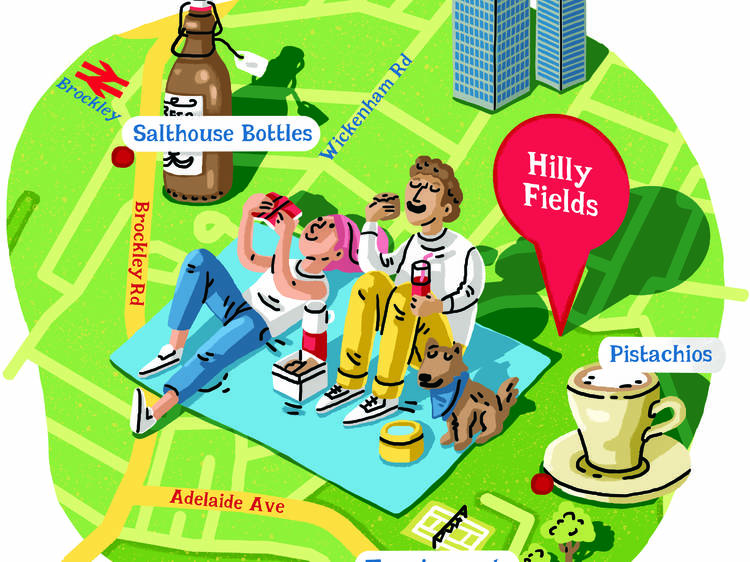 Elly Walton/Time Out
Instead of Peckham Rye Park try… Hilly Fields
Forget the Shard. You can see stonking panoramas of the high-rises in Canary Wharf in this charming little park, tucked away in the depths of south-east London. Pick a spot on the top of the hill just before the tennis courts for a good view of the cityscape and easy access to the Pistachios in the Park café – it has a public loo as well as tasty cakes and coffee. If you're after a boozy picnic, stop off at Brockley Brewery (it's on the way from Brockley station) to pick up bottles of ale, or try Salthouse Bottles for chilled cans of craft beer with fun labels and bottles of natural wine. Visit on a Saturday morning and you'll be a swift 15-minute stroll from Brockley Market – a veritable goldmine of street food stalls, crusty loaves and artisanal cheeses and charcuterie.
Nearest station: Brockley Overground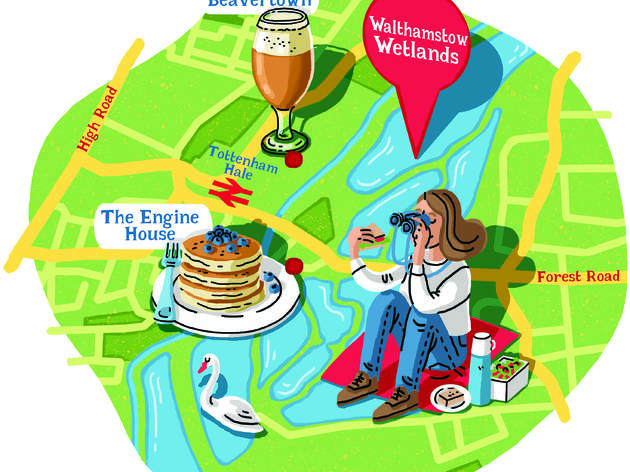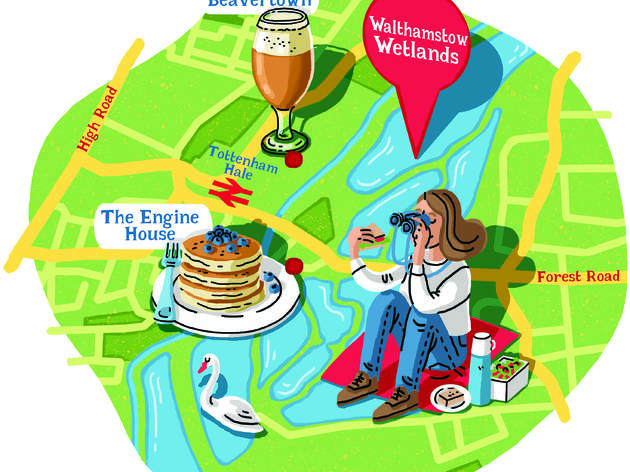 Instead of Clissold Park try... Walthamstow Wetlands
For the ultimate countryside picnic in London, there's no better place than Europe's largest urban wetland. There's plenty of grassy nooks here for a secluded snack session and E17's industrial past gives a quirky aesthetic to the greenery with an old metalworks and gunpowder mills poking up between the reservoirs. Delis and bakeries are few and far between here, so it's best to come picnic-ready. However, the onsite Engine House Cafe serves up breakfast, lunch and afternoon tea 363 days a year if you find yourself caught short (on that note, there's a toilet here too). With 211-hectares of green space, it's a prime wildlife-spotting site, so keep an eye out for swans, kestrels and geese while you're munching. It's a strictly alcohol-free zone, so leave your tinnies at home – but if you fancy a post-picnic pint, Beavertown and Pressure Drop Breweries are a short walk away with taprooms full of quirky craft beers. Hoppy days.
Nearest station: Tottenham Hale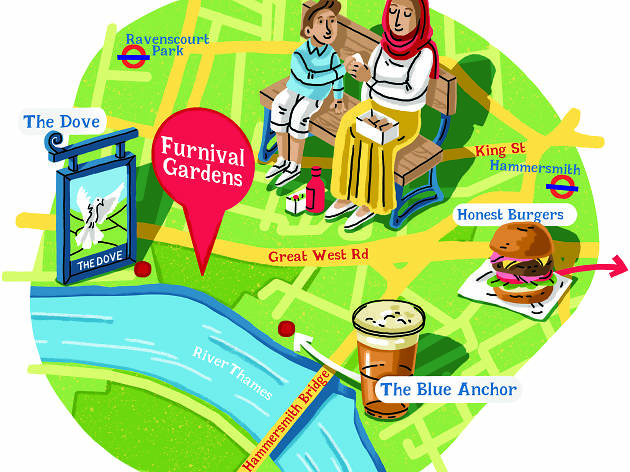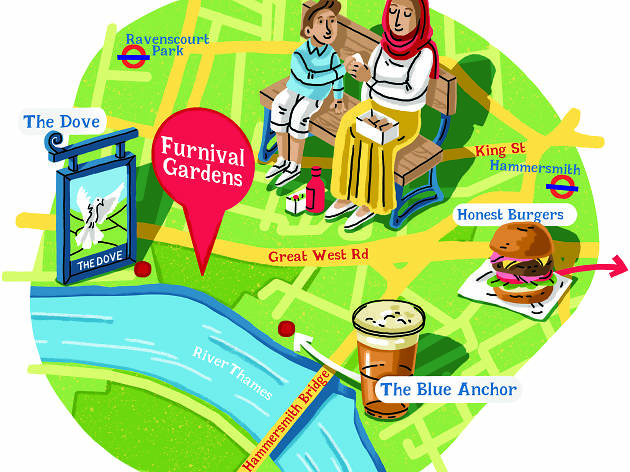 Elly Walton/Time Out
Instead of Chiswick House and Gardens try… Furnivall Gardens
Nestled up next to the Thames, this slice of grass is one of the best spots to catch the Boat Race in the spring, but don't just save it for the Oxbridge action. On a sunny day, it's the perfect spot for a snack session. Grab one of the benches along the Lower Mall for the best views over the river, or fling a blanket on the grass near Rutland Grove for a more secluded lunch. Conveniently, the place is surrounded by pubs. Go to The Dove for a classic duck-your-head heritage pub experience, or visit the Rutland Arms and Blue Anchor, which usually allow you pour your pints into plastic cups that you can take to the riverside. Haven't packed a picnic? Honest Burger is a ten-minute walk away and lets you order from Deliveroo. Pick up a fine flat white and fresh sandwiches from Artisan Coffee (also ten minutes away), or load up on street eats at the food market in Lyric Square on Thursdays and Fridays.
Nearest station: Hammersmith/Ravenscourt Park
From nature reserves to community plots, we've uncovered some of the city's best-kept secret gardens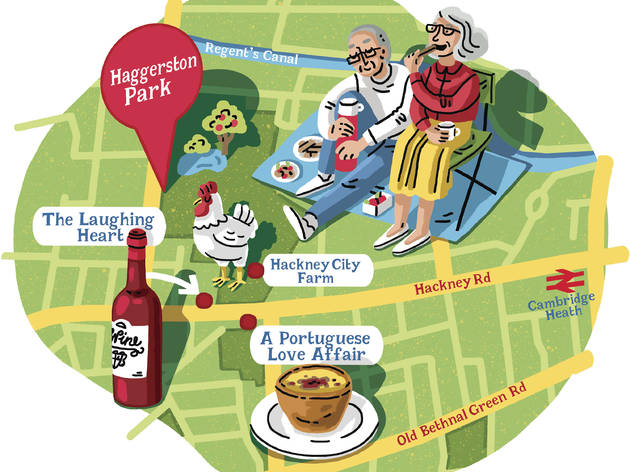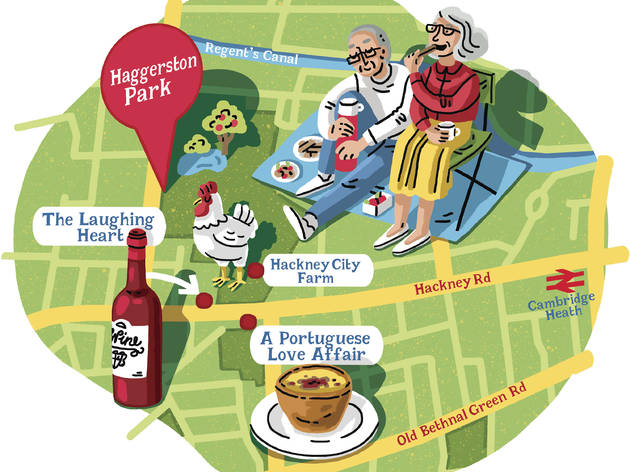 Elly Walton/Time Out
Instead of Victoria Park try… Haggerston Park
While Victoria Park may seem like the most obvious place for a picnic in Hackney, its smaller cousin packs in just as much charm. Partly walled in, giving it an air of secrecy, it holds a community orchard, a conservation area, table tennis tables and a public toilet (very important after an afternoon sipping on tinnies). On your way there, pop in to A Portuguese Love Affair, a deli-café that serves up some of the city's best pastels de nata, and The Laughing Heart for takeaway wine before heading in and parking your picnic blanket down by the pond (both are a convenient three-minute walk away if you run out of sweet treats and/or wine, and need to replenish your supplies). Once you've polished up all the crumbs, pay a visit to Hackney City Farm next door to continue the wholesome vibes.
Nearest station: Cambridge Heath rail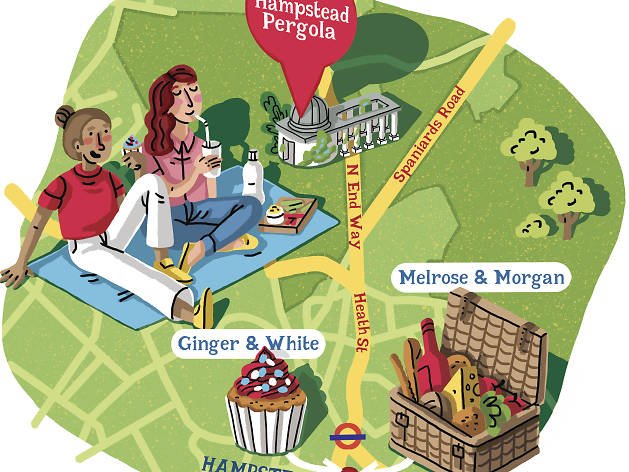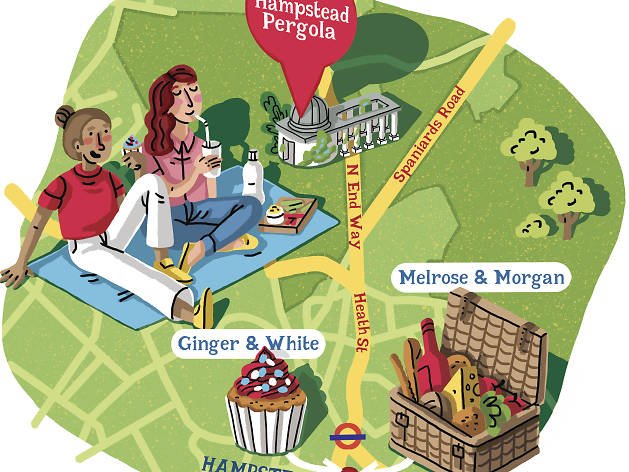 Elly Walton/Time Out
Instead of Parliament Hill try… Hampstead Heath Pergola
Built in the early twentieth century by millionaire soap magnate Lord Leverhulme to hold 'Great Gatsby'-style blowouts, today this gorgeous but faded pergola has swapped parties for picnics. As long as Canary Wharf is tall, there's plenty of space to sit down to snack in beneath the stone pillars and arches tumbling with vines. There's no need to carry a heavy picnic basket from home – head there via Hampstead Village and load up on cakes and pastries at coffee shop Ginger & White or pick up a pizza from L'Antica Pizzeria. It's a 15-minute walk from Hampstead tube station to the Pergola, so stop by brilliant gelato spot Oddono's for a cone to keep you entertained on the walk, too. Want the really lazy option? You can pre-order ready-made picnic hampers from cute deli Melrose and Morgan filled with scotch eggs, cheese and other treats if you're willing to splash a bit of cash – it's what Lord Leverhulme would have wanted.
Nearest station: Hampstead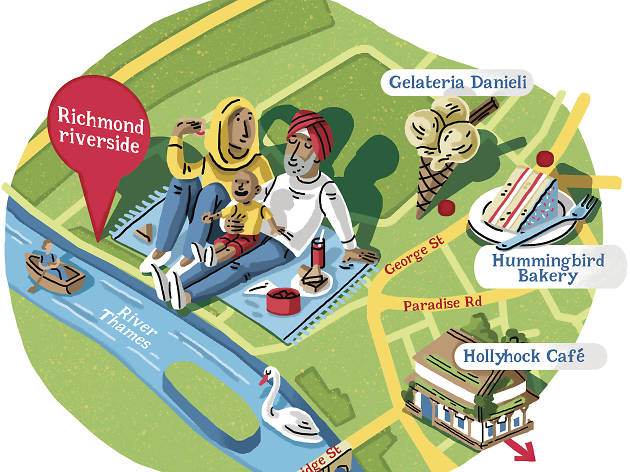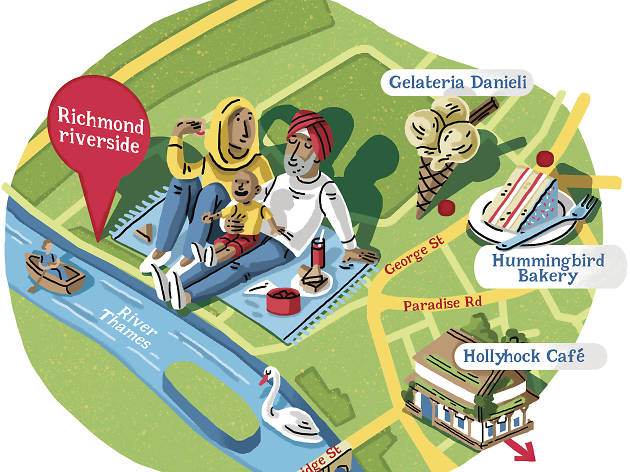 Elly Walton/Time Out
Instead of Richmond Park try… Richmond riverside
Sir David Attenborough once described Richmond as his favourite place on Earth – and after spending a day sunning yourself on the riverside you'll agree. The sloping patches of green are the perfect spot to lay out a picnic blanket and gaze at the beautiful view of rowing boats beating down the Thames and swans nudging close to the banks, all set against the bombastic arches of Richmond Bridge. Whole Foods, Gail's Bakery and Hummingbird Bakery are on the way if you're coming from Richmond station, so you can stock up on supplies. The fairytale-esque Hollyhock Café is a10-minute walk away, for fairtrade, organically sourced grub. Gelateria Danieli – which served vanilla ice cream to the Queen on her eightieth birthday – is five minutes away, if you fancy finishing your lunch off with a sweet treat. You could even have a punt on the river. Just try not to fall in.
Nearest station: Richmond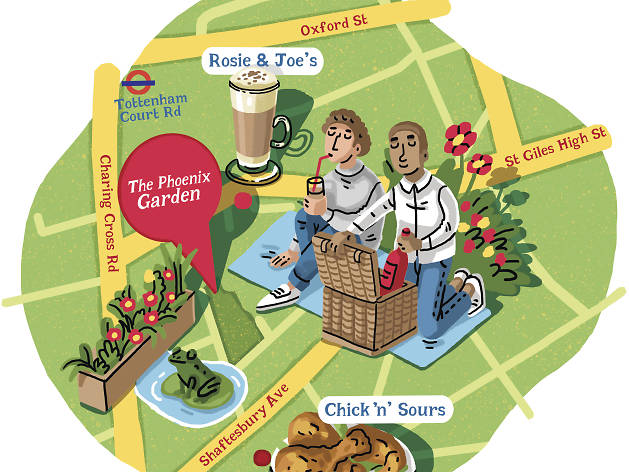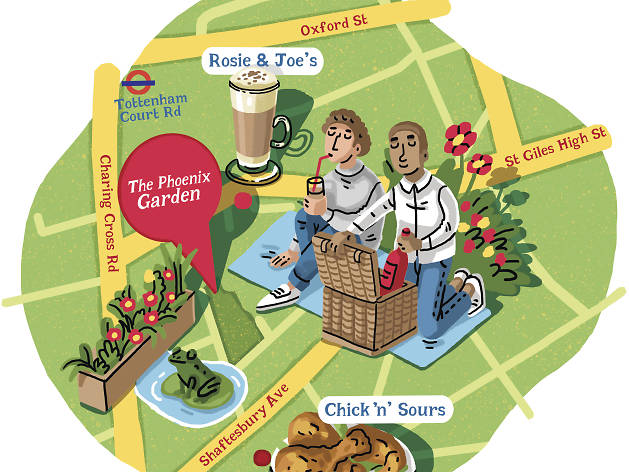 Elly Walton/Time Out
Instead of Soho Square try… Phoenix Garden
This oasis in central London is the perfect spot for some tranquil lunch-hour sarnie scoffing. One of the seven original Covent Garden community gardens, not only can you picnic among sprawling raised flowerbeds and open ponds (and their resident frogs), you are also right next to Soho, meaning your culinary options are limitless. Jacob the Angel's punchy salads and mouthwatering sandwiches made with dusty Knuckle Bakery bread are less than a five-minute walk away, as is fried chicken joint Chick 'n' Sours with its very tempting takeout menu. Or find food stalls and delicious coffee from Rosie & Joe, two minutes away in the nearby courtyard of the St Giles-in-the-Fields church. After something stronger than coffee following a hazy day in the sun? The legendary French House pub is a just down the road (a mere four-minute walk) for a loo and a half-pint stop.
Nearest station: Tottenham Court Rd