City of London area guide
Find the best restaurants, bars, pubs and things to do in the Square Mile with our ultimate guide to the City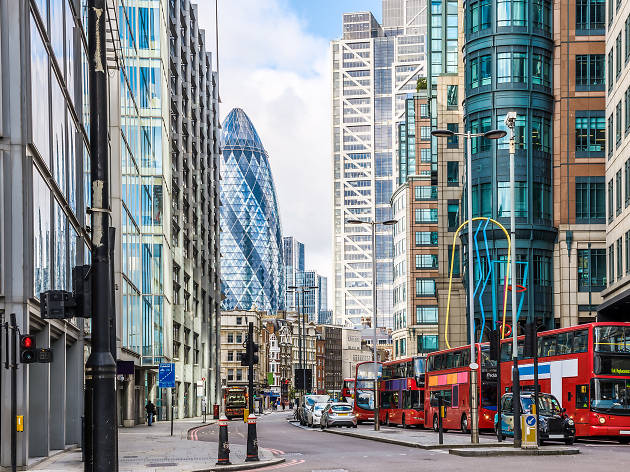 The City of London, usually just called the City or the Square Mile, is the centre of trade and finance in Europe, rivalling New York City as the finance capital of the world. The traders, bankers and other wage-earners in the area work hard, so it's no surprise they like to play hard, too. Flashy bars outnumber quiet pubs in the City, and most bars and pubs are designed to impress. Likewise, the restaurants are grand and often expensive – great for hashing out the details of a deal or letting someone know how important you are. The City also roughly follows the boundaries of the ancient Roman capital of Britannia, Londinium, so there are plenty of museums to check out. And if you fancy slowing down the pace and soaking up some culture, the Barbican Centre is one of the capital's most important cultural cornerstones.
Recommended: London by area
Sponsored listing
Molé Taco Bar
On the backstreets of Marylebone you tend to find chain restaurants, age-old institutions and little else. So this modern indie taco station on a side road round that way is as welcome as a lake in the Mexican desert. And holy molé, the staff are nice, sharing recommendations from the menu of Mexican standards. Unsurprisingly, this mostly comprised tacos. They're good, though – if not, at £8 for two, the cheapest – with soft shells made from scratch on site, heartily loaded with toppings. The most successful of the variations we tried was the cochinita pibil, with tender pulled pork and pink pickled onions. Baja fish tacos featured nicely battered pollock and an enjoyably sharp slaw that cut through it all. The soft- shell crab option was a little ill-conceived, with prickly battered legs jutting rudely out from the tortilla wrapping. Nevertheless, all were neatly presented, with zigzags of salsa and coriander leaves prettily scattered. The interior is a bit wild, with modern graffiti murals – but grab a seat on the curb in the summer and pretend you're in Mexico City.
Venue says: "Fancy a Mexican burger? Come and visit us to try our new amazing promotion: burger, homemade tortilla chips and guacamole for £12!"