City of London area guide
Find the best restaurants, bars, pubs and things to do in the Square Mile with our ultimate guide to the City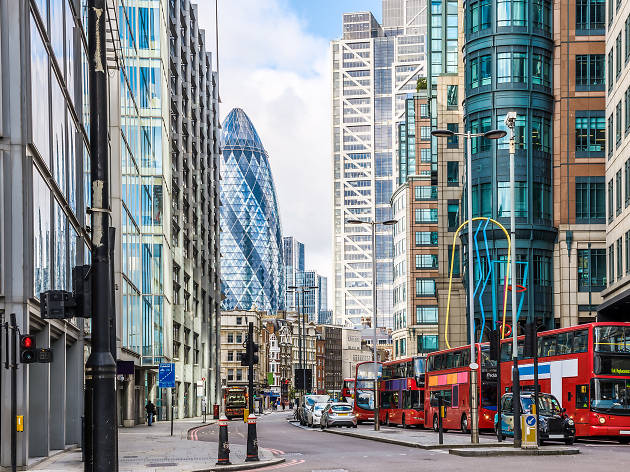 The City of London, usually just called the City or the Square Mile, is the centre of trade and finance in Europe, rivalling New York City as the finance capital of the world. The traders, bankers and other wage-earners in the area work hard, so it's no surprise they like to play hard, too. Flashy bars outnumber quiet pubs in the City, and most bars and pubs are designed to impress. Likewise, the restaurants are grand and often expensive – great for hashing out the details of a deal or letting someone know how important you are. The City also roughly follows the boundaries of the ancient Roman capital of Britannia, Londinium, so there are plenty of museums to check out. And if you fancy slowing down the pace and soaking up some culture, the Barbican Centre is one of the capital's most important cultural cornerstones.
Recommended: London by area
Sponsored listing
House of Vans
Taking over what used to be the Old Vic Tunnels, the House of Vans has turned the space below Waterloo station into a hot new destination for skateboarders, and promises a variety of diversions that will also appeal to those with no particular ambition to execute a credible 360 flip. The underground venue is sister to House of Vans Brooklyn where tickets for the free, all-ages summer concerts go like hot baked goods. The London branch also boasts a live music stage, as well as two tunnels' worth of purpose-built skate park and an art gallery. There's a café, bars and cinema space and a regular programme of talks and workshops is planned. Skate sessions are free and open to all ages (there are lessons with The Skateboad School on Saturday mornings) but to be sure of entry book in advance on the House of Vans website where you'll also find updates on upcoming gigs.   
Venue says: "This week at House of Vans: Aussie alt rockers West Thebarton headline our Sessions mini-stage on Wednesday with support from Wars."