London events in October
Your guide to the best stuff to do, see, eat and drink across London during October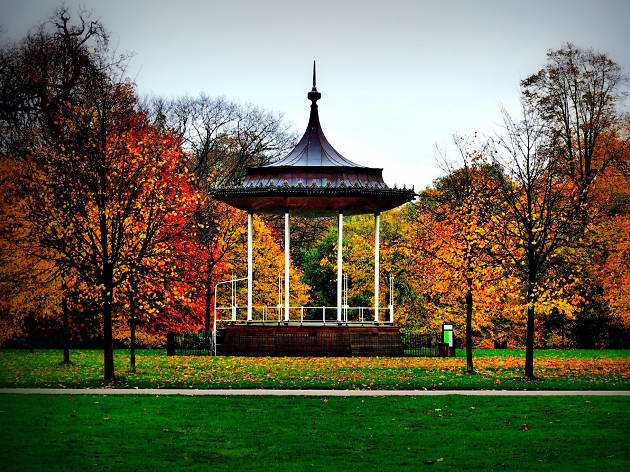 October in London means the arrival of autumn, but don't hibernate indoors – there's way too much going on for that. Take a long, or short, walk that ends with Sunday lunch at one of London's best pubs with a fire, or for something altogether spookier, there's Halloween to look forward to, which means parties and fancy dress galore. Summer might be over, but October is packed with new openings , so get stuck in to our list of the best events and happenings throughout the month.
RECOMMENDED: The definitive London events calendar
Our October event highlights
If you're going to celebrate Halloween (Saturday October 31 2015) this year, we suggest you go all out. Head down to your local costume shop and prepare to scare at one of the capital's best Halloween parties. Plan your fancy dress in advance, however – a pink bunny suit just won't cut it at this time of year.

Read more
If the mention of a museum visit makes you think of stuffy exhibitions and school trips, think again. 'Museums at Night' usually takes place across the UK in October, with a series of seriously special after-hours events at some of London's best galleries, museums and attractions.
Read more
Whether you fancy a kid-friendly event at one of London's many museums or attractions, or would rather explore some autumnal activities in the great outdoors, we've got all your family-fun covered.
Read more
The BFI London Film Festival, undoubtedly the capital's – the UK's – biggest celebration of international cinema, takes over the city in October.
Read more
Find out what's happening in November
Sponsored listing
Kintan Oxford Circus
Part of the pleasure of this Japanese 'yakiniku' restaurant is that you just don't expect it to be as good as it is. This branch (Kintan's second) is in a basement off Oxford Circus and the wipe-clean menus are splashed with red-sticker deals (barbecue from £3! Appetisers from £1!). I kid you not: there's a daily food 'happy hour' and it lasts for a minimum of six hours. That the food is a bit  brilliant is a massive bonus. 'Yakiniku' means 'grilled meat' and that is absolutely the thing to order here, as there's a smoky, thick-ridged grill built into your table, Korean-style. The meat and fish arrive raw and you get to do all barbecuing yourself. Don't miss the spicy pork. You can order soy and sesame oil for dipping but you won't need them – this pig was pre-marinated and was best enjoyed naked. Sweet, fatty toro beef was also ace, but it was with the plain tiger prawns that the magic of the barbecue came to the fore. You can really taste the charring. Of the non-barbecue items, bibimbap was a highlight, mixed at the table by our lovable waiter. Niku udon was more delicate and that's something to bear in mind here, as the trad Japanese options did tend to be overwhelmed by the punchy Korean-influenced flavours. But Kintan is a real gem, and you will not get a lunch this decent for these prices elsewhere in Oxford Circus. Plus, there's also something inherently lovely about transporting sizzling meat straight off the grill and into your mouth.
Venue says: "🍸🍴 Celebrate mothers day properly with a complimentary glass of prosecco alongside every purchase of the main BBQ!"