London events in October
Here's your guide to the very best stuff happening across London during October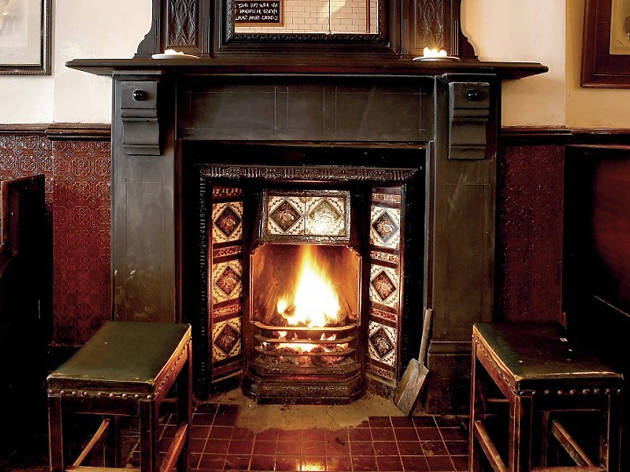 October in London signals the arrival of autumn, but don't you dare try and hibernate indoors – there's way too much going on for that. The milder weather also means you're justified in taking a long, or short, walk that ends with Sunday lunch at one of London's best pubs with a fire.
For something altogether spookier, there's Halloween to look forward to, which means parties and fancy dress galore.
You see? October isn't so bad after all. In fact it's a gem, so get stuck in to our list of the best events and happenings throughout the month.
RECOMMENDED: The definitive London events calendar
London gigs in October
Jazz-funk night, each week welcoming different special guest sets upstairs at this infamous jazz club.
Read more
Abba. Junk food. Watching Jeremy Kyle. Thwacking dawdlers on Oxford Street over the back of the head with a copy of Time Out. We've all got our guilty pleasures, and this hugely fun night celebrates the musical side of them. It's a high-quality but ultimately cheesy party of pop, disco, dance tracks, R&B and soft rock, where you can hear anything from Hanson to Haim to Soft Cell to Whitney to Beyoncé, accompanied by dancers, live acts cabaret performers, balloons and a lot of glitter Leave your hipster credentials at the door, dress up and get guilty!
Read more
A tribute to the iconic US rock band, famous for the songs Desperado, Hotel California, Take It Easy and Take It To The Limit.
Read more
Enormously talented Breton composer and multi-instrumentalist Tiersen is best known for his crisp piano balladry and woozy accordion waltzes, especially those written for the multi-million-selling 'Amelie' soundtrack. Live, though, he often favours rockier presentations.
Read more
Pianist Hutton performs musical soundscapes where frenetic classical themes and high octane European jazz stylings combine beautifully.
Read more
Bassist Phil Simmonds presents one of London's most celebrated funk and soul nights.
Read more
Two decades since they formed, Brian Molko and his glam-grunge-pop troupe are still churning out the tunes. They now have seven albums to pick from when they play live, and tend to go for fan favourites rather than indulging those who've just come along to hear the hits, but are still known to drop 'Nancy Boy' and 'Every You Every Me' when the fancy takes them. For a taste of the band live before this Hammersmith show, check out their 'We Come In Pieces' concert film, shot in Brixton in 2010.
Read more
The classic gravel-voiced singer-songwriter, who has lately experienced a Rick Rubin-assisted renaissance, plays a crowd-pleasing set of long-serving hits such as 'I'm a Believer' and 'I Am, I Said'.
Read more
The pop and soul singer-songwriter and BRIT award-winner performs to celebrate the release of her new album, Long Live The Angels.
Read more
This international eight-piece collective from London, led by the charismatic Eno Williams, whip up a storm of afrobeat, funk and disco. If you got deep into Melt Yourself Down's larger-than-life global grooves last year, make Ibibio Sound Machine your next obsession. Want more?Read: What's the deal with… Ibibio Sound Machine?
Read more
The Manchester based artist and founder of Murkage Cartel promotes his brand of hip hop.
Read more
One of the most successful tribute acts of all time perform the music of Pink Floyd, complete with mega light show. They've got their act down to such obsessive detail that they were booked to play Floyd guitarist David Gilmour's 50th birthday party.
Read more
Chiefly remembered for 'Streets of London' – one of our Top 10 London songs – songwriting legend McTell is also a superb bluesy guitar player and a sharp-tongued and funny rebel poet.
Book now
Read more
Show more
Find out what's happening in November
Sponsored listing
Bike Shed Motorcycle Club
Just off the North Circular in Brent, the Ace Café is in its seventh decade serving up coffee, rolls and rock 'n' roll to the leather-clad faithful. It's the oldest biker bar in London. And the newest? Welcome to The Bike Shed: originally a blog and forum for custom bike nerds, now IRL and occupying two big railway arches right next to Shoreditch Town Hall. Alongside a shop selling biker bits and bobs (and a rockabilly barbershop) this Shed contains an upmarket cafe/bar/restaurant for bougie bikers and dedicated pedestrians alike. In fact, it's only the faint smell of engine oil and the choppers parked up outside that give the game away. With a wooden bar up one side and red leather booths down the other, The Bike Shed looks like any other trendy arch-based London eatery. Burgers, bangers and other biker caff staples share a menu with superfood salads and detox juices. There's an extensive breakfast/brunch selection, a long list of cocktails, and beers that range from Peroni to Beavertown, including non-alcoholic options for anyone actually on wheels. To drink after 8pm you need to either order food or become a member, which should keep the bikers safe from rowdy City boys. Both our burgers – one meat, one veggie – were accomplished and generous, piled high with onion rings and served in brioche buns with homemade gherkins and coleslaw. Crispy mushroom and polenta fritters made a great starter. Prices are decent for Shoreditch, and the portions are hefty enough to refuel e