Chapel Street bar crawl
Chapel Street isn't just about cheap pizzas and vodka anymore. Welcome to the new world of tequila, dumplings and tiki drinks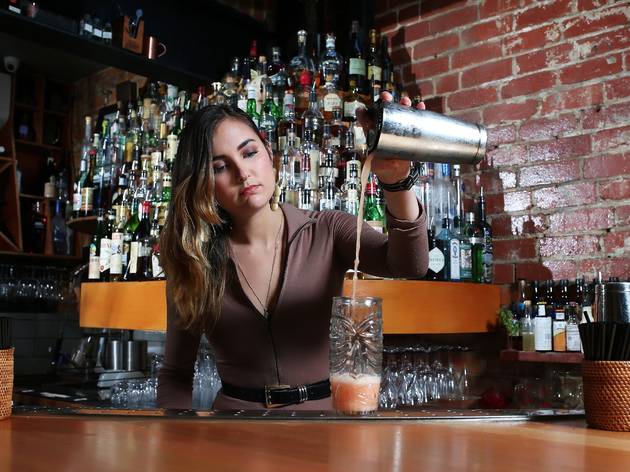 Once the epicentre of mini skirts, fake tans, hair extensions and binge drinking, Chapel Street is now home to a wealth of exciting restaurants and bars. Our bar crawl will start you off on the Windsor end and work you all the way up to South Yarra.
Continue your bar crawl through the city and check out our guides to the CBD and the city's hip northside. Need a 3am snack? Find your closest late-night eats.
The best bars on Chapel Street
Walking into Leonard's is like finding the coolest house party at the ski resort, circa 1983: just like a ski lodge should, Leonard's has an air of instant comfort. The bar offers an easy selection of smashable beers on tap, and Chef Stanton is clearly having a blast in the kitchen, cranking out high-quality burgers and charcoal chicken by the half.
Don't be fooled by the shoddy sandwich shop out front. Walk through their cool room door to discover a new world of barrel-aged Manhattans, Negronis and eye-watering tiki drinks that may or may not be on fire. Feeling peckish? Get your hands dirty with a serve of poutine.
It's over a decade old and still the go-to venue for vodka lovers. They're bringing you vodka made from different grains and potatoes, infused with grasses, angelica and aged in oak. Need something dumpling-like to soak up the spirits? If you don't go for the pierogi, you're doing yourself a disservice.
This "fine diving" bar mixes knockout cocktails and clever snacks with devil-may-care, somewhat ludicrous décor. Order a South Rah Rah, a summer-perfect blend of house-infused cucumber gin, St Germain elderflower liqueur, mint, lime and soda. Pair it with truffled mac 'n' cheese and pork doughnuts and you'll agree, there's a lot that's right with Two Wrongs.
Tucked away up a flight of stairs above Chapel Street is this atmospheric watering hole. With Connect Four games, cute cubbies to lounge in and five types of espresso martini, this is the spot for that end of week knock-off or Sunday session. Keep an eye out for their excellent happy hour specials, too.
It's all about the whisky at the Woods of Windsor. For boffins, there are 50 types of single malts and blends to consider, or if you're a noob, get to asking questions – there's knowledge behind that bar you should be tapping. If the hard stuff is too strong, try a Whisky Mac: a 50/50 mix of Scotch whisky and Stones ginger wine, here with a citrus twist over hand-cut ice. Or perhaps a classic Old Pal of rye, sweet vermouth and Campari.
Thundercat has slinked onto the southside bar scene with more of a polite purr than a growl. The space adjoining Tokyo Tina is open after 10pm on Thursday through to Saturday nights, when the wood-panelled, mural-lined room morphs into a late-night supper club: shutters are unfurled to separate the two zones, the lighting dims and the menu diminishes from the full kitchen offering to a handful of booze-friendly snacks.
It's another American-themed bar, but this one has a southern and western charm to it. The focus is on small-batch spirits from the US, but this saloon also slings a mean cocktail. Be careful: the bartenders will easily convince you to join them in a whisky and tequila tasting. Yeehaw!
How on earth are you supposed to turn your back on five-dollar pizzas? In a day and age where even a coffee can cost more than that, getting a meal for pocket change is like a Christmas miracle. If all this sounds familiar, that is because they are the sister venue to Bimbo Deluxe in Fitzroy. Cheap pizze for all! It's also a bar and, depending on the night of the week, a club too. Who told us we couldn't have it all?
More Melbourne bar crawls
Discover some of the best drinking that the CBD has to offer in our monster, four-part Melbourne bar crawl.