End of year party venues in Melbourne
Whether you're after an intimate dinner or a trampoline party, Melbourne has you covered for Christmas office party ideas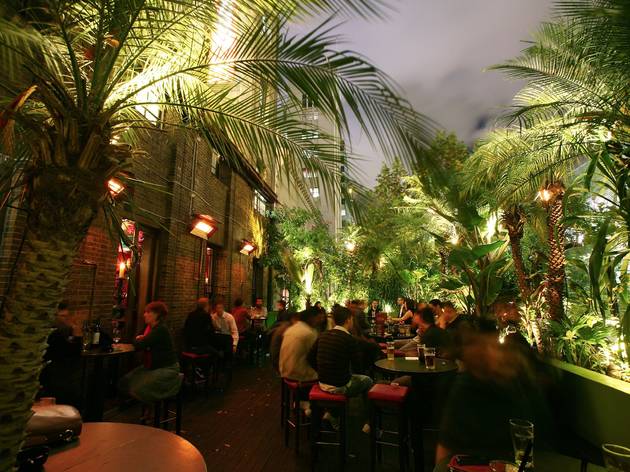 You've worked hard this year – time to treat yourselves at the classiest old-school Italian bar and restaurant in town. Book online, and once you're in, prepare to be treated like royalty by a fleet of bartenders in white jackets.
Read more
Have you been to the Bridge Hotel lately? The old girl has had one heck of a face-lift, and she's got a cracking craft beer list and pub menu. They'll cater to almost any size of private function and take small group bookings.
Read more
Escaping from themed rooms by solving puzzles has become one of the biggest crazes since paintball. Most rooms cater for a max of five to six people, but many have multiple rooms that you can book into simultaneously.
Read more
Nautical dive bar in the front. Ike's Rack Shack out the back. Bring your crew to this party bar and prepare to get merry: rock'n'roll blasts over the speakers and the liquor is flowing.
Read more
Time Out readers picked Goldilocks as their People's Choice at the 2015 Bar Awards, and for good reason. This quirky rooftop forest is available for bookings – just don't leave it any longer!
Read more
If you like your chances at the sunny end of the year, the terrace can be exclusively yours. It fits 45 people and you will be plied with old-fashioned party treats and punch to keep everyone in high spirits.
Read more
Keen to show your 100-person team a good time? Mr Wow's party hardy combo of popcorn and cocktails, indoor bocce, pool, ping-pong and food trucks serving in the back warehouse will ensure people feel fully appreciated this holiday season.
Read more
Where to take the after party
This one's for all you discerning drinkers who also like to dance your pants off.
Read more