The best hot cocktails in Melbourne you need to drink this winter
Everyone loves a spritz in the sun, but what about winter? Warm up with our favourite hot cocktails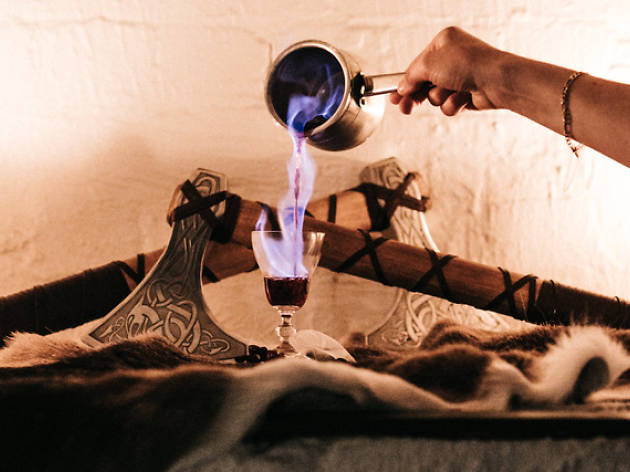 Staying warm with a drink isn't all about mulled wines and ciders. Switch it up with these hot cocktails to up your drinking game in the colder months. Stay cosy by drinking next to a fireplace and keep yourself occupied with some of our favourite rainy-day activities.
Where to get the best hot cocktails
1
Drink: Whisky and malt tea
This malt tea is made from Starward wine cask whisky and a malt barley tea. The tea is made in house from four different kinds of malted barley with a pinch of salt, creating a thin, sweet porridge. Served in a campfire mug for the full winter effect.
2
Drinks: Auntie Faye's Cure No.23
This is like a warm apple and rhubarb pie you can drink. A spiced rhubarb and apple syrup is added to bourbon and bottled in individual serves. Each bottle is then warmed in a water bath and topped with a custard. Not a bad way to get dessert.
3
Drink: Warm spiced Negroni
It's not a vat of soup in the warmer behind the bar; the tureen is filled with a warm Negroni made from Maidenii classic vermouth, a pepperberry-forward gin, Campari and Chinese five spice. Cider isn't the only thing you can mull.
4
Drink: Hot Foot Powder
This Blazer is a rich, hot and spicy blend of rum, cognac, vermouth with a housemade cigar syrup that adds the faintest hint of tobacco flavour. The mixture is set on fire, thrown and finished with a homemade orange sherbert, which adds an acidic effervescence on the tongue that helps to balance out the richness of the drink.
5
Drink: Hot buttered absinthe
Clarified unsalted butter is infused with mace, clove and cardamom before it is added to a Costa Rican dulce syrup, La Clandestine Absinthe and Mr Bitters Fig and Cinnamon bitters. Sweet tooths can rejoice as it is served with a spoonful of house-made dulce de leche.
7
Drink: Spiked Chai
18+ your chai drinking habits by heading to Arbory and asking them to spike it with Johnnie Walker Black and Frangelico. It's a completely different kind of warming experience.
Looking for another way to keep warm?
What's better than soup? Noodle soup. We've scoured the city for the best noodles soups for you to warm yourselves up with while the chill sets in.