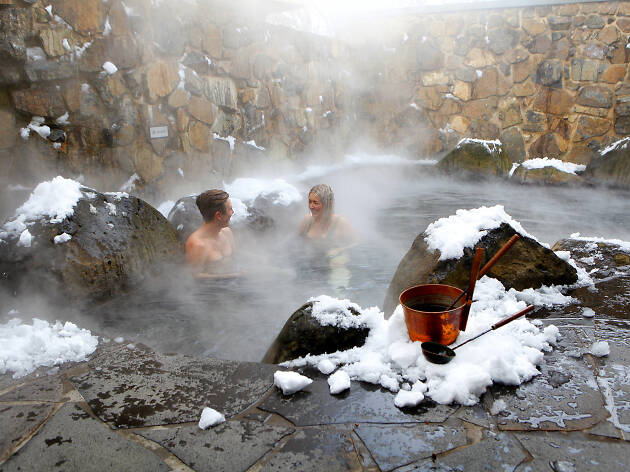 Hot springs you can soak in near Melbourne
Take a dip in some of Victoria's most sought-after thermal waters
What could be more luxe and relaxed than soaking in blissful hot water? Whether you're looking for a chilled-out day trip or a weekend away with friends, these hot and mineral spring havens are easily accessible from Melbourne. As well as the mineral spring resorts in Daylesford and the ultra-popular hot springs on the Mornington Peninsula, there are a smattering of hidden oases waiting to be explored across Victoria. Take a look at these great escapes and plan your next soak.
Hot springs and mineral springs near Melbourne
Peninsula Hot Springs is Victoria's first geothermal mineral springs and day spa. It's here you'll find more than 50 bathing experiences, including shared thermal mineral pools, wet and dry saunas, a hydrotherapy pool, Turkish and Moroccan hammams and the frequently Instagrammed hilltop pool, which boasts 360-degree views over the farmlands of Fingal. If you're brave, you can also try swapping between the 60-degree hot sauna and the ice cave, which sits at a cool -17 degrees. Entrance to Peninsula Hot Springs starts at $30, with prices increasing during peak times.
Fun fact: 80 per cent of the country's mineral springs are in the Daylesford region, which makes it perfect for spa treatments. You're here to relax, so begin your getaway by visiting arguably the most famous spa in the region, Hepburn Bathhouse and Spa. Here you can enjoy a massage or simply slip into the warm mineral waters of the communal bathhouse and feel your body begin to unwind. For something even closer to nature, have a soak in the outdoor creekside spa. Entrance to the Hepburn Bathhouse starts at $55.
Southwest Victoria is also home to some geothermal mineral springs thanks to an ancient water source called the Dilwyn Aquifer. The water passes through 850 metres of prehistoric rock and earth layers to reach the surface at Deep Blue Hotel and Hot Springs in Warrnambool. Explore the geothermal rockpool and rainforest cave, each heated from 38 degrees to 45 degrees. Bathing prices start at $44 for a two to two-and-a-half-hour session.
Try an onsen
Hidden between the trees and the mountains in the Dandenong Ranges (and only 45 minutes from Melbourne) is the Japanese Mountain Retreat. If you're loved up, this is the place to go. The retreat caters very well to couples, offering getaway packages for those wishing to celebrate special milestones or occasions. The natural mineral waters at the Japanese Mountain Retreat are heated between 37 and 40 degrees, and you can choose bathe privately in private outdoor pools or in the Roman bathhouse. Bathing starts at $120 per person for 50 minutes. You can also opt for a private bathing session, a massage and a yum cha lunch, which is $350 per person.
One of Australia's highest ski resorts, Mt Hotham has 13 lifts and over 80 runs suited best to intermediate and advanced skiers and snowboarders. Hotham has 320 hectares of ski terrain, its own airport, and 18 restaurants and bars. Naturally, you'll want a break from all that action with a good long soak. Luckily, there's a luxe day spa that offers just that. The Onsen Retreat and Spa has its own 38-degree Japanese onsen, plus an indoor pool, spa, sauna and treatment rooms. A soak in the onsen will set you back $45 per adult.
Note: Onsen Retreat and Spa is only open seasonally – check with the venue directly for more information.
Wile away aches and cares at the Japanese Bathhouse in Collingwood. Open since 1999, it had a thorough refurb in 2015. Get unrobed and get soaking – the Japanese Bathhouse supplies everything from hair gel and combs to robes and body scrubbers. Ladies and gents have their own bathing area, and the max of ten people per bathing area means that things don't get weird. Just $33 gets you an hour-long soak and sauna.
Look for more great getaways from Melbourne
As much as we love all things Melbourne, even we occasionally need a break from the big city. Here's all the inspiration you need to plan your next weekend escape.