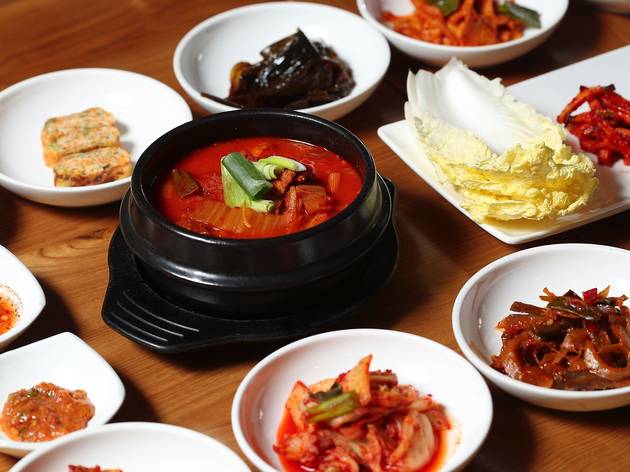 The best Korean restaurants in Melbourne
From barbecue to bibimbap, plus all the kimchi you can handle
There are some hungers that only the fermented acidity of kimchi, the soft bubble of boiling tofu, tender marinated beef and a whole lot of deep-fried chicken can sate. We're blessed here in Melbourne to have a selection of killer Korean restaurants at our fingertips. Prime your tastebuds for coal-fuelled Korean barbecue or bibimbap cooked in a hot stone dish, tables crammed with every banchan imaginable and hot soups to warm your cockles on a chilly evening in the city.
Want more? Check out our guide to the best restaurants in Melbourne.
Korean restaurants in Melbourne
Jan Chi means 'to feast' in Korean, and there's truth in advertising when the jewel of the menu is a 530 gram plate of braised Angus short rib. Korean may be the flavour of the moment, but owners Steven Ryu (chef) and SJ Min (venue manager) aren't jumping on the bandwagon - they're dishing up flavours from home with their own personal twist.
The secret is out. This once low-key Korean restaurant overrun by displaced students wanting a taste of home is now being infiltrated by locals. Blame the internet. Blame Instagram. Blame Facebook. They've hit social media pretty aggressively and now everyone is lining up for all the banchan (side dishes) you can handle. Hansang means 'table full of food' in Korean, and that's exactly what you get.
When a 20-seater restaurant in the heart of suburbia that only offers three dishes, with no bookings, no website and no advertising is never with an empty seat, you know it has to be good. Mr Lee's Foods is well worth the trip to Ringwood if you're a fan of pork; all dishes are derived from this glorious animal, offering a delicious insight into the economical traditions of Korean dining, utilising an unconscious, innately cultural nose-to-tail philosophy.
Everyone knows that meat grilled over charcoal is exponentially more flavoursome than other forms of cooking. Yes, a gas barbecue will get the job done, but there's an extra smoky depth that can only be achieved when charcoal is your fire-power. And this is why we love Hwaro, the Korean barbecue joint on Little Bourke Street.
Hot corn tea. It's a real thing and it tastes just as husky and buttery as it sounds. Sweet little pitchers of the stuff are on hand to temper the spicy bulgogi burn at the newer, bigger, pinker branch of Seoul Soul. There's a little extra space here – two long communal tables run the length of the room with little block partitions separating couples like groceries in the supermarket.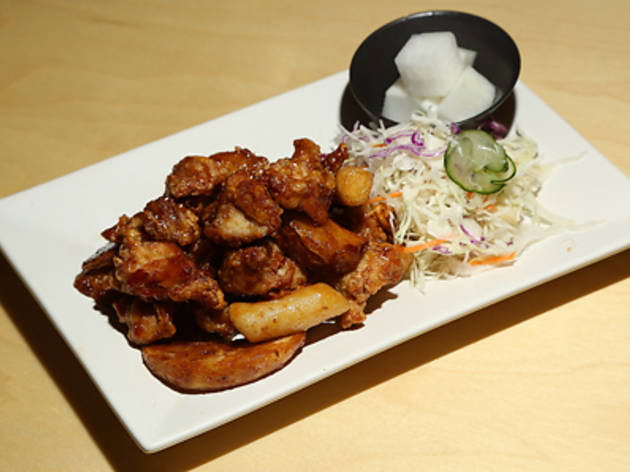 This copper and wood Korean joint flogging fried chicken, jugs of Brunswick Bitter and Kenny G's greatest hits is great. They do that poultry every which way here. You can take yours as lightly battered wings slicked in a sweet soy glaze, and we're pretty keen to come back for the Korean schnitzel.
Korean barbecue, at its core, is a communal dining experience and Guhng makes sure groups are well catered for with their barbecue sets. The Angus set is enough to comfortably feed four moderately hungry meat eaters. You get a mix of lean and fatty cuts, starting with an evenly marbled Angus cube roll, which is cut into pieces over a cast iron pot of glowing hot charcoal.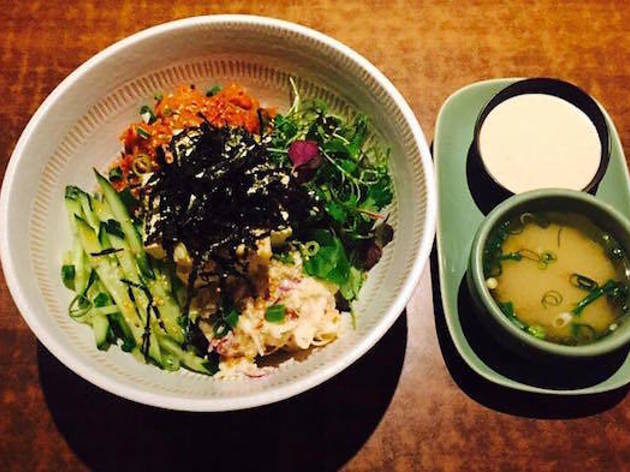 Sisters Seon Mi and Seon Joo Lee, vegetarians from meat-loving South Korea, established Yong Green Foods in late 2009. Adapting elements of Korean, Japanese, Thai, Vietnamese, Indian, Mexican and Italian cuisines into a unique menu with an emphasis on raw and wholefoods, the restaurant was an almost instant success. The raw menu, which includes their signature dish rawsagne, is completely organic, vegan and gluten free.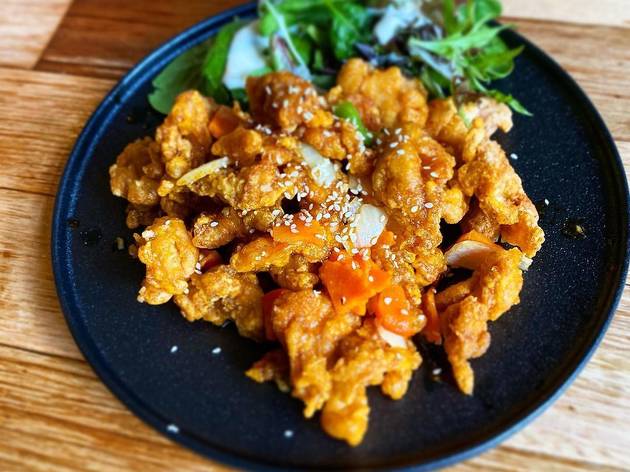 Photograph: Supplied
This is one of the few places that offers yukgaejang in Melbourne, a hearty, spicy crimson soup filled with slow-cooked, shredded beef, glass noodles and spring onions, served with red rice and kimchi. It's well worth trying along with the venue's Korean fried chicken, bulgogi and bibimbap. Takeaway and delivery are also on offer here too.
Gami Chicken is at its cheap best when you take a lot of people – that way you can get a keg of beer to share ($49 for 4 litres) and a whole chook for $32 (original, soy-garlic or sweet chilli coated), which will feed three to four depending on gluttony levels. Move over Colonel Sanders, Gami's taking over.
Grab a scoop for dessert afterwards
Nothing beats a scoop (or three) of ice cream or gelato for dessert, but not all frozen desserts are created equal. We've licked and scooped our way across the city in search of Melbourne's best cone artists.