The best Korean restaurants in Melbourne
When was the last time you had Korean for dinner? How about tonight?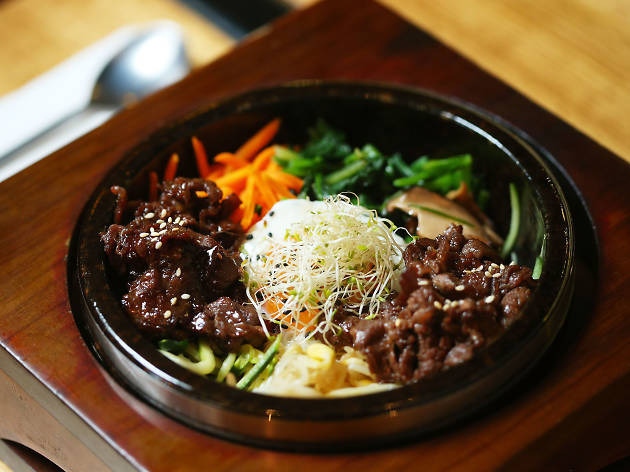 Korean cuisine has made its way into Melbourne's culinary scene somewhat quietly. Korean BBQ has always been popular, but as far as we know, there have been no proclamations that bulgogi or bibimbap is the next hot food trend. What is undeniable however, is that Korean food has truly influenced mainstream food culture. For example, no one bats an eyelid at a Korean-Mexican fusion dish, gochujang chilli paste now competes with Sriracha as the next hot condiment, and you'll find kimchi as a side dish in cafés and fried chicken joints as Melburnians embrace the health benefits of fermented foods.
We've rounded up the best Korean restaurants Melbourne has to offer, from Korean BBQ to a bibimbap cooked in a hot stone dish and hot pots to warm your cockles on a chilly evening in the city.
You can also check out our beginner's guide to some of the main players of Korean cuisine, so the next time you find gochujang in your fried chicken burger, you'll know what it is and why it's there.
Korean restaurants in Melbourne
The main players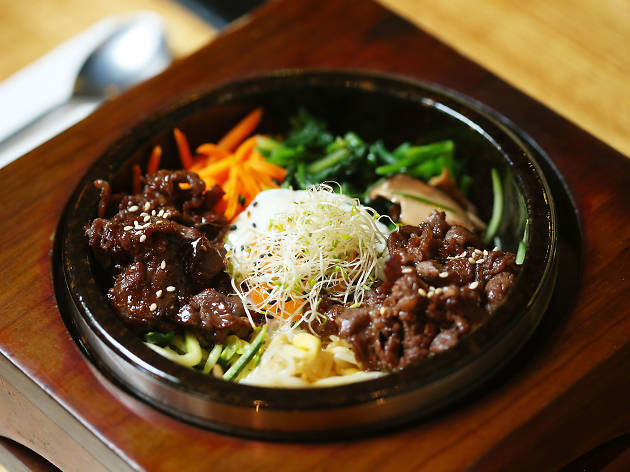 Graham Denholm
Where the Japanese have donburi, the Koreans have bibimbap. This rice dish – which literally translates to 'mixed rice' – has your meat and three (or more) veg covered in one bowl and is the Korean answer to leftovers. Steamed white rice is typically served in a regular or hot stone bowl (this makes the bottom layer of rice nice and crusty), topped with julienned vegetables, kimchi, sautéed mushrooms and spinach, sprouts, and a protein, commonly tofu, chicken, beef, or a raw egg.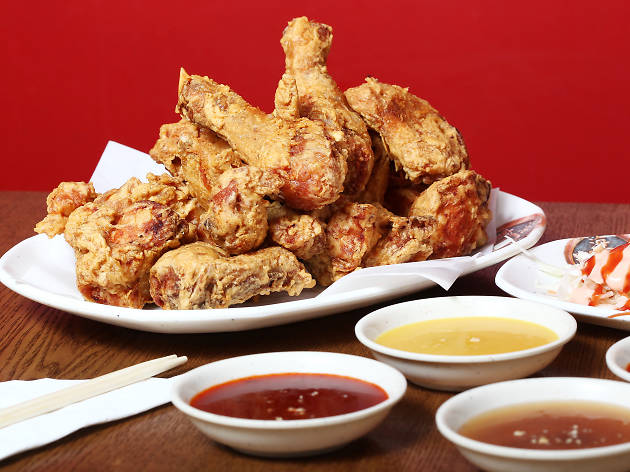 Photograph: Graham Denholm
Korean fried chicken (dakgangjeong)
South Korea's street food culture is massive, and fried chicken is king. The other KFC, Korean Fried Chicken, is made to be consumed with copious amounts of beer (most likely one of the three big Korean beer brands: Hite, Cass and OB Lager). You could get the original version for the crunch factor, but the sticky soy and spicy glazed variety is where it's at. Order a side of kimchi pancakes and tteokbokki, a gloopy but delicious street food dish made of rice and fish cakes and slathered with a sweet and spicy gochujang sauce.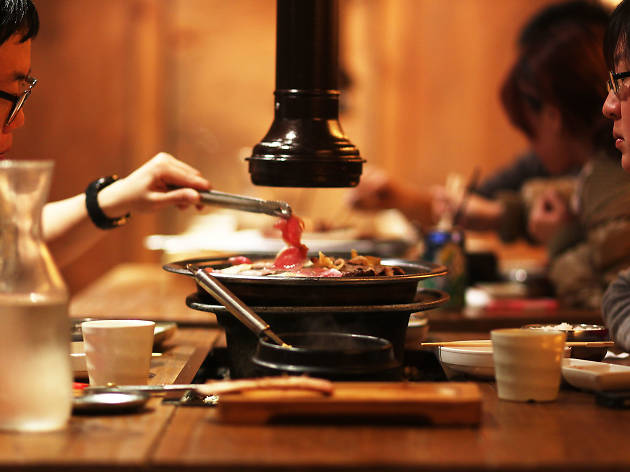 Graham Denholm
Korean barbecue (gogigui)
Korean barbecue is the epitome of communal eating – there's just something special about gathering around an open gas grill flipping bits of sirloin steak or scotch fillet. A typical Korean barbecue sitting involves ordering a set meal that includes a selection of raw beef cuts, mushrooms and onions to toss on the grill. You'll also get a side of rice, a hot stew, and some banchan (side dishes) including kimchi and cooked vegetables.
Another popular option at Korean barbecue restaurants is bulgogi – thin slices of sirloin that are usually marinated in a soy sauce and sesame oil mixture. The same DIY grill deal applies. Not sure about going out to eat only to cook your own meal? Don't worry, most good Korean barbecue joints have wait staff that tend to tables to make sure no one's burning their dinner. Otherwise, keep an eye on that grill!


Korean food A-Z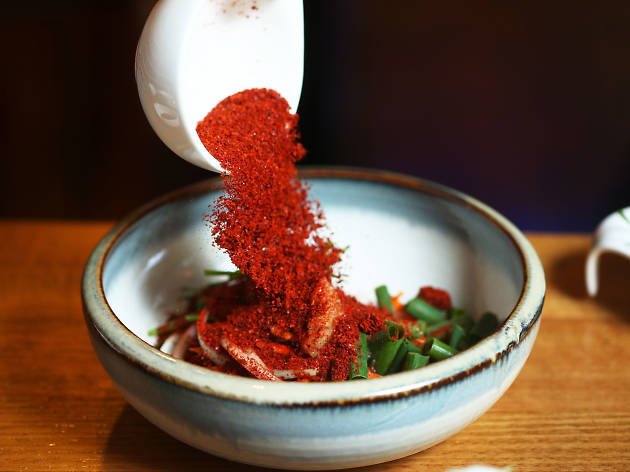 Graham Denholm
Bap: Rice, the base of many Korean dishes
Banchan: The many side dishes that come with Korean meals; a great way to use up leftovers
Bulgogi: Literally translating to 'fire meat', this dish is centered on grilled marinated beef
Gochujang: Fermented chilli paste, a staple in Korean kitchens
Jjigae: A stew usually served alongside a meal. There a many variations of jjigae, which can be made vegetarian
Kimchi: spicy, garlicky, sauerkraut-like fermented wombok served as a condiment
Tteokbokki: Korea's answer to gnocchi made of rice and fish cakes and smothered in a sweet and sour red sauce.
Soju: Literally translates to "burn liquor". A spirit usually made of rice, wheat, or barley
The best Korean barbecue
Forget the deep south, turns out Korea is the king of the grill
Melbourne's best cheap eats
With so many cheap eats options in Melbourne it's not hard to eat out without breaking the bank