The best places to swim in Melbourne
Don't restrict yourself to the local pool: dip into Melbourne's most beautiful rivers, lakes, pools and beaches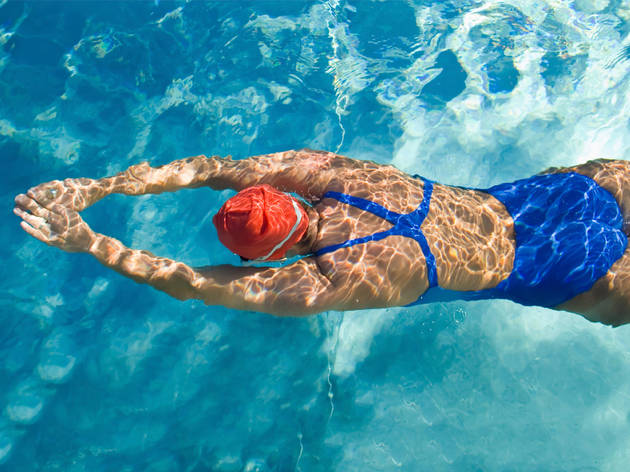 "Do you ever get sick of the rain?" was our number one dumb question amidst an extensive list of queries that get our goat. Not only do we have so many cool things to do indoors that we couldn't give a frog's left leg about the weather, we actually do scorchers very well in Melbourne. Accordingly, we've pulled together a list of our favourite places to go for swim.
And while we're on the soap-box, can we also tell you about our other favourite things to do in the sunshine? Hey, maybe you want to take it one step further – find out where you can (lawfully) get your kit off under a radiant Melbourne sky.
The best rivers and lakes
Featuring a lake and parkland, Lysterfield Lake offers two protected swimming bays and tracks and trails for walking, as well as the opportunity for other water activities including sailing and canoeing.
Distance from CBD: 42km by car
As far as Yarra River swimming goes, you won't do better than Pound Bend. It's a calm, deep oasis caused by gold rush miners diverting the water through a tunnel in the 19th century.
Distance from CBD: 32km by car
About one hour west of the CBD is the Lerderderg State Park, in which the pristine Lerderderg River meanders through native bushland. MacKenzie's Flat Picnic Area is the perfect spot for a swim and a lunch.
Distance from CBD: 60km by car
Fancy a different kind of splash?
There's no shortage of extreme waterslides in and around Melbourne. From spiralling towers to rides that will make you weightless, here's our list of the best waterslides around.
Check out where to eat and drink in the sun
Time Out's picks of the essential eats and drinks to be had across the city when the weather's playing nice.