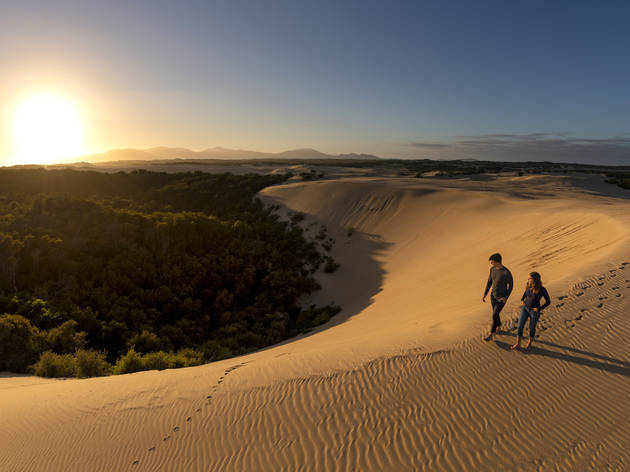 10 places in Victoria that look nothing like Victoria
Think you've seen all of Victoria? Take a gander at some of the state's most unfamiliar locations
We all have those classic images of Melbourne (and the rest of the state) in our minds: a graffitied laneway, a crowded Flinders Street Station platform… a horde of people queuing for hours outside Chin Chin. But while we may think we've seen it all, been everywhere (man) and witnessed every Melbourne cliché there is, we still manage to be a little surprised by our city every now and then.
Unusual places in Victoria
Where are you? 1950s Hollywood, baby.
But where are you really? High Street, Northcote.
Palace Westgarth is like taking a trip back to the golden age of Hollywood – the grand stairwell is just one example – and for such an opulent old cinema, the cosy seats and wide screens make for excellent viewing. The Palace has lovingly maintained the Art Deco architecture throughout, making it a beautiful setting for the mix of independent flicks and Hollywood blockbusters that grace the cinema's screens.
Where are you? Kew Gardens in London, maybe.
But where are you really? Fitzroy Gardens, right in the CBD.
Did you know Fitzroy Gardens is hiding a beautifully lush botanic garden? Sitting on the southeastern edge of the CBD, this Spanish Mission-style conservatory was opened way back in March 1930. It currently exhibits five floral displays annually, meaning it's in full bloom all year round with a mix of hydrangeas, fuchsias, begonias, cyclamens and calceolarias all making an appearance at some point. Pro tip: make sure your nasal passages are clear – the smell is incredible.
Where are you? Beyond the wall (look out for the wildlings!)
But where are you really? Up the top of Mount Hotham.
Don't worry, there are no White Walkers beyond this valley – just one of Victoria's favourite winter snow escapes. Unlike in Westeros, the area here is well charted and it's safe to assume you won't run into Benjen or the Night King – though those speedy kids on skis clearly have no fear and will knock you and your wobbly snow plow over without a second thought. Be warned.
Where are you? Crossing vast, deserted lands in the Sahara Desert.
But where are you really? Up a hill in Wilsons Promontory.
Did you know there are sand dunes only two and a bit hours south of Melbourne? Named the Big Drift, this extensive series of sand dunes is pretty hidden from the main tourist track. At the top, you'll be greeted by a seemingly endless view of sand, punctuated by the occasional green treetop and ocean view. The sands are ever-changing thanks to the wind, so you can spend some time walking around the dunes and exploring the landscape.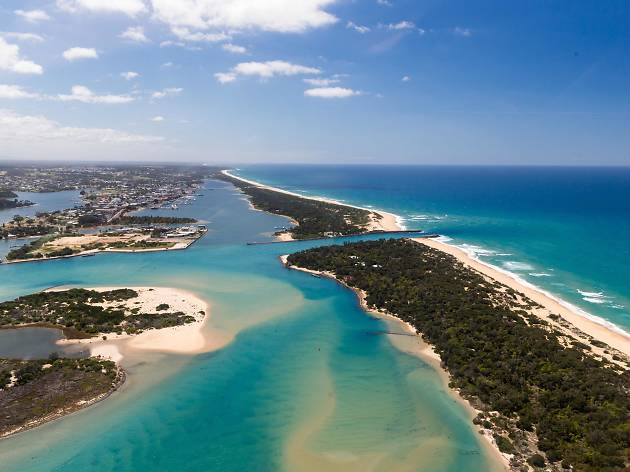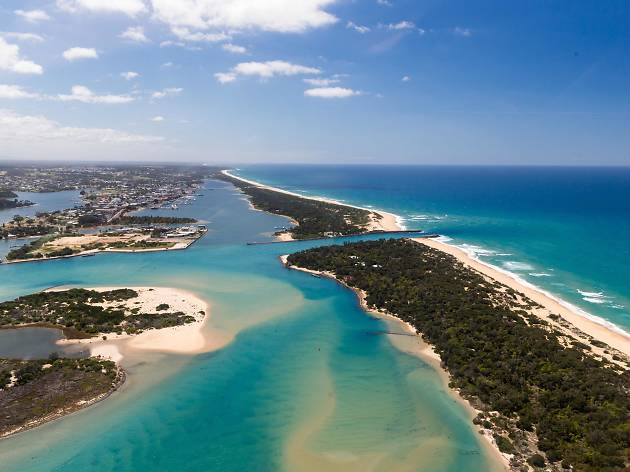 Photograph: Supplied
Where are you? Soaking up the sun on the Whitsundays.
But where are you really? Fanging it down the Princes Highway in coastal Eastern Victoria.
Okay, so our rays may not be as strong (or as constant) as the ones beating down on our northern neighbours, but you can still find tropical style beaches and picturesque sandy coves in greater Victoria. Hit the freeway and set your sites on Lakes Entrance, the coastal town in Eastern Victoria known for the Gippland Lakes and the Ninety Mile Beach, a sandy stretch of beach that wouldn't look out of place up in the Whitsundays.
Where are you? En Provence, mon chéri.
But where are you really? Just north of Daylesford, mate.
These European-style gardens are situated in the not-so-European hills of Shepherds Flat in north west Victoria. The Lavandula Lavender Farm sits on a 100-acre property originally operated by a Swiss-Italian family who came to Victoria in search of gold. Today it boasts an incredible lavender farm, vegetable and herb gardens and an on site cafe. Skim your hands over the building's original 1850s stone brickwork and try your best to bottle the scent for a rainy day.
Where are you? In the rubble wonderland of Utah's Zion National Park in the US.
But where are you really? The epic but craggy Grampians National Park.
We've all heard about climbing up a mountain – but what about climbing through one? Located in the epic Grampians region of north-west Victoria – which is known for some of the best hiking and rock climbing in the state – Hollow Mountain does much like the box says. It's a steep and somewhat strenuous scramble around fallen boulders and spine-tingling cliff faces that culminates in an uphill climb through the series of wind-scoured caves known as Wudjub-guyan (Hollow Mountain). The views are boundless from up there too.
Where are you? In Holland, ja.
But where are you really? 40ks away from Melbourne in the small town of Silvan.
Looking for an easy way to pretend you're in the Netherlands without having to commit to a long haul flight? About an hour away from Melbourne is Silvan's famous Tulip Farm, home to almost a million blooming tulips set out across 25 acres of farmland in the Dandenong Ranges. Every year they host the month long Tesselaar Tulip Festival with live entertainment, market stalls, food offerings and themed weekend celebrations playing out around the spring blooms.
Where are you? Visiting Japan in cherry blossom season.
But where are you really? The Melbourne Zoo.
Find your Zen at Melbourne Zoo's perfectly sculpted Japanese Garden. Built in 1990 to mark the tenth anniversary of the sister-state relationship between Victoria and Japan's Aichi Prefecture, this garden is littered with azaleas, cherry blossoms, neat bonsais and stone lanterns gifted from Japan. It's a fine example of a traditional Japanese stroll garden – a garden whose designs are crafted to allow maximum walking enjoyment. So stroll away, friends. Stroll away.
Where are you? Somewhere in the Scottish Highlands.
But where are you really? Down the Maribyrnong River, across from the Melbourne Showgrounds.
It's a strange name and an even stranger history for the heritage preservation Jack's Magazine. Constructed over several periods between 1875 to 1920, this site started out as an explosive storage facility during Victoria's gold mining boom. Jack's Magazine includes two large bluestone gunpowder storage buildings, 10 metre high earthen blast mounds and remnants of the narrow gauge tram tracks and tunnels. It's actually the largest gunpowder storage complex built in Victoria – and it's only several hundred metres away from Flemington Racecourse.
Stretch your legs
For a breath of fresh air, head out of the city this weekend with our guide to Melbourne's best day hikes. From local wonders to seaside spectacles, regional Victoria is brimming with picturesque walks great for getting your heart pumping.
Best selling Time Out Offers