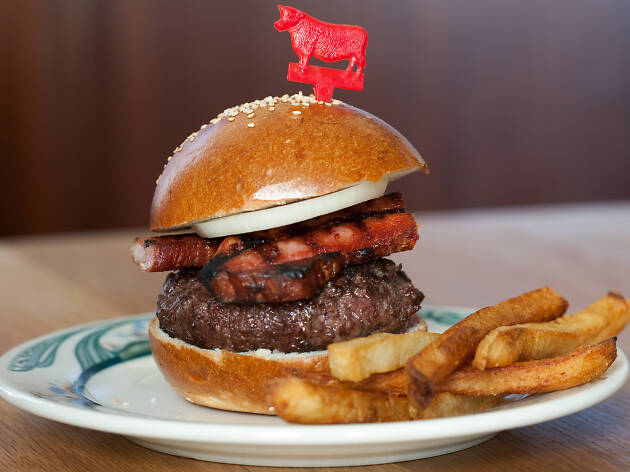 The best burgers in NYC
From classic cheeseburgers and smashed stacks to unconventional favorites, these are the best burgers in NYC
Like debates over where you can find the best bagels and pizza in NYC; picking the best burger is just as difficult. But someone has to do the hard work, and we take our patties very seriously, so prepare yourselves for our bucket list of burgers you can start eating your way through. We've got late-night diners, BBQ restaurants and NYC steakhouses all on the list with creations spanning from simple and cheeseless to towering with toppings (even one of the best veggie burgers made the cut). Take a gander at our selection of the best burgers in NYC and see if your favorites made the list.

RECOMMENDED: Full guide to the best restaurants in NYC
Find out how you can get half off the food bill at eight choice burger restaurants in NYC!
NYC's most trusted meat purveyor is welcomed into Time Out Market
If there's such a thing as a celebrity butcher, Pat LaFrieda, whose name is on more great menus than Benedict and his eggs, is it. From the vaunted Black Label Burger at Minetta Tavern to the Shake Shack patties, the local purveyor rules the country as the undisputed king of meat. Chefs, butchers and customers alike get their red-meat fix with a mouth-watering array of premium prime cuts. At our Dumbo market, the Brooklyn native will be serving his own signature selections of meat featured in superb cheesesteaks, burgers and 'the world's greatest hot dog.
Looking for more griddled grub?
Whether you're on the boardwalk or the LES, our guide will lead you to the best dang dogs in New York